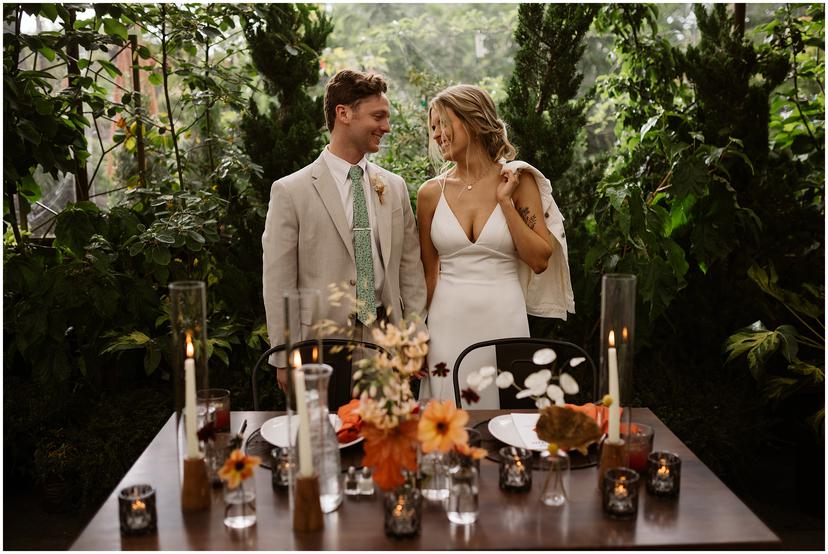 Blockhouse Wedding
This Portland destination wedding at Hoyt Arboretum and Blockhouse was straight out of a magazine. Katie and Matthew planned a perfect Pacific Northwest wedding weekend for all their out-of-town guests and it came together like magic. The June weather was classic - misty, cool, and cloudy - which was exactly the Portland vibe they wanted. Their woodsy ceremony at Hoyt Arboretum was followed by a playful greenhouse reception at elegant Blockhouse in NW Portland. The flowers by Chas with Wildflower Floral paired perfectly with the wild greenery of both venues. Coordination by Morgan with MH Events made everything go SO smoothly. So excited to share these images with you!
Reasons to have a Blockhouse destination wedding in Portland
Katie and Matthew grew up in central Illinois, met in college, and currently live in Minneapolis. When they initially planned their local Minneapolis wedding, it ballooned to 250 guests and just didn't feel right.
"Since we have both traveled a ton, people always joked to us about having a destination wedding, and it all came together," said Katie. "Portland just seemed right. We love breweries, and we are outdoors a lot." They both love cycling, greenery, and woodsy vibes. It was perfect.

Getting ready at the Sentinel
Katie and Matthew started their day by getting ready at the Sentinel, one of my all-time favorite Portland hotels. The rooms are beautiful and the style perfectly aligned with Katie and Matthew's vision. Getting ready spaces are SO important, and they are often overlooked. The Sentinel uses dark green paint colors, which creates dramatic opportunities for moody and romantic photos. I love the big windows, city views, and elegant furnishings. Highly recommend this spot!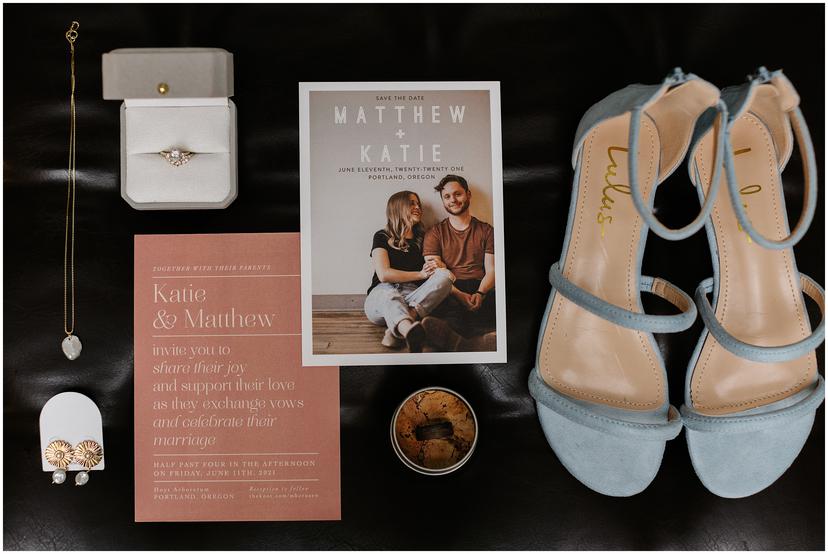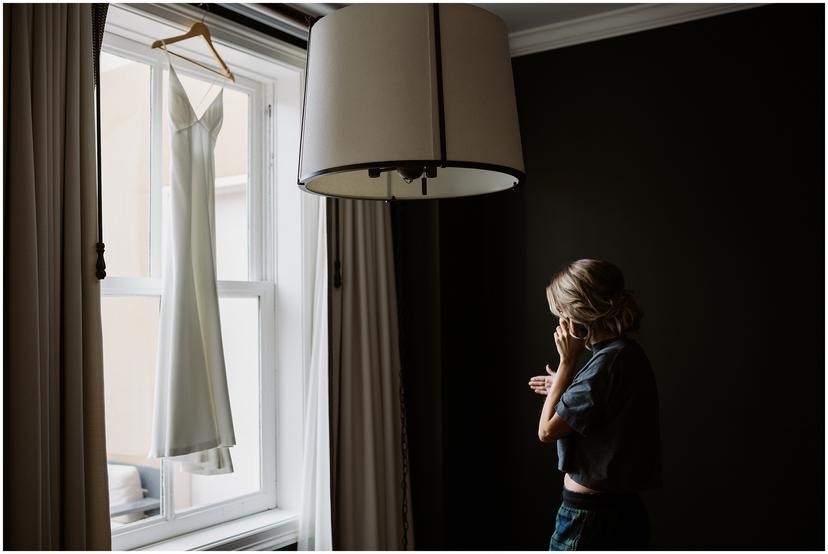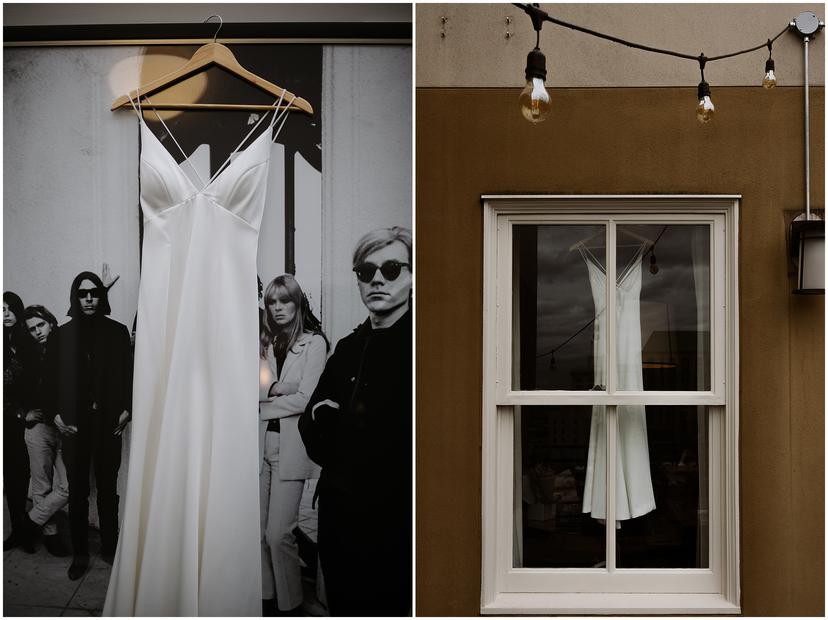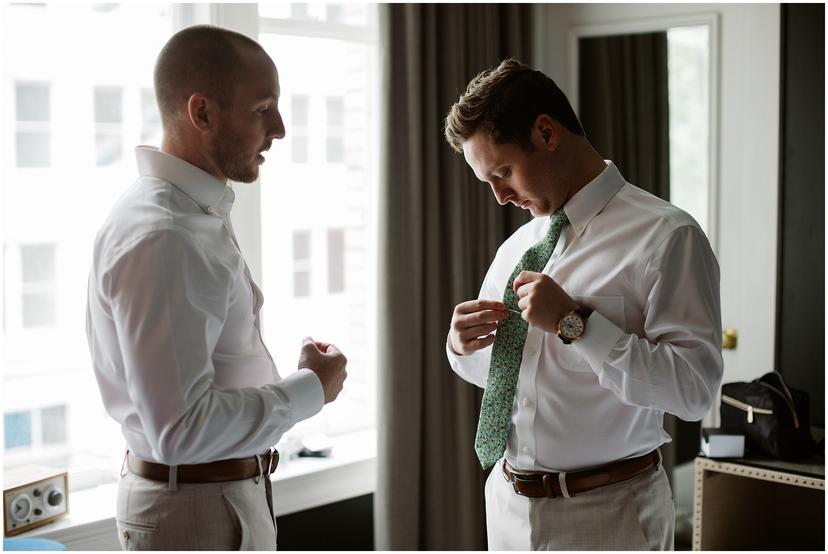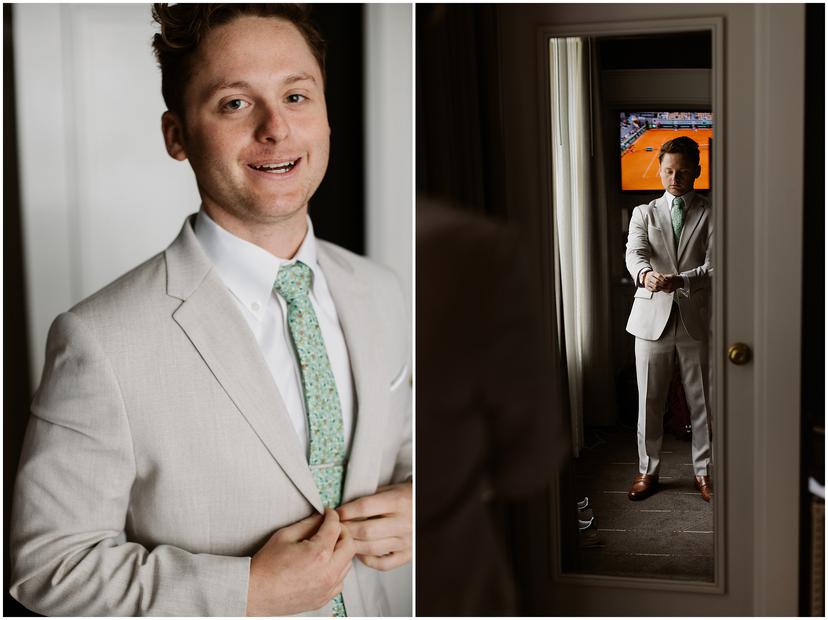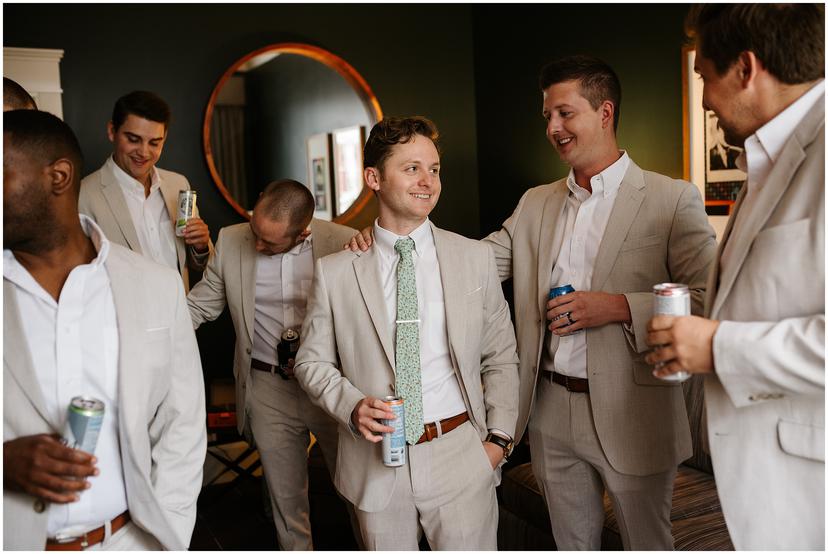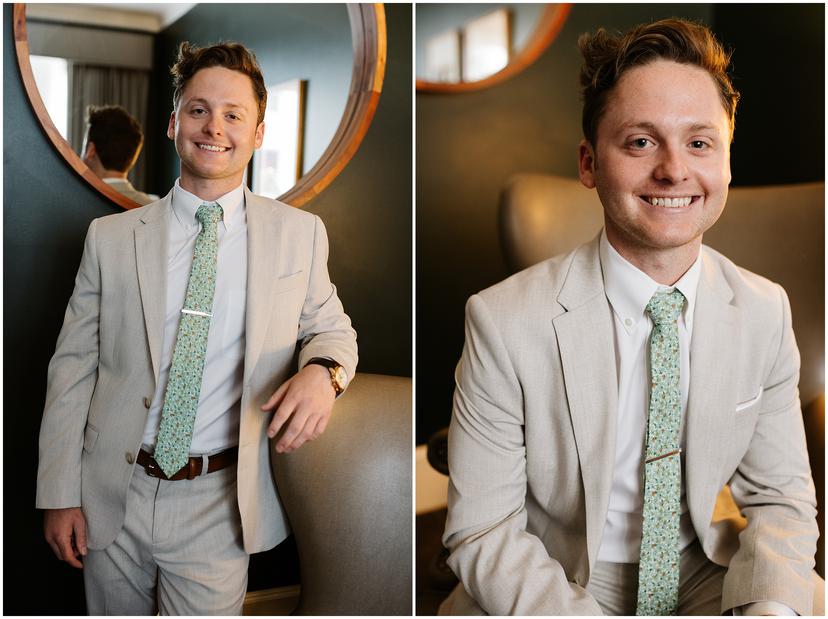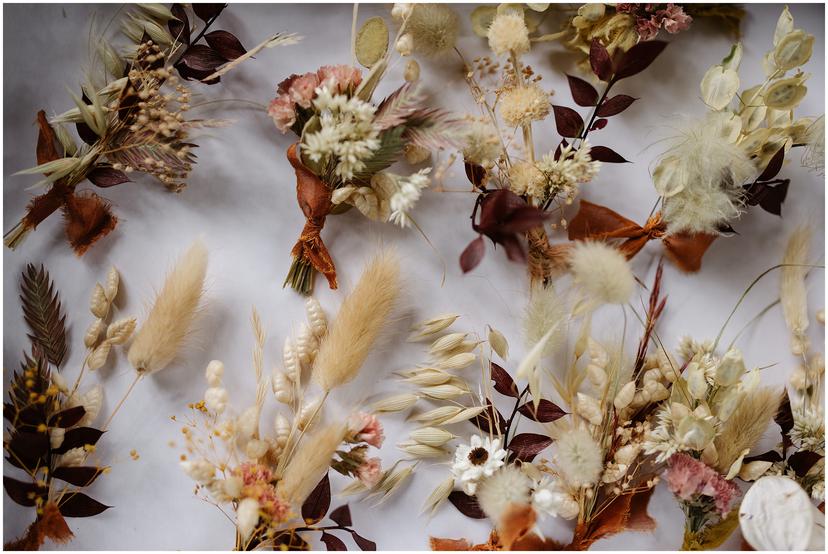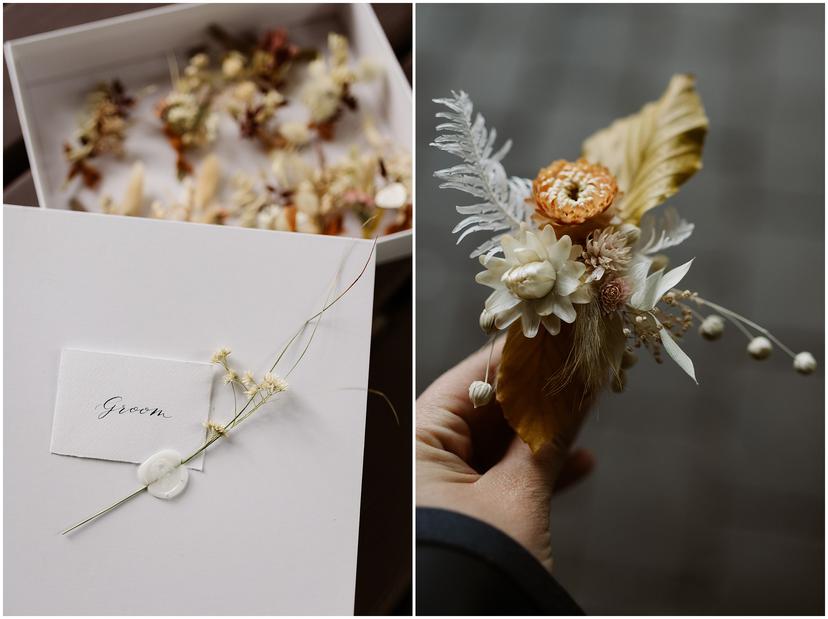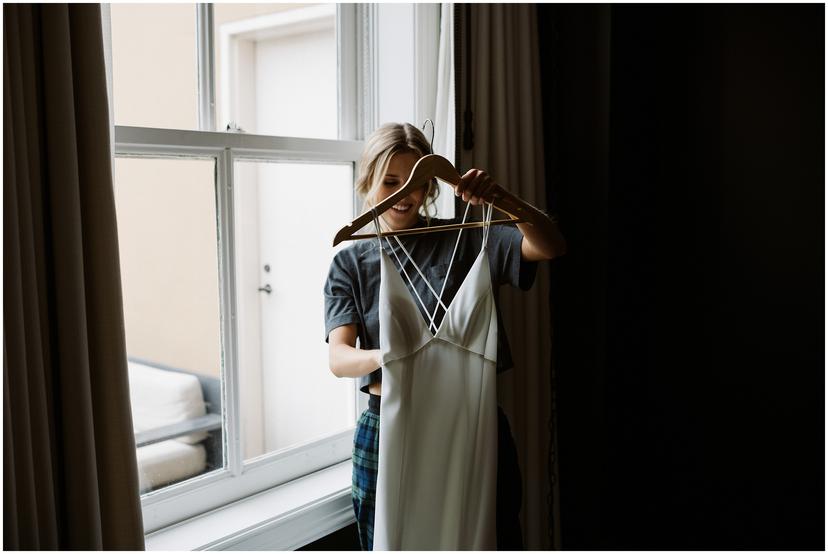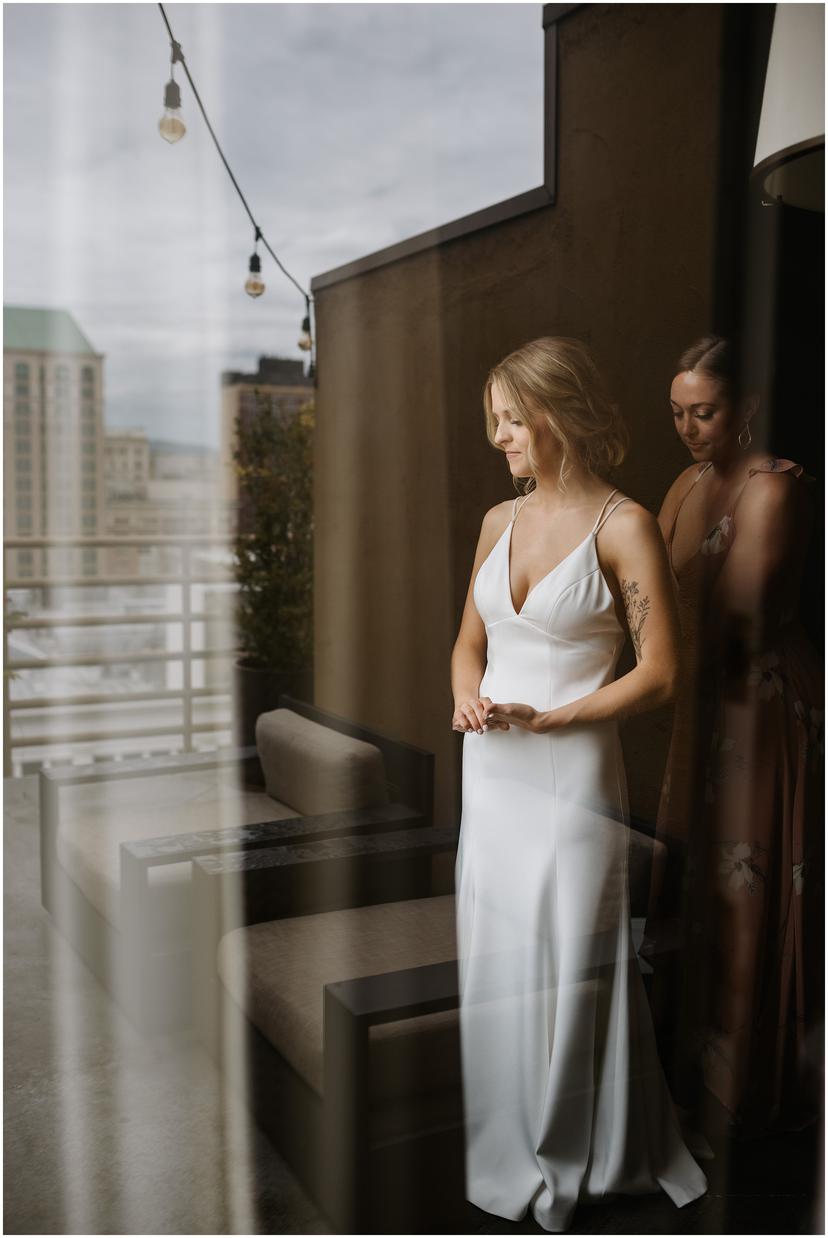 Favorite Wedding Memories
Matt: "My favorite memories were the first look, hearing our vows read aloud, and the reception as a whole. I wouldn't change one thing about our wedding day."
Katie: "My favorite memories were right before walking down the aisle reflecting on everything at Hoyt, and of course every part of our reception."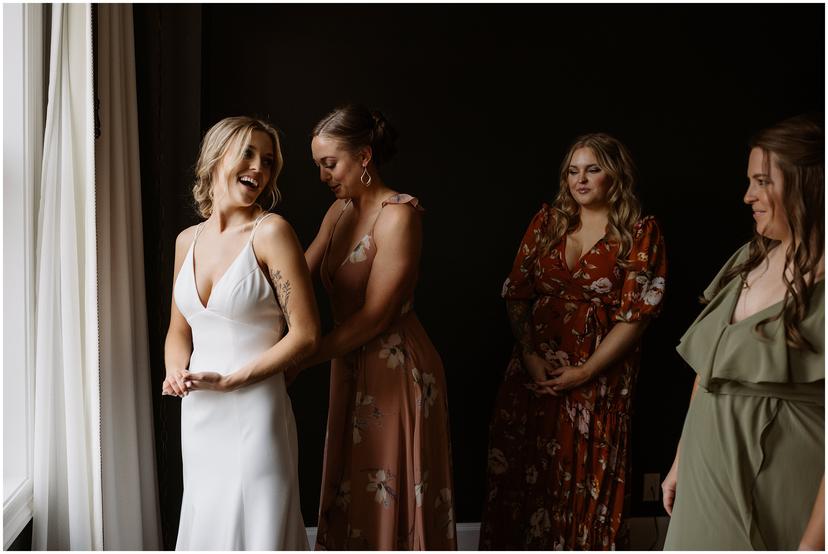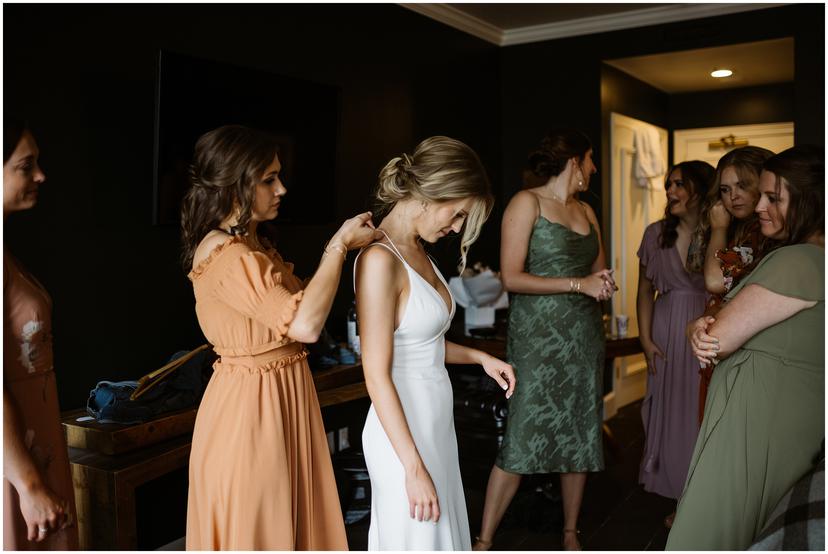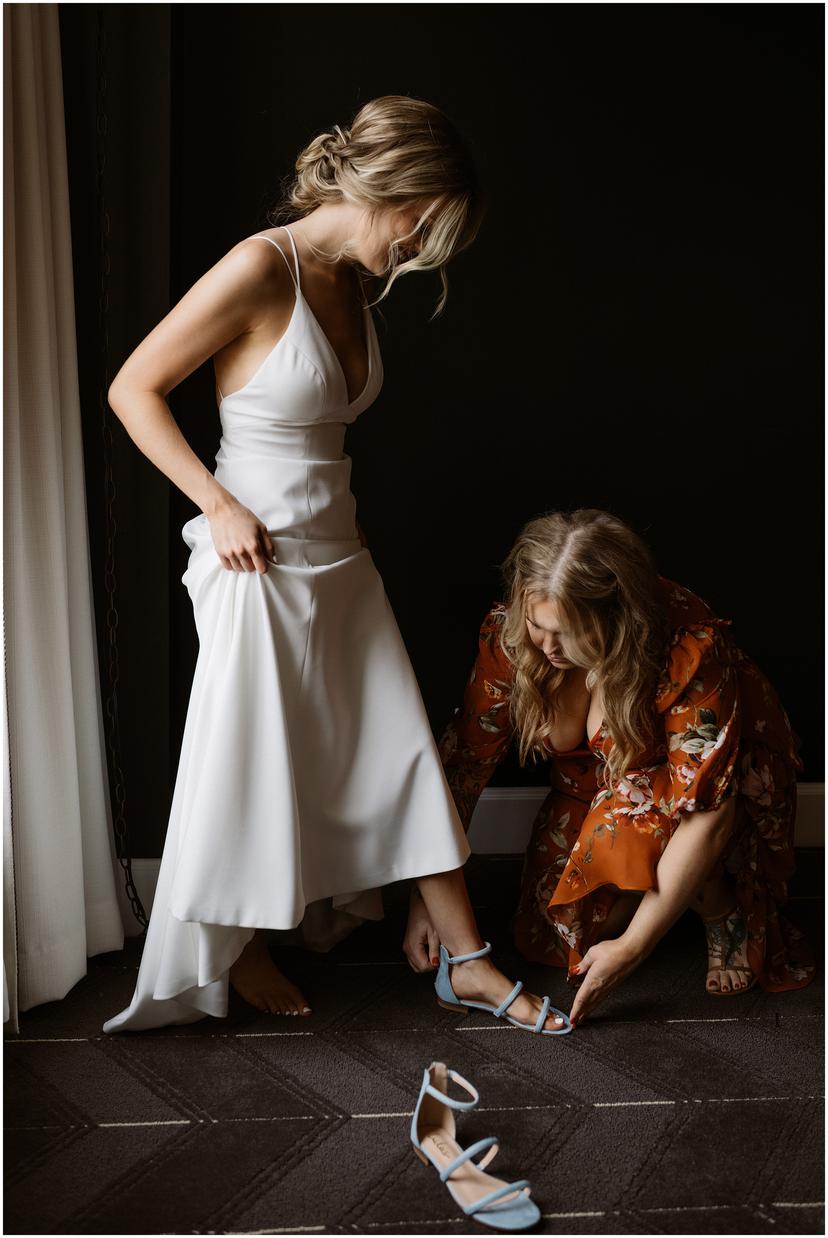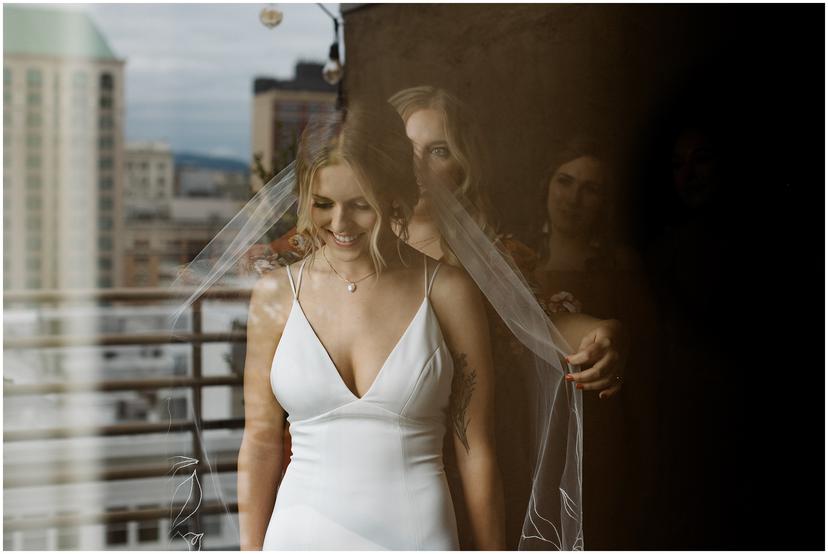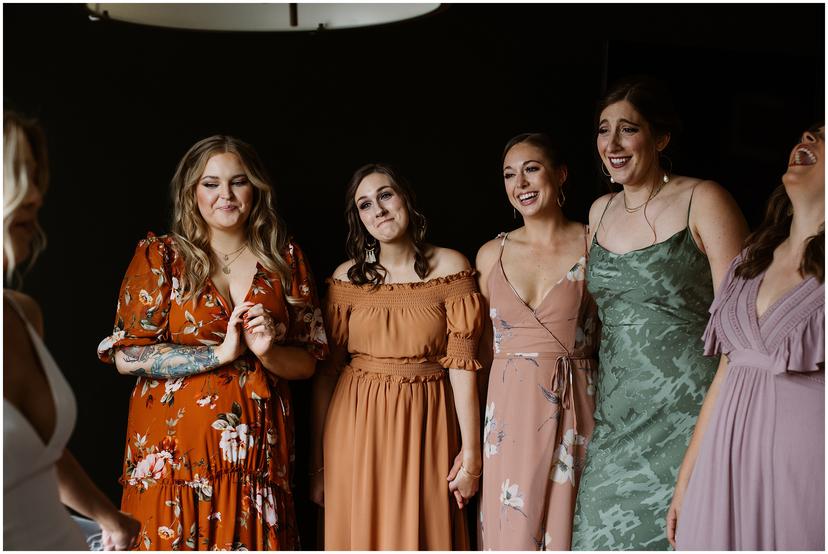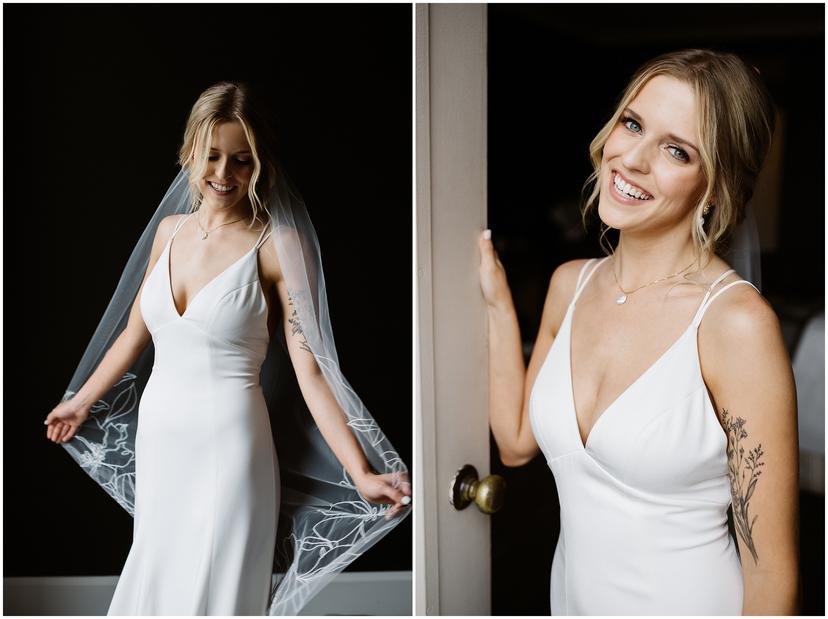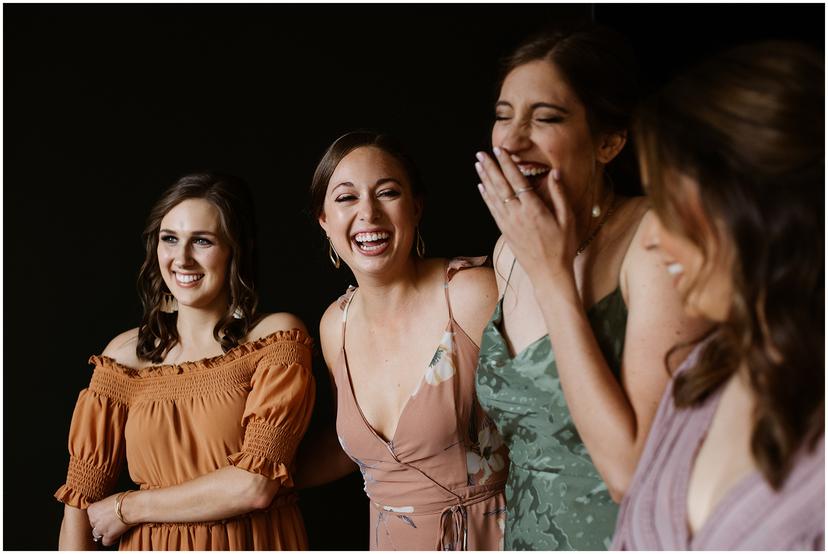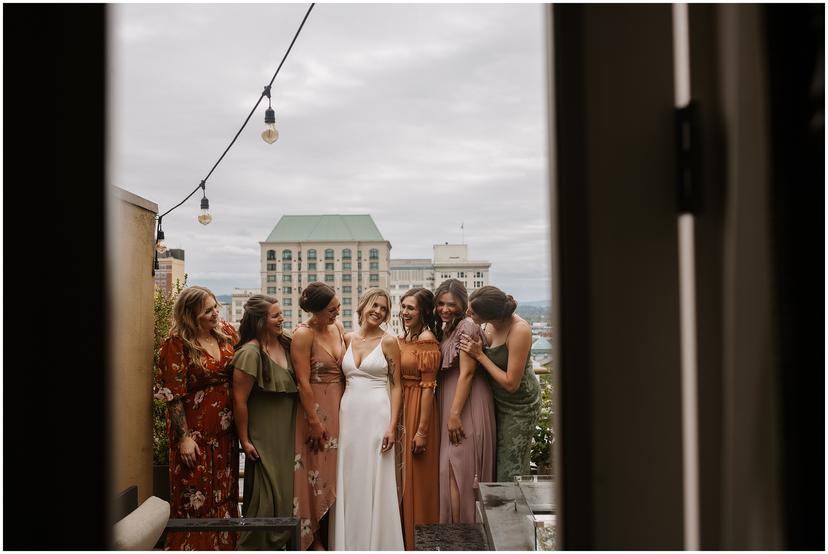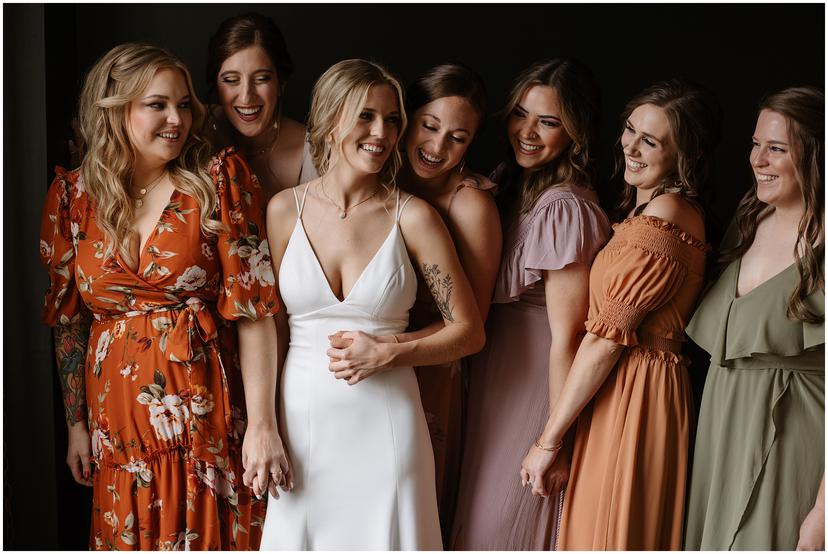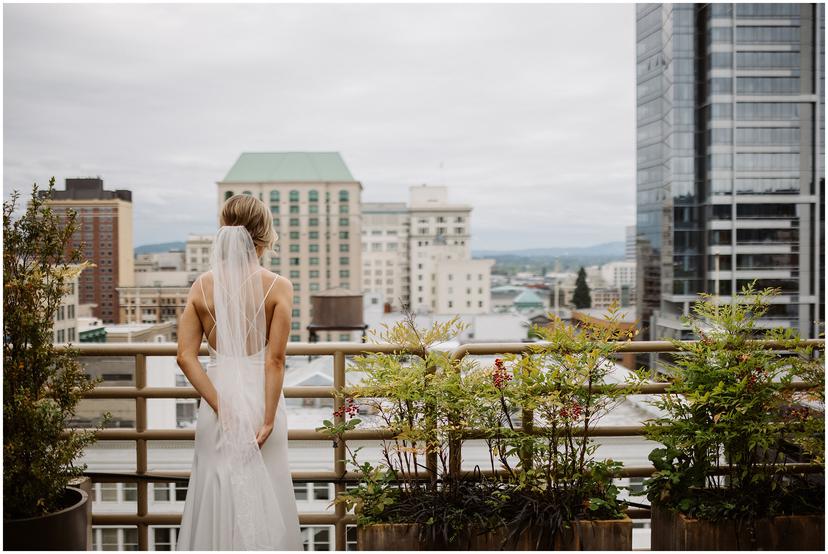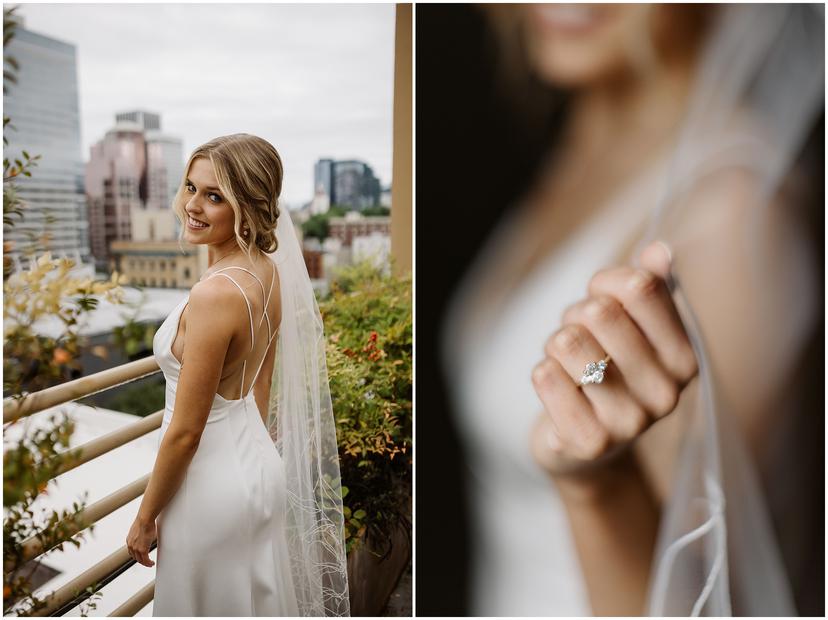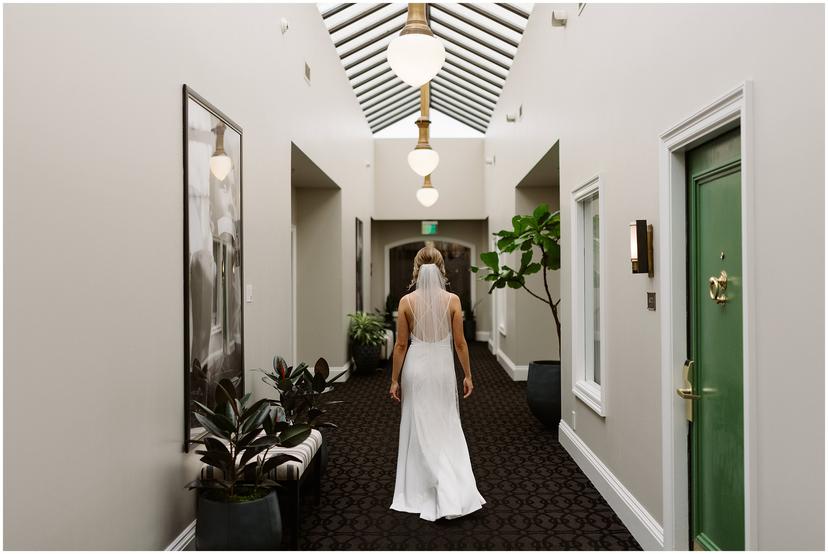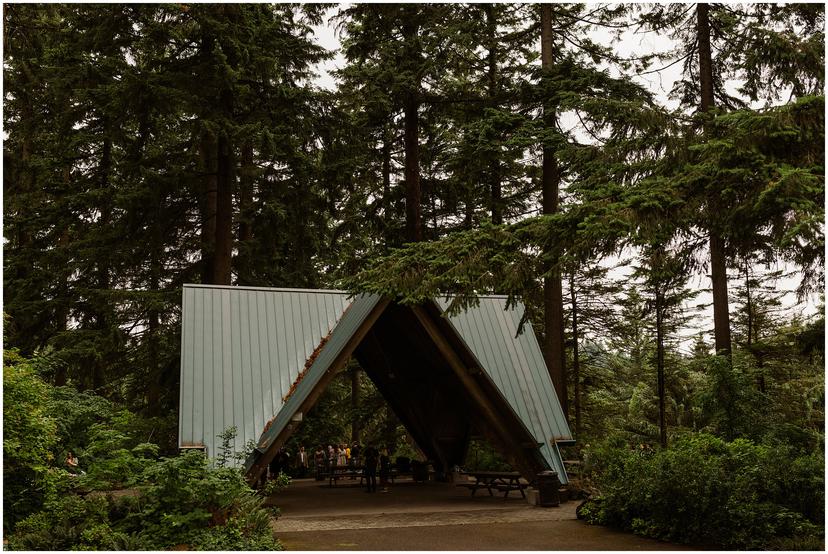 Hoyt Arboretum Wedding
To fulfill their woodsy Portland wedding dreams, Katie and Matthew booked the Hoyt Arboretum for their wedding ceremony. This massive park is one of my all-time favorite places to take photos in Portland, and a perfect spot for a forest ceremony. Hoyt Arboretum is part of Portland Parks and Recreation and Hoyt Arboretum Friends. The park is huge - it covers 190 acres and 12 miles of trails, and is home to 2300 species of trees and plants. It was founded in 1928 to educate the community and help conserve endangered species.
There are 4 different venues available at Hoyt Arboretum for wedding rentals. This wedding ceremony took place at the Stevens Pavilion. The other spots include the Wedding Meadow (see this wedding I did in 2018), the Redwood Deck (where they did their first look), and the brand-new in 2021, Stone Circle.
If you are interested in renting a Hoyt Arboretum wedding venue, contact Portland Parks & Recreation Customer Service Center at:
1120 SW 5th Avenue, First FloorPortland, OR 97204

Phone: (503) 823-2525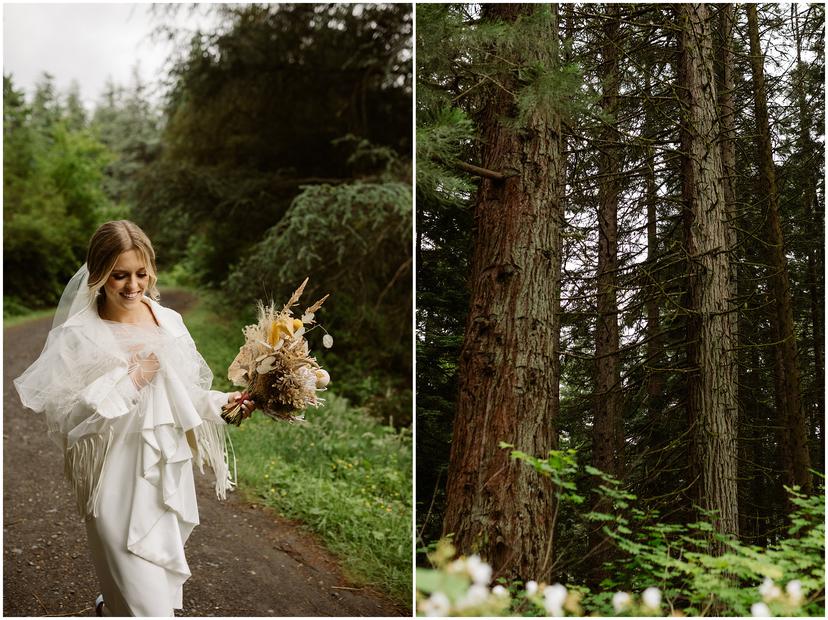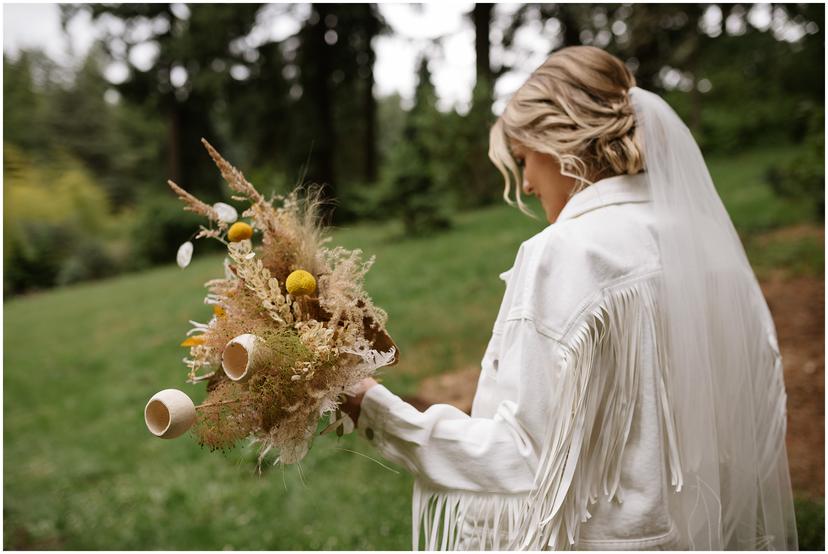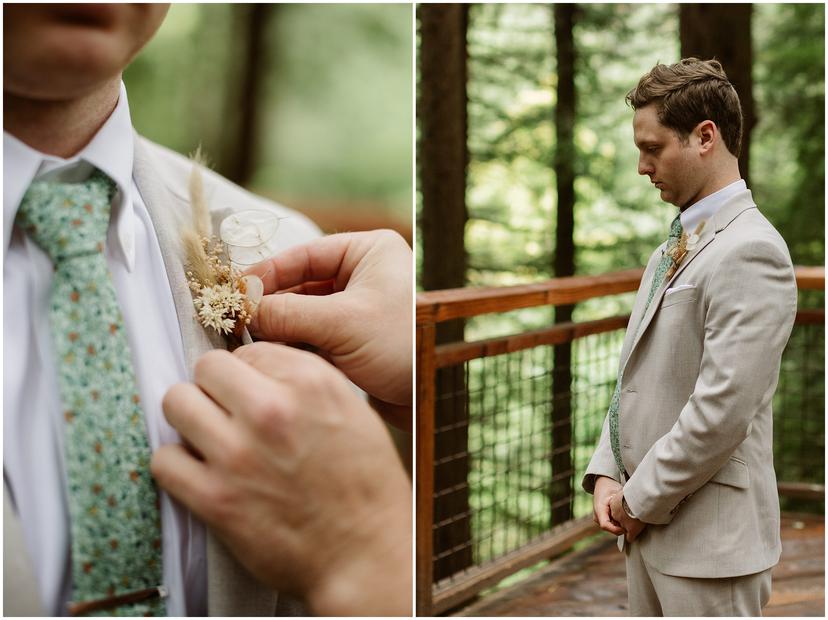 First Look at the Redwood Deck
Katie and Matthew opted to hike into the Hoyt Arboretum for a unique first look at the Redwood Deck. This majestic, shady deck is surrounded by redwoods and is beautiful spot for romantic photos or even a small wedding ceremony. The deck is off the Wildwood Trail, and it's about a third of a mile from the Visitor Center. The natural wooden deck looks out over the the forest and Johnson Creek. Sequoia trees protrude through the deck and there are several benches to sit on.
According to the Hoyt Arboretum website: "The Redwood Deck is not ADA accessible, but there is nearby site access via Bray Lane. The Redwood Deck can be rented in conjunction with the Wedding Meadow for the natural contrast of deep forest views and open green space. No electricity, water, or restrooms at the site (located at Visitor Center)."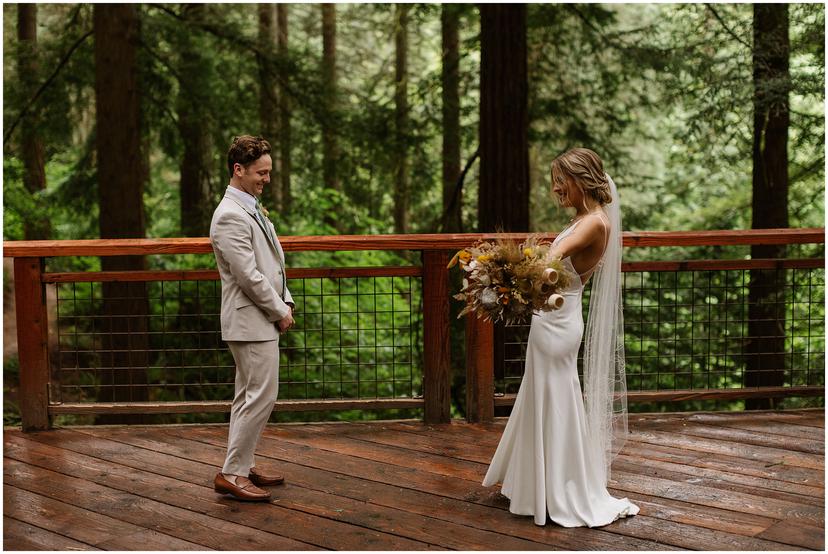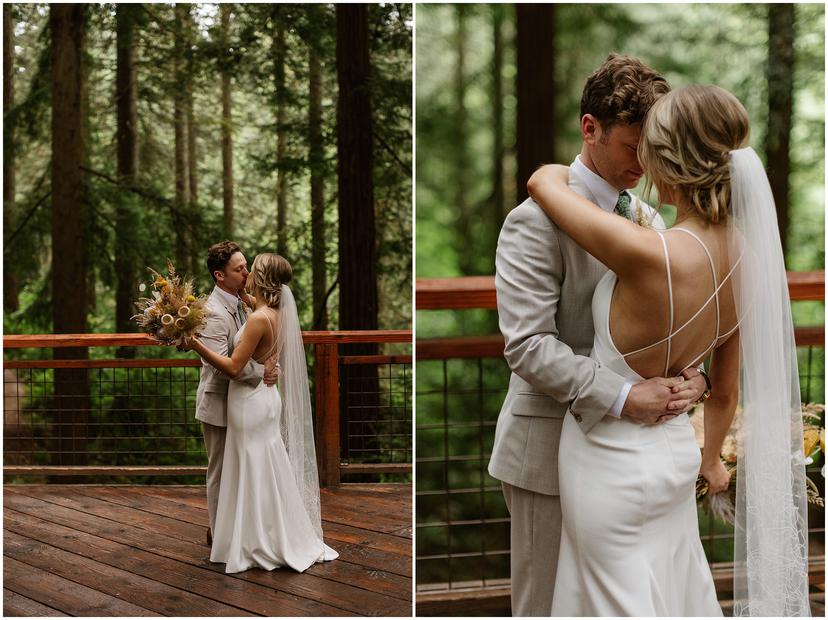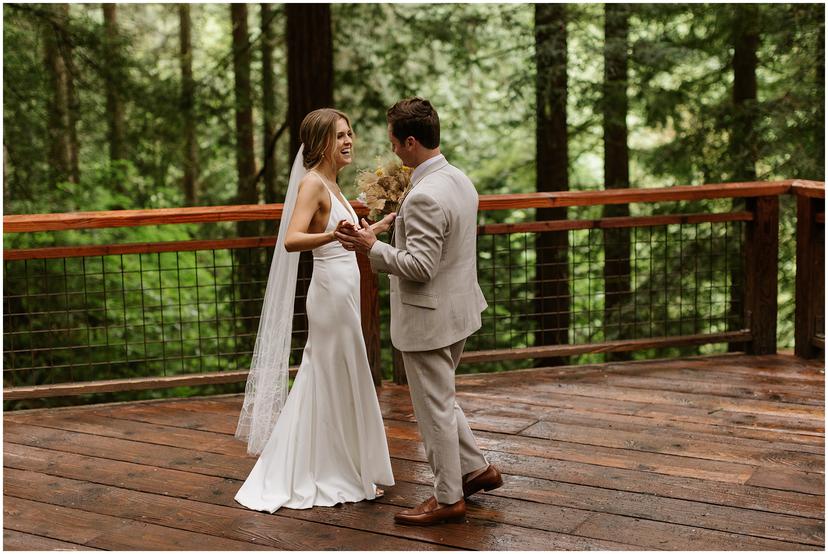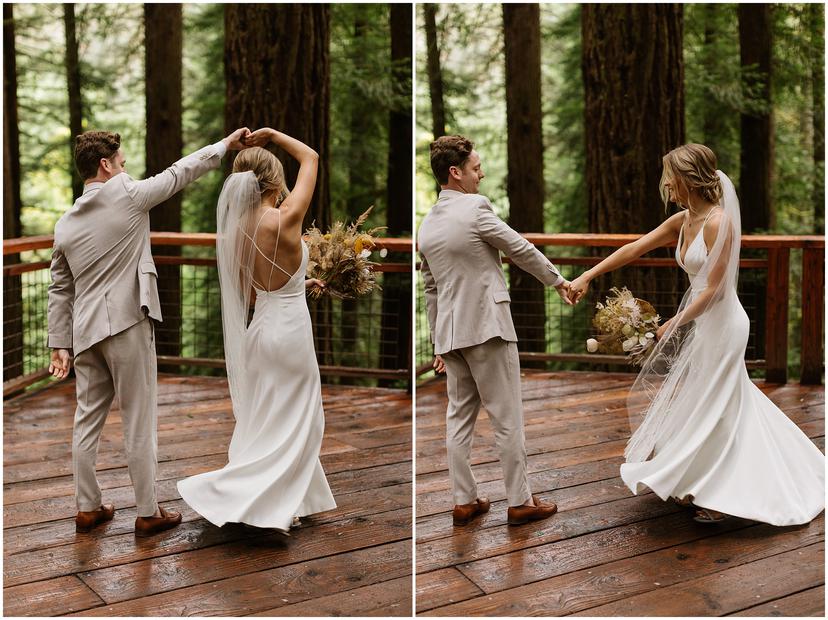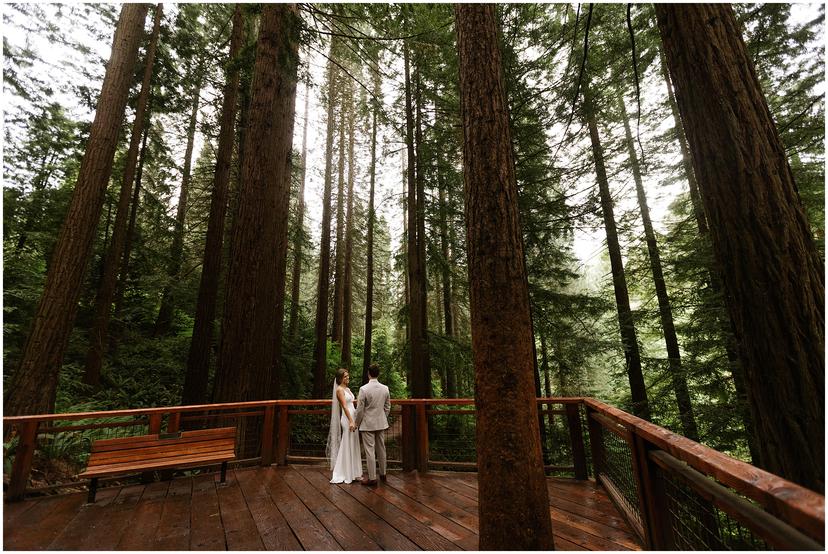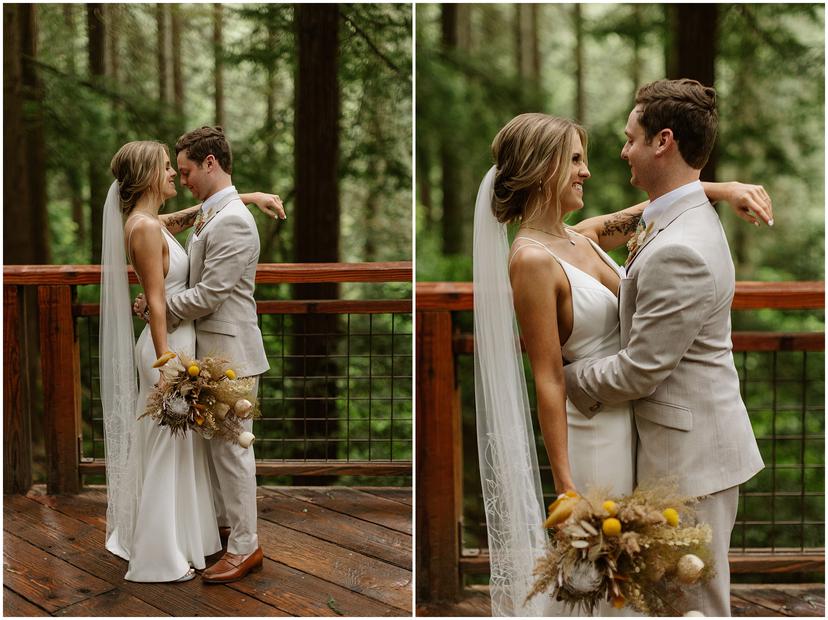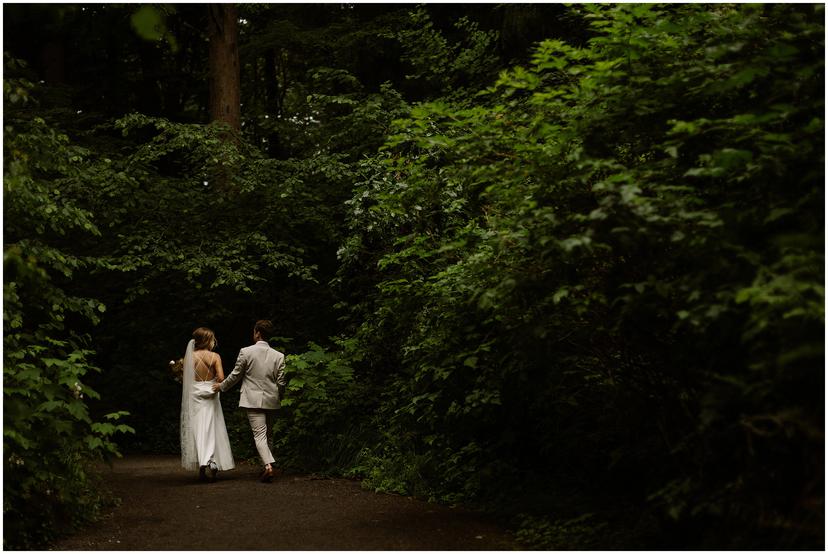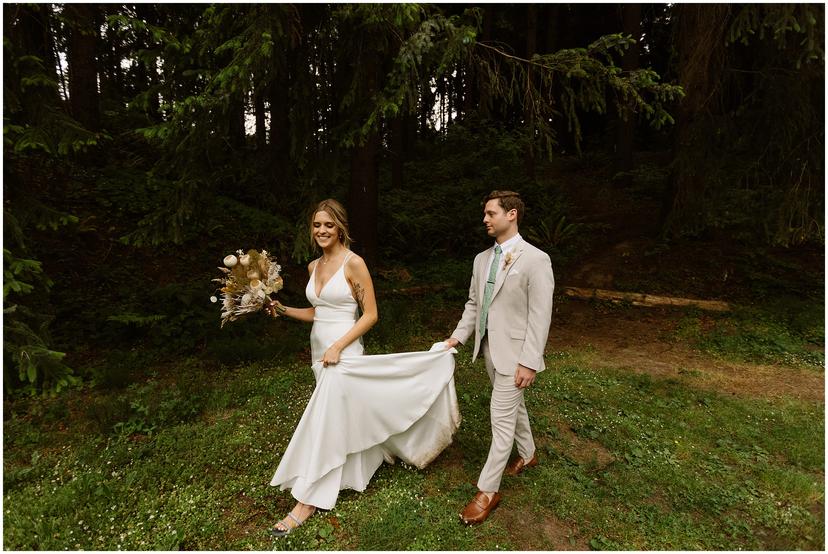 About the color scheme
Katie and Matthew both wanted "a typical Portland woodsy wedding."
"I'm a crazy plant lady," said Katie. "I just want plants. Lots of florals and greenery. I love texture, leather, wood, and greenery. I'm modern in my personal style, with a touch of boho - I throw some fringe in now and then."
Katie collaborated with her planner Morgan with MH Events, and her florist Chas of Wildflower Floral to bring her vision to life. I loved the dried flowers, fungus, bright pops of orange, and multiple textures that played into the final color scheme. It was woodsy and earthy but still dramatic and unique. I loved how the colors blended with the different spaces at Hoyt Arboretum and Blockhouse.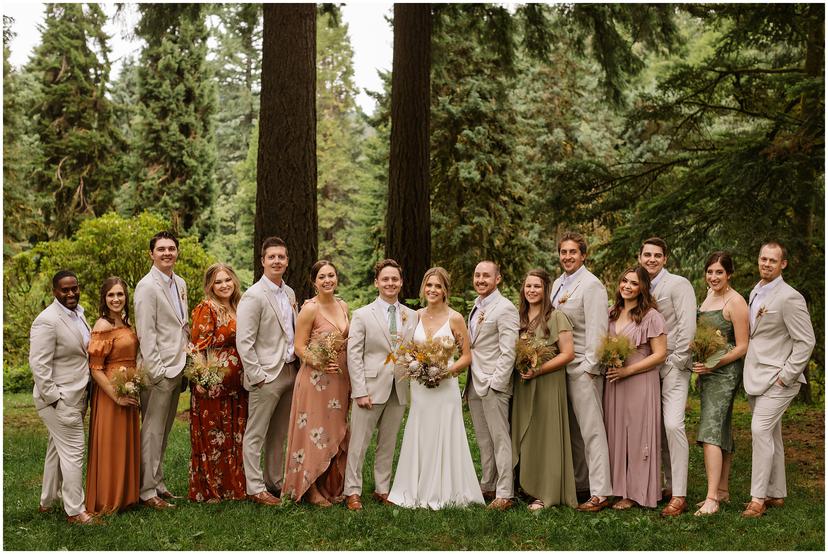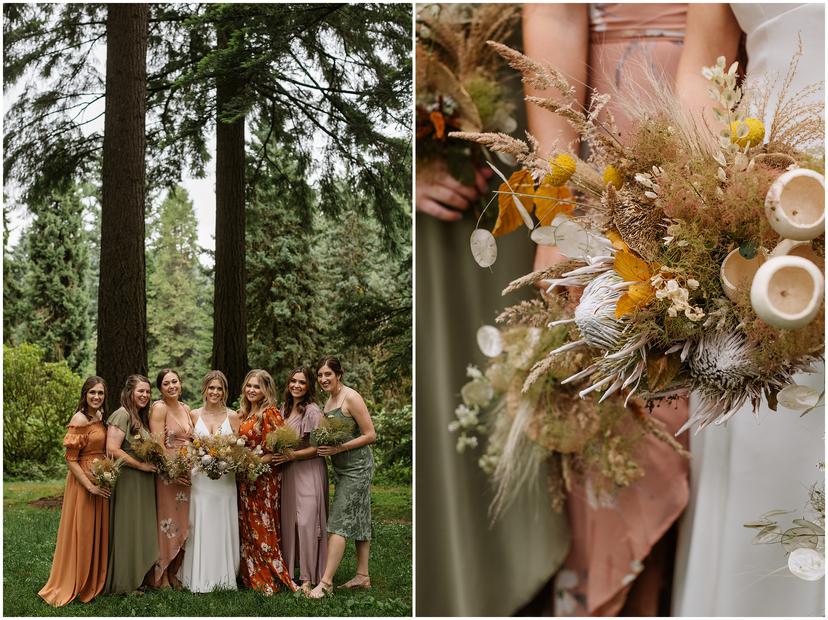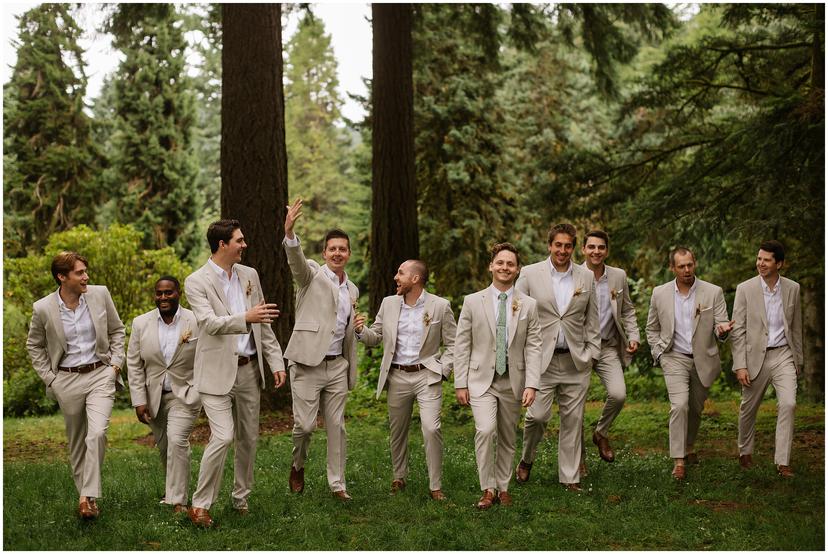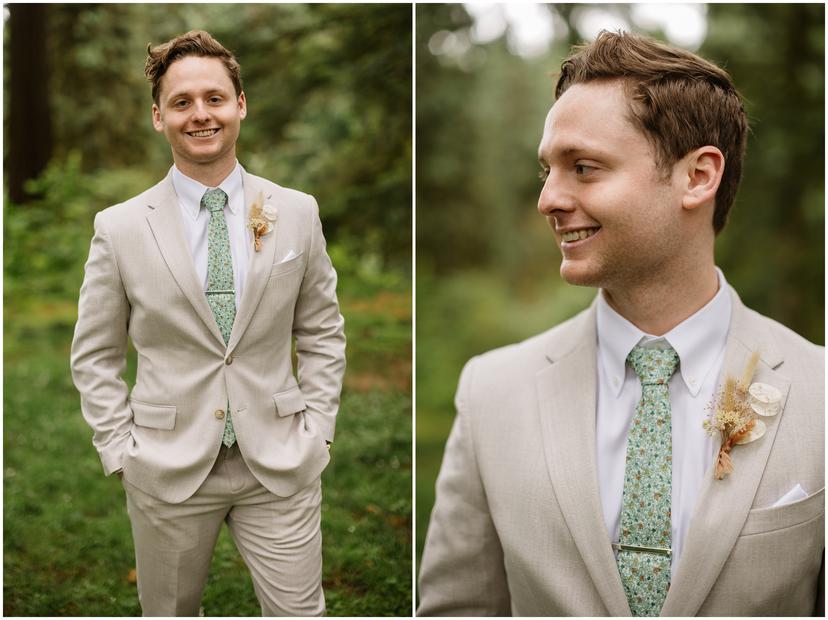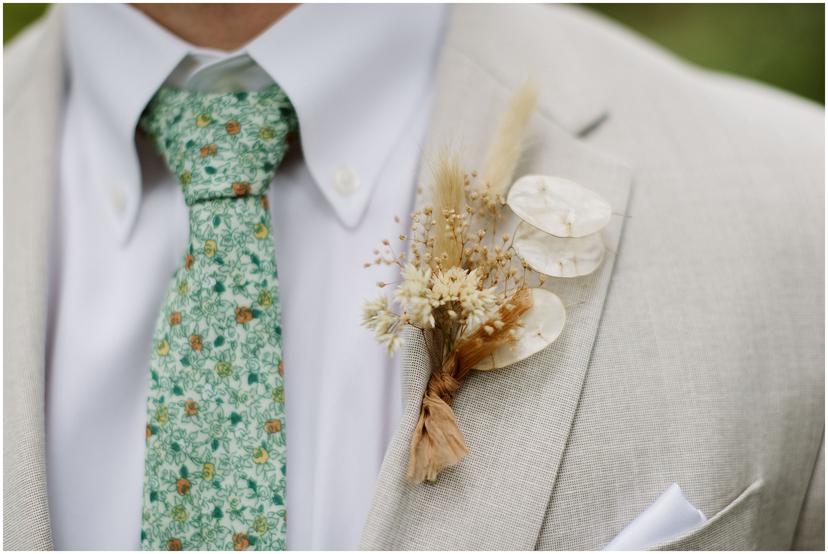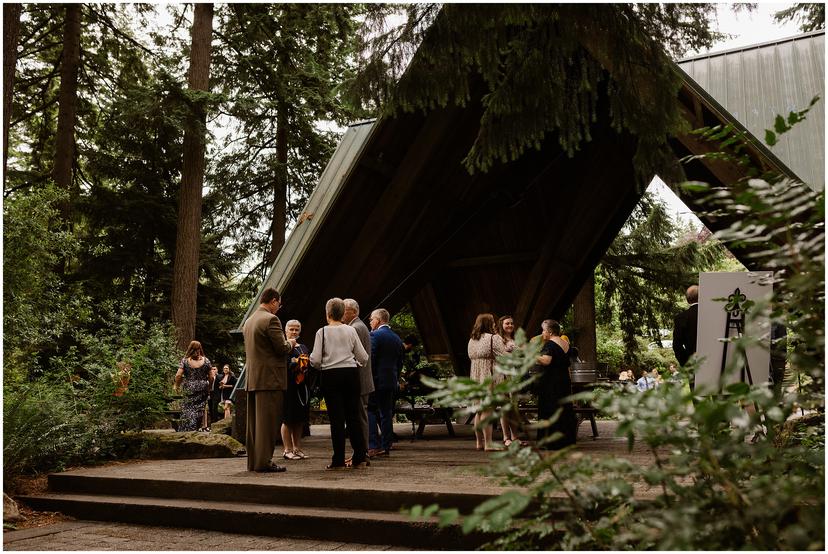 Stevens Pavilion wedding ceremony
After their first look and some portraits, Katie and Matthew got married at Stevens Pavilion at the Hoyt Arboretum. They held their ceremony in the meadow just below the pavilion so they could get the full forest impact. But the pavilion is a great option for rainy days and shade.
Stevens Pavilion, according to Hoyt Arboretum's website, consists of a wooden A-frame picnic shelter that is open on all sides to massive Douglas-fir trees and Pacific Northwest beauty. The Pavilion includes 10 permanent picnic tables (they can't be moved) and is ADA accessible. Stevens Pavilion is located right off SW Fairview Boulevard, across the street from the Visitor Center (where there are restrooms and drinking fountains). There are 110-volt electrical outlets available at the site.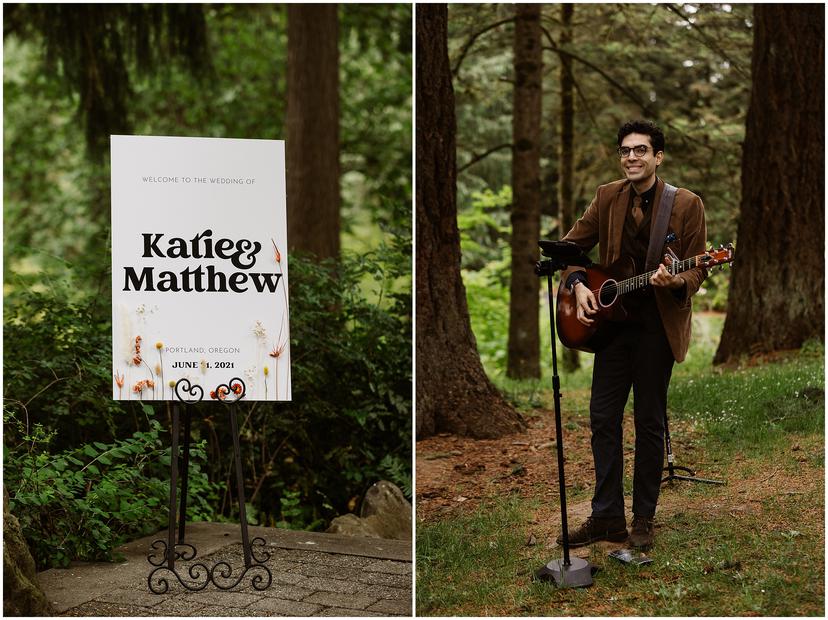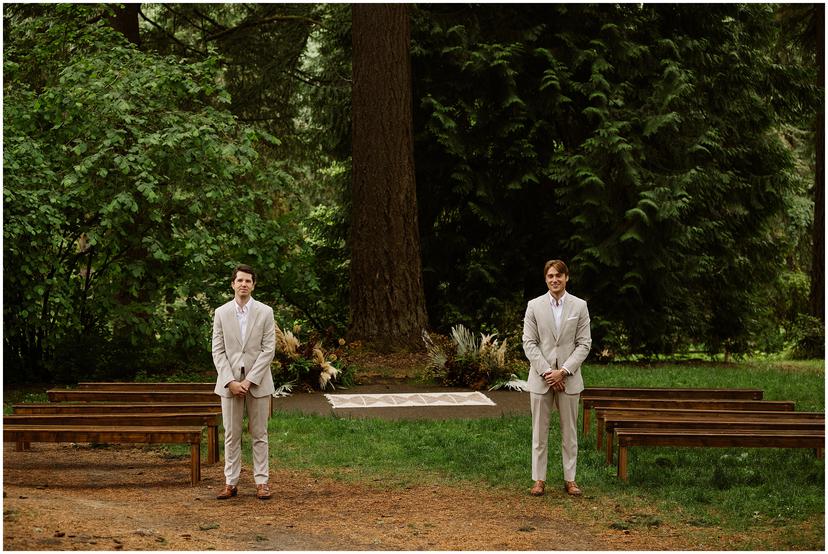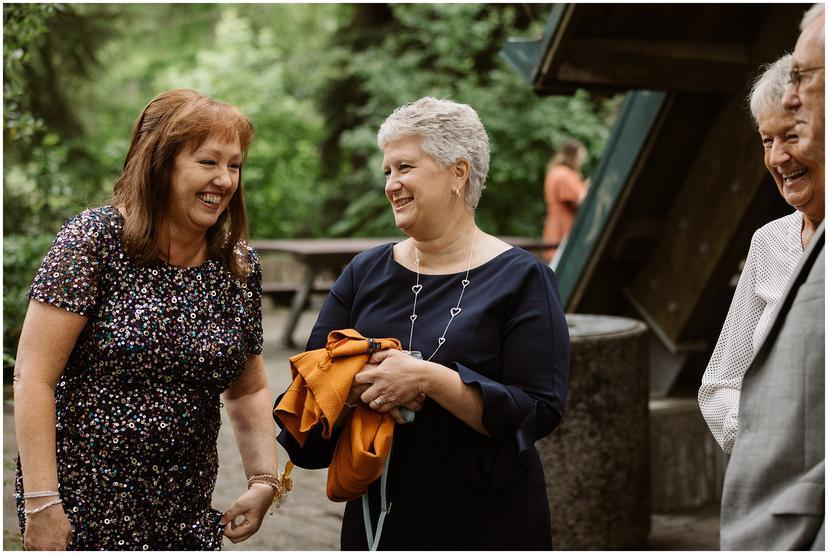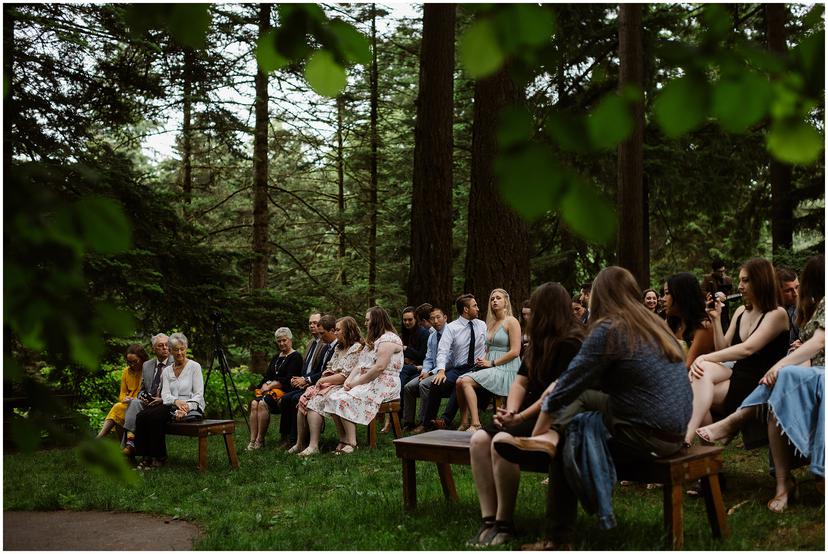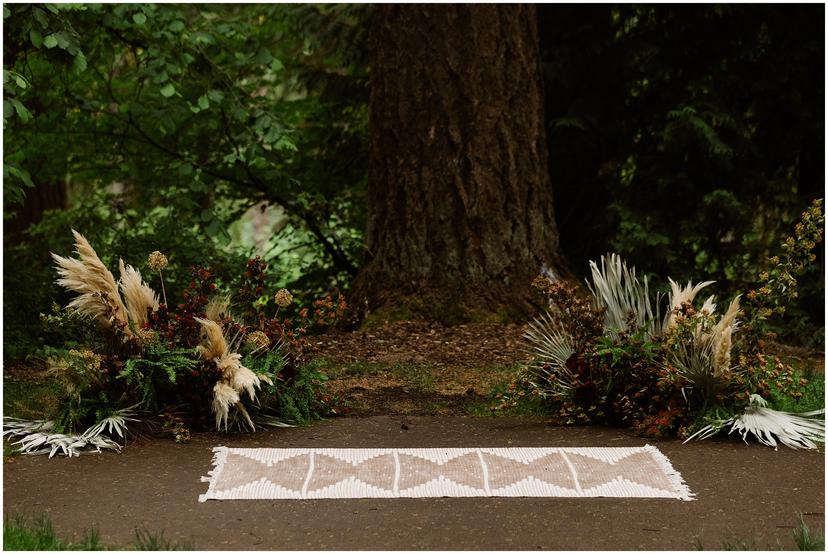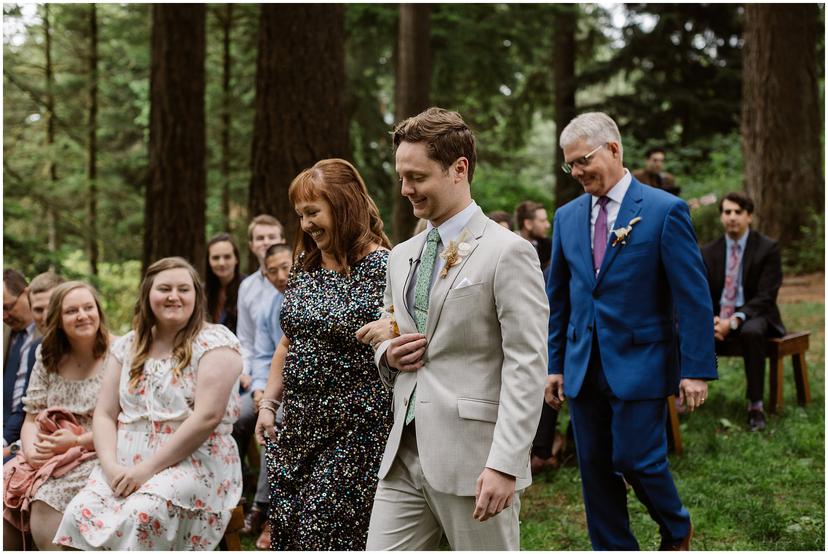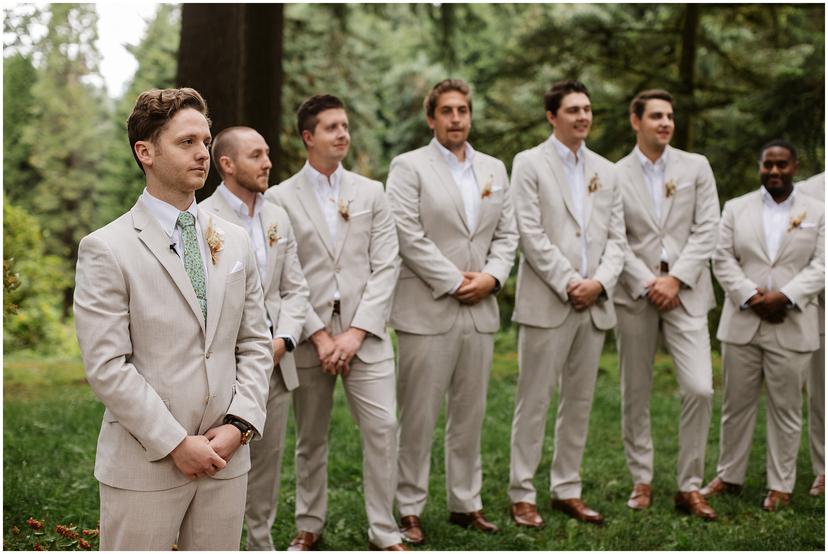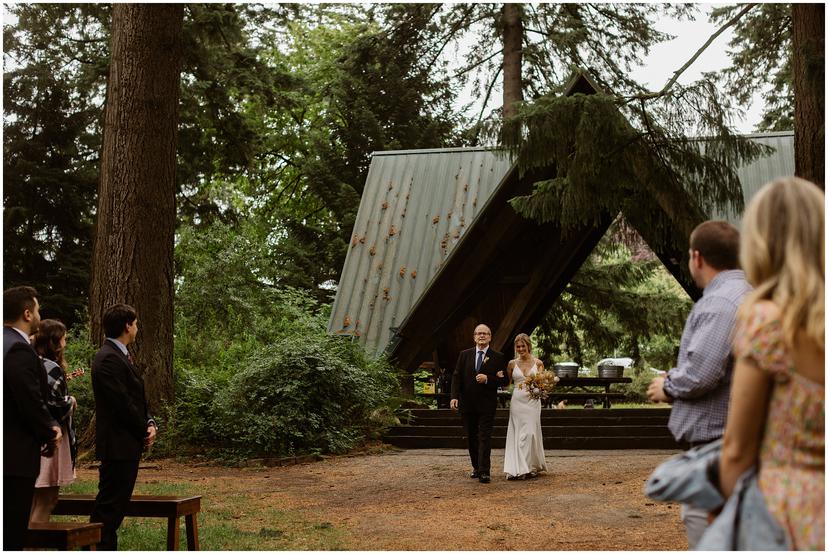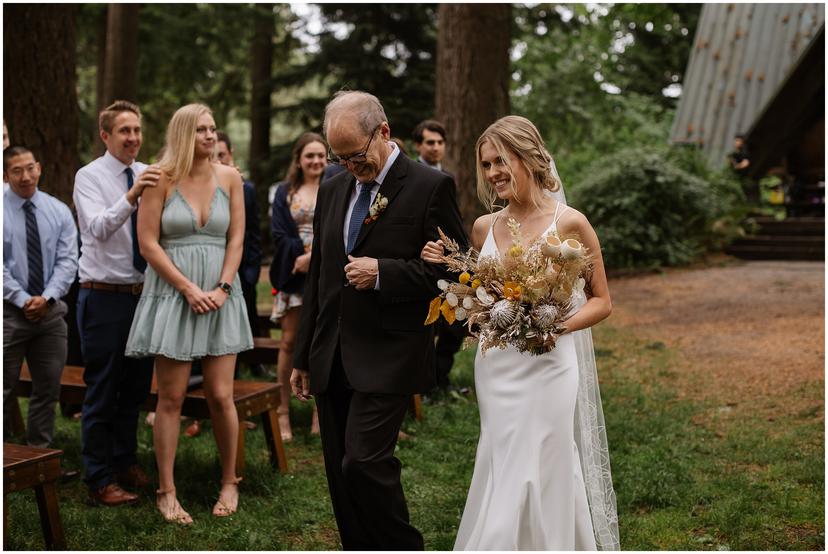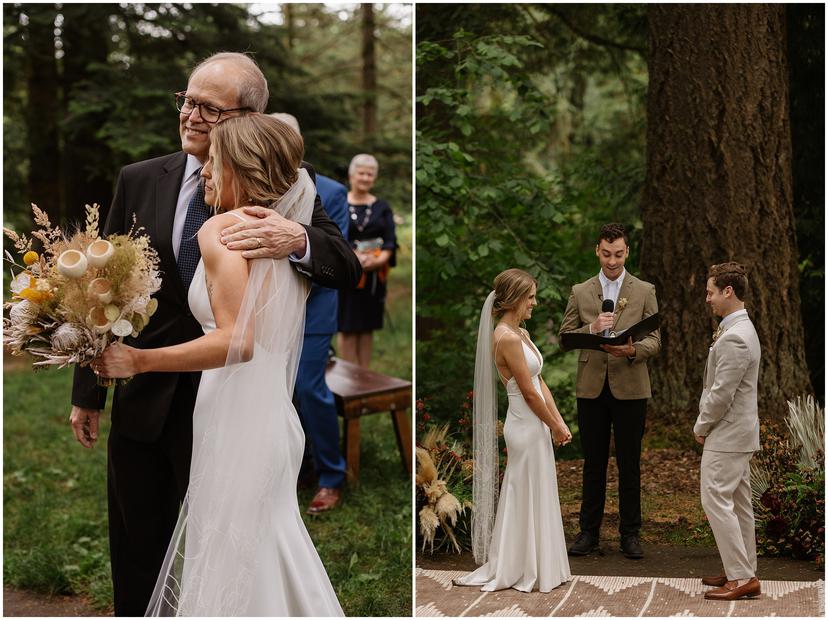 About the couple
I always like to ask couples why they chose each other. This is what Katie and Matthew said:
Matthew: "It's her commitment to anything, whether it's me, or her career, she's the most passionate person I know. When our arguments happen and things get tough, it makes me feel like she puts way more into our relationship. It's just those little things."
Katie: "We really started out as best friends. We love to challenge each other often because we are both SO passionate. We really only argue for the sake of arguing, he is smart, sharp and witty, and my favorite competitor. He is the hardest worker, but he's also one of the smartest workers I know. He knows how to work hard and play hard, he keeps everything fun."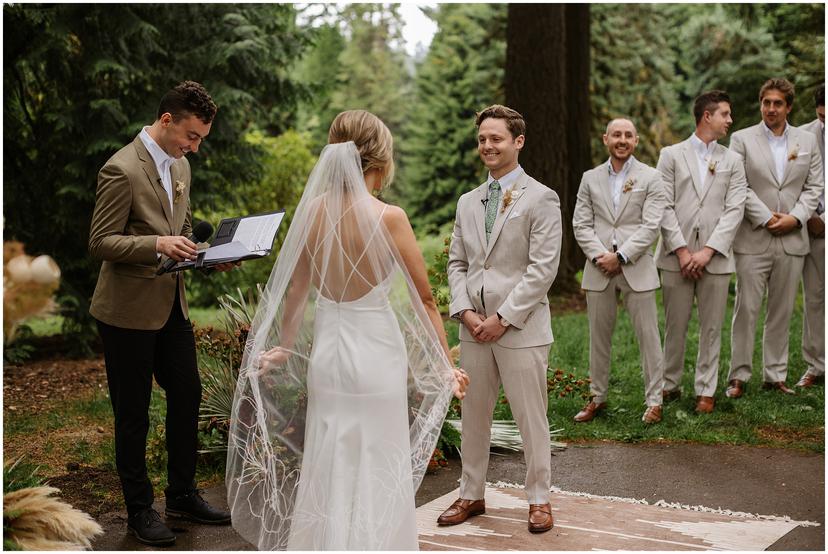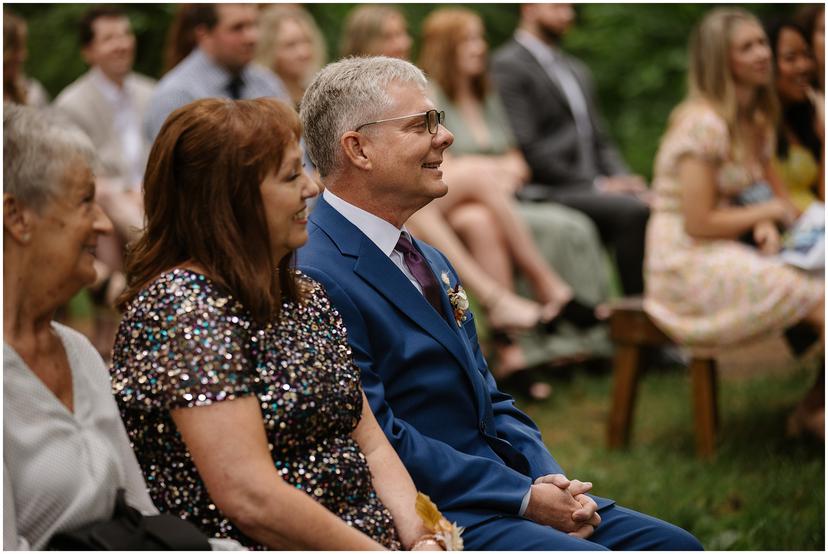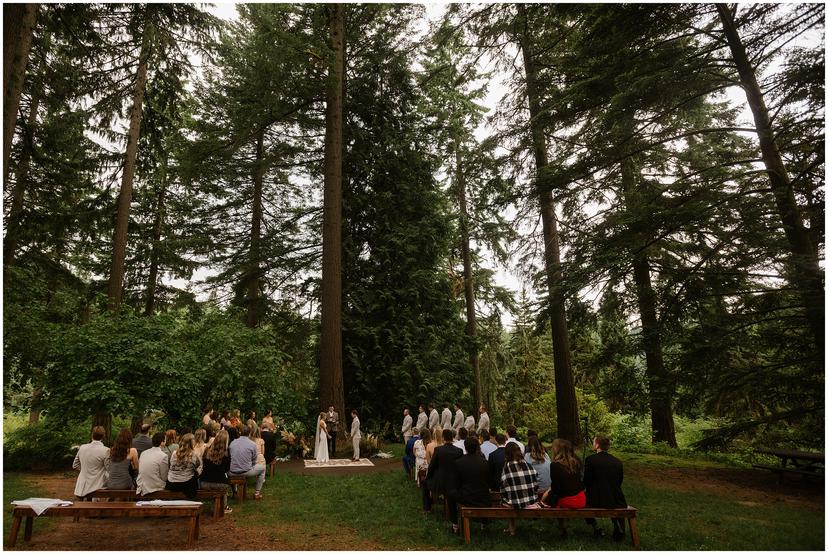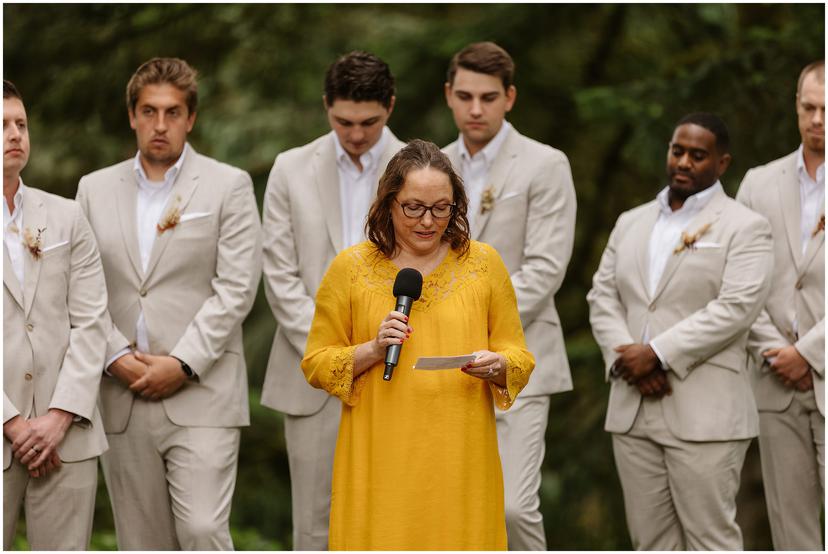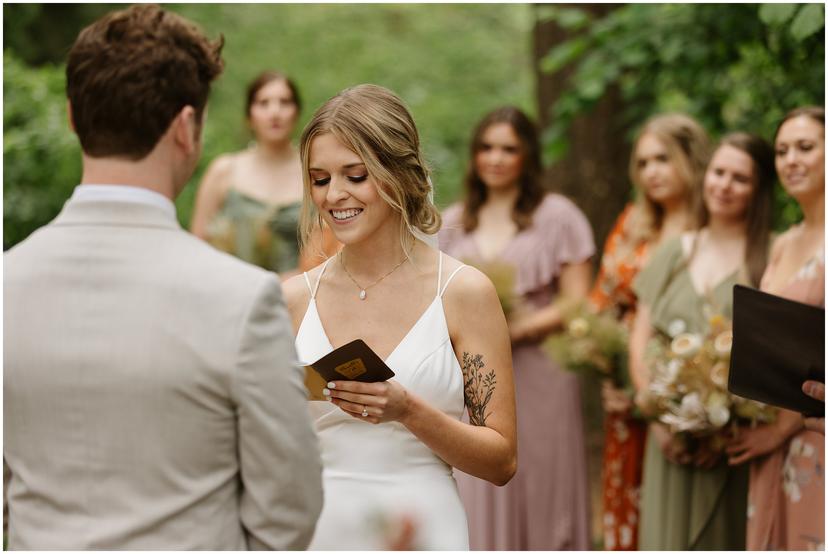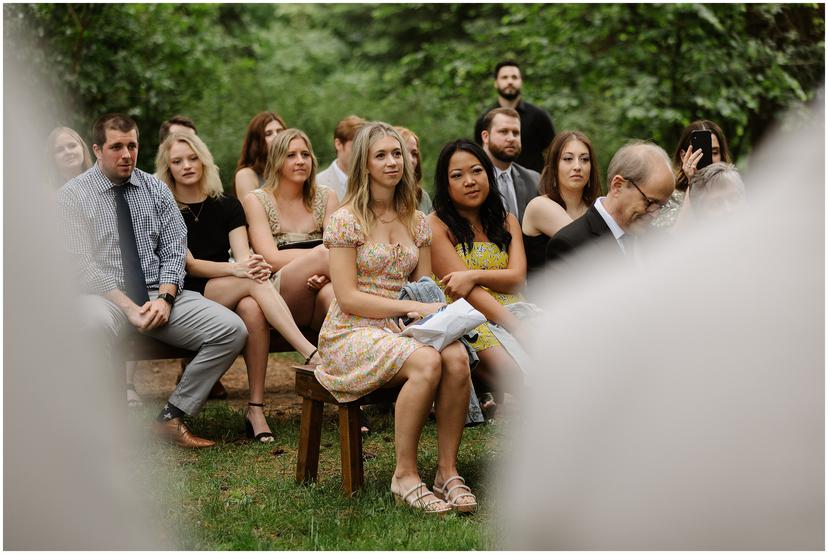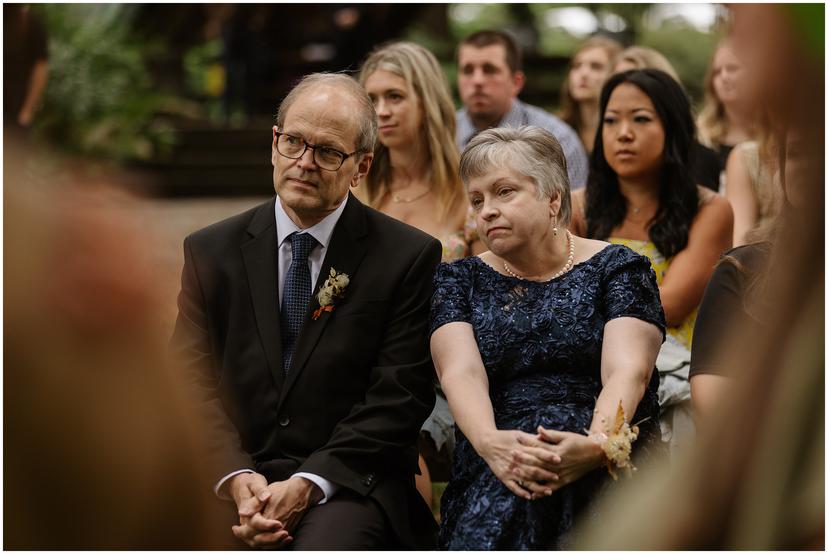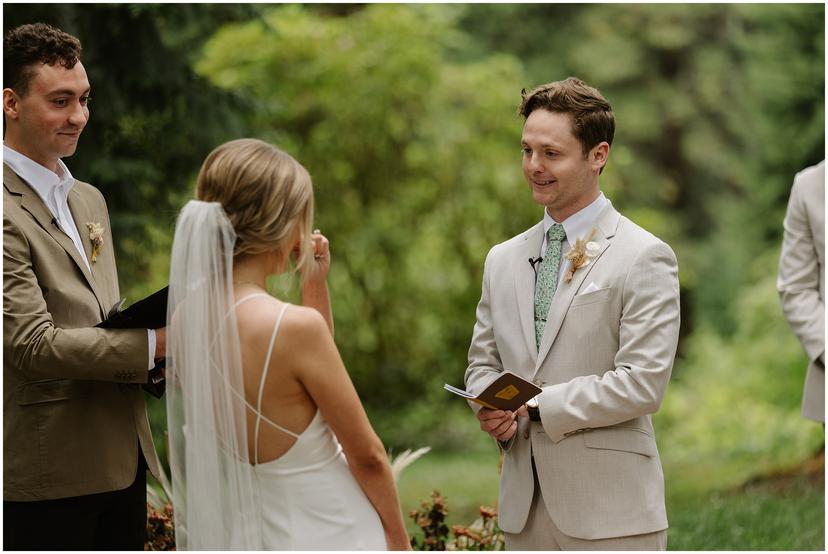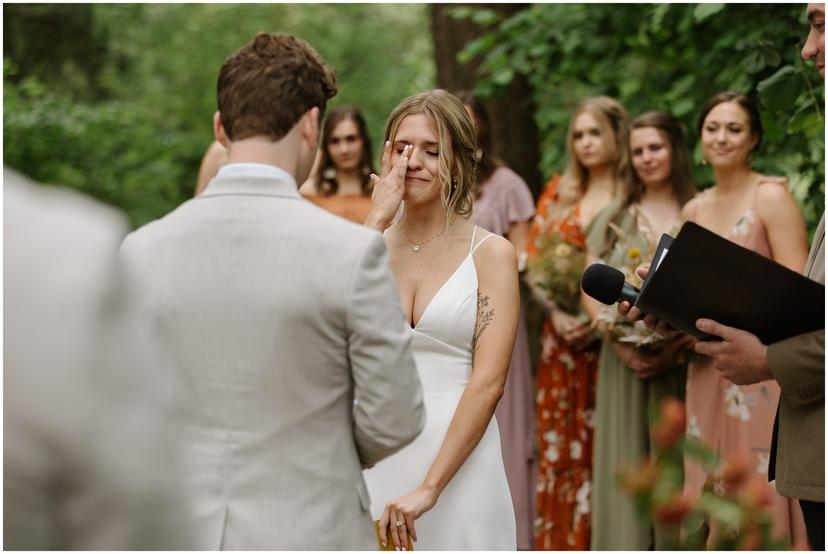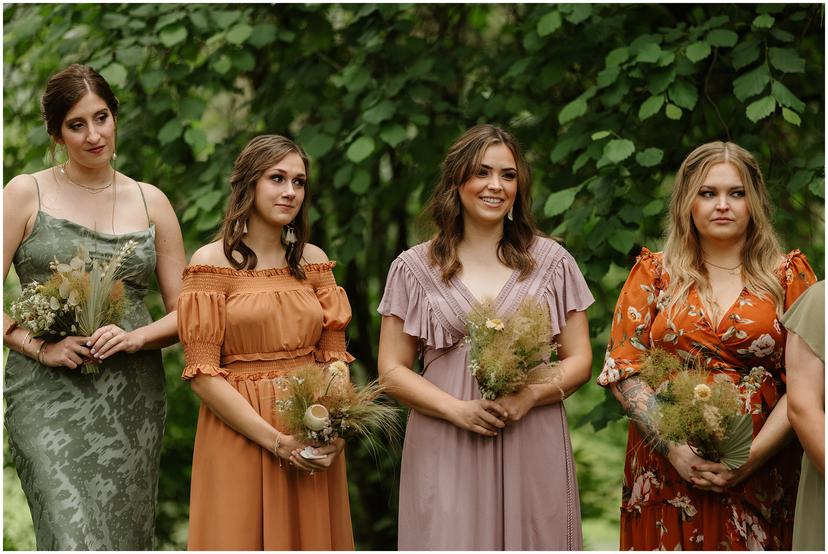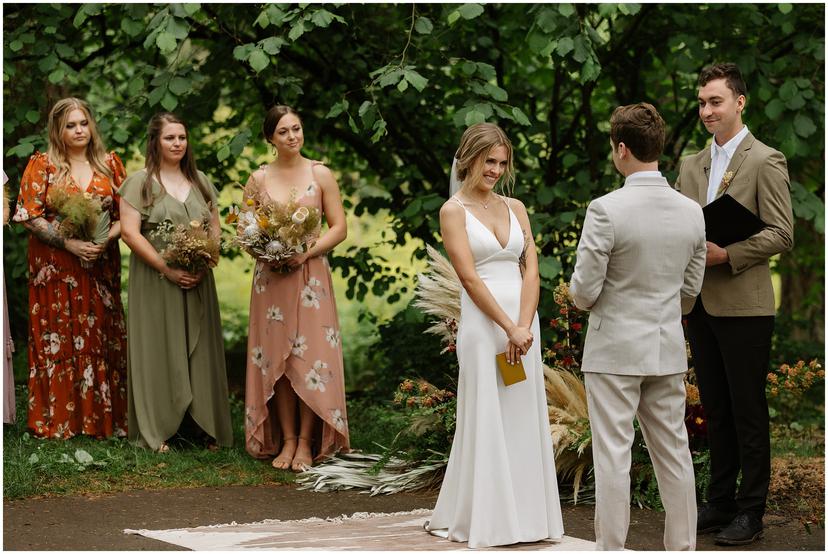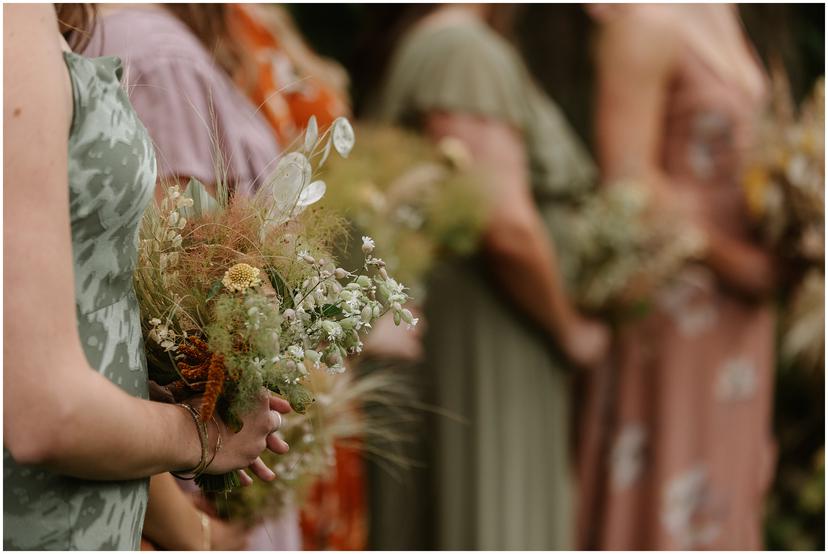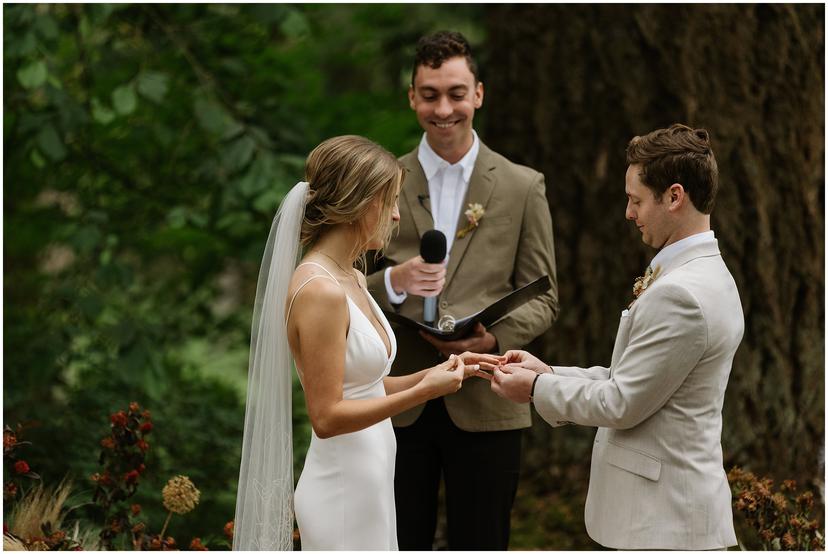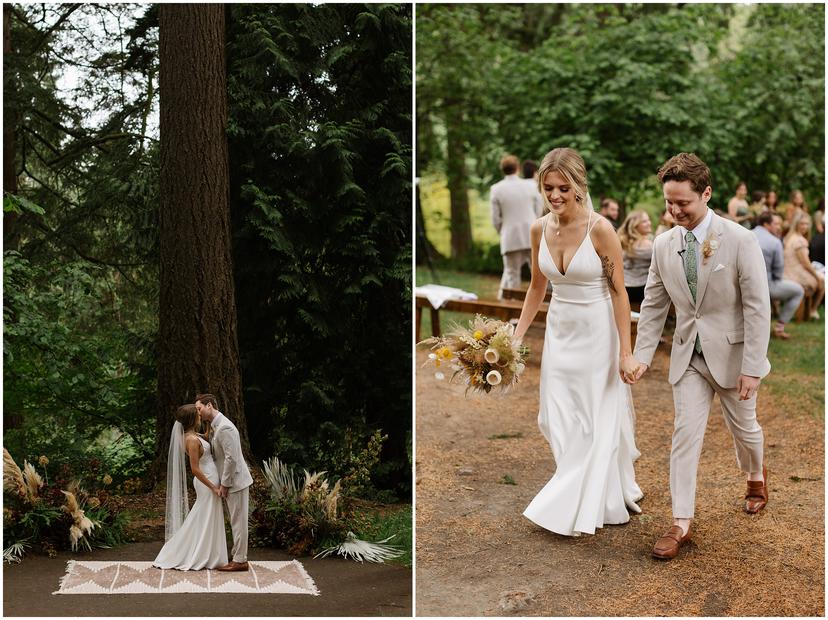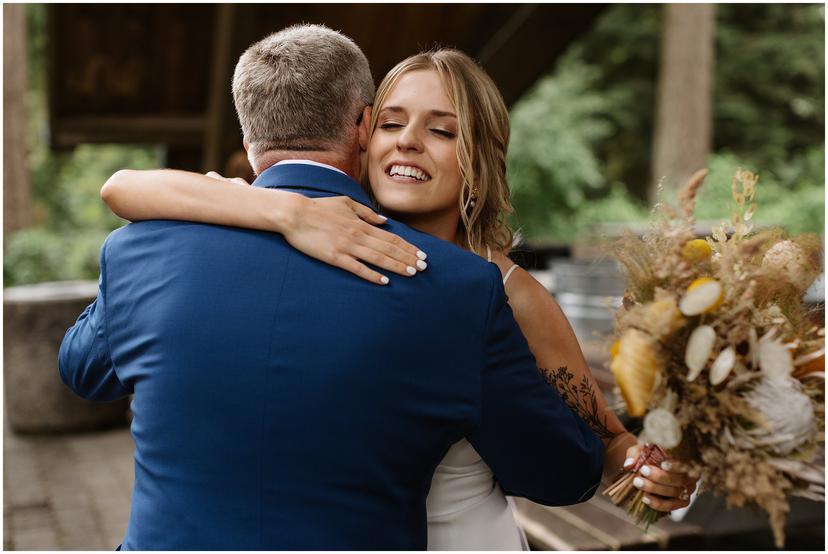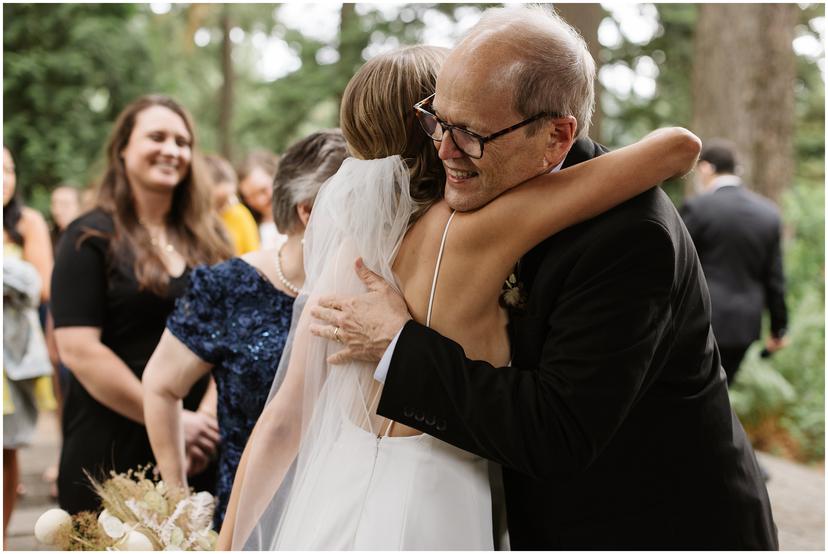 Why they chose Hoyt Arboretum for their Ceremony
Matt: "The beautiful scenery, the open air, it all just came together as we hoped. The space for guests to congregate, have a drink, and take their own cool photos after the ceremony while we did family photos was also a nice touch."
Katie: "I rarely dreamt of my wedding day (just not my thing) but if I ever did, our ceremony location was exactly what I pictured. It's just gorgeous and massive but we still felt close to all our guests."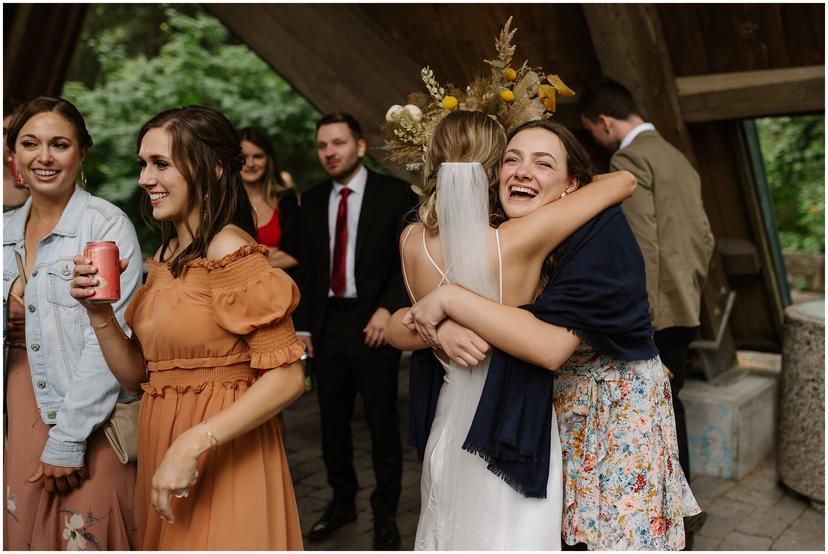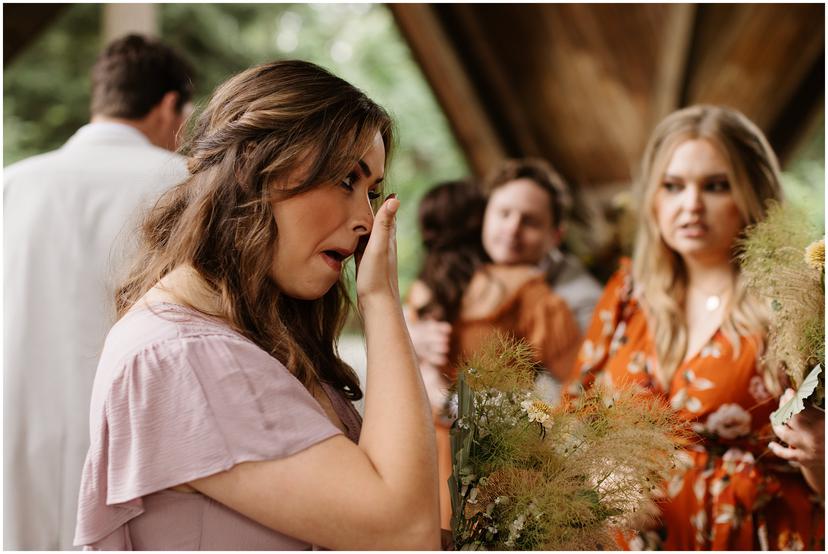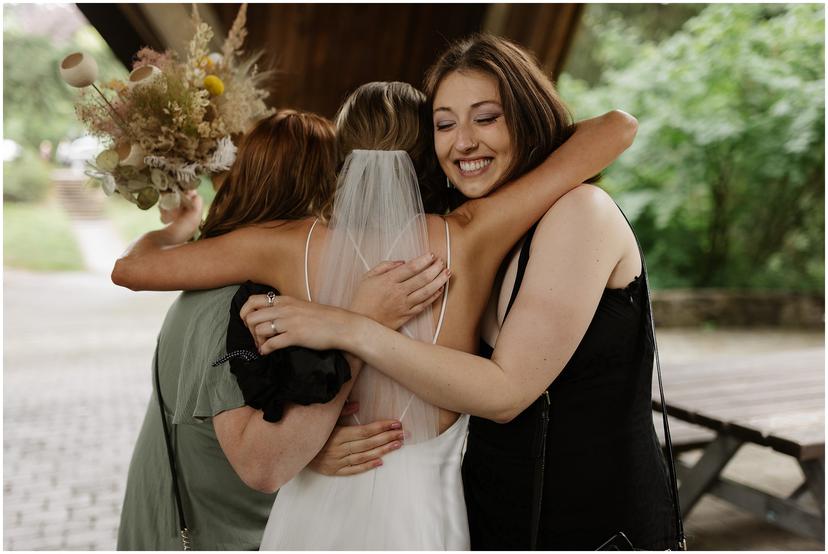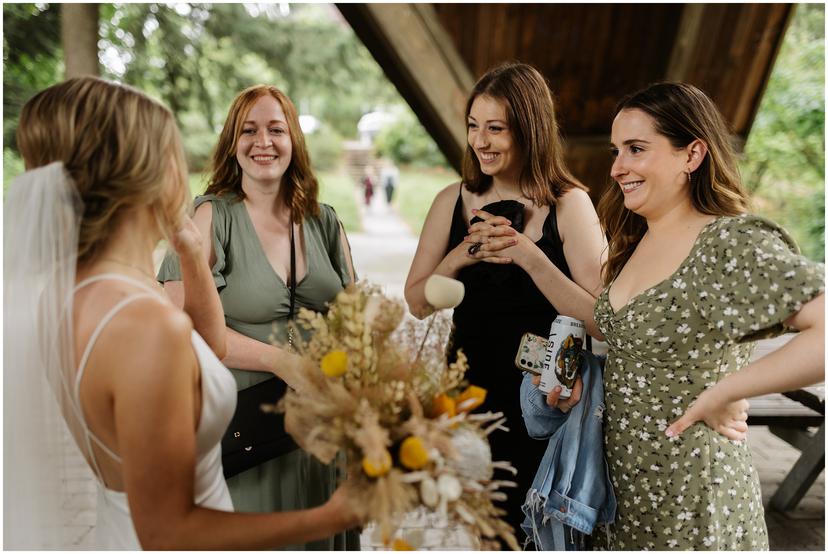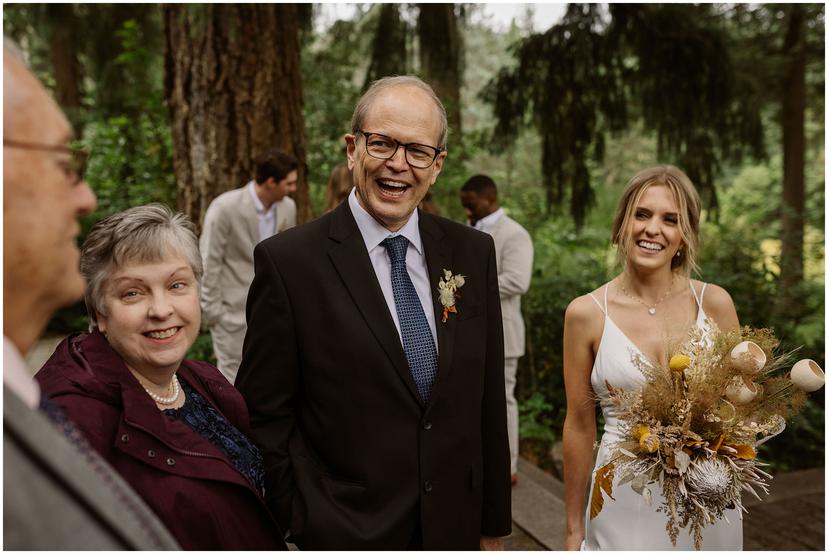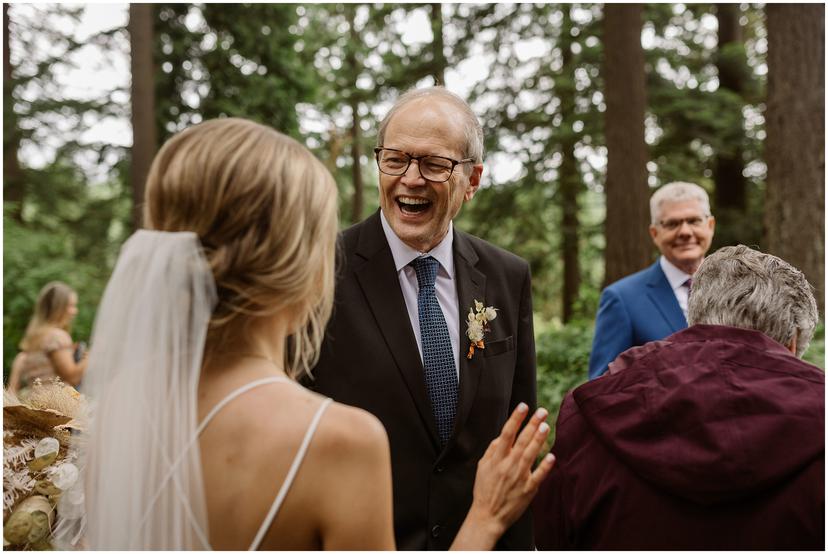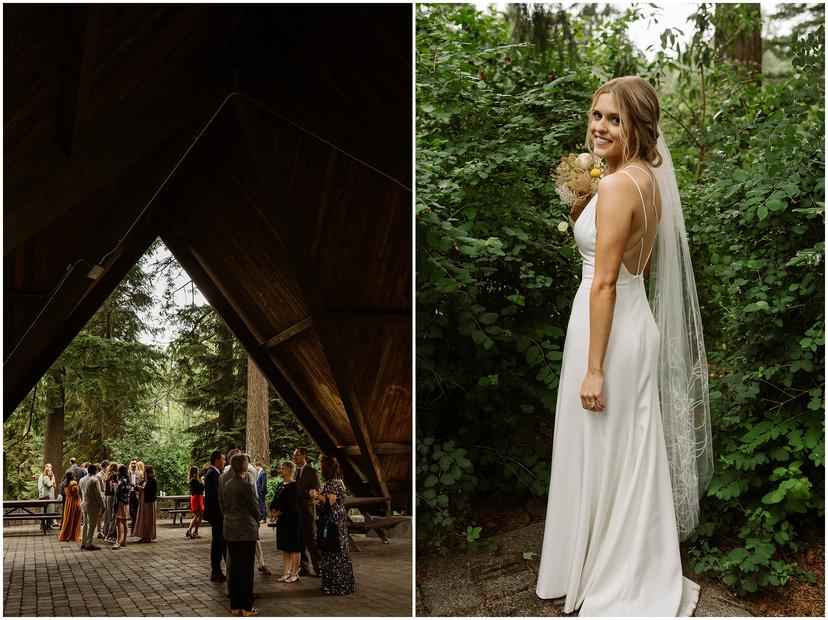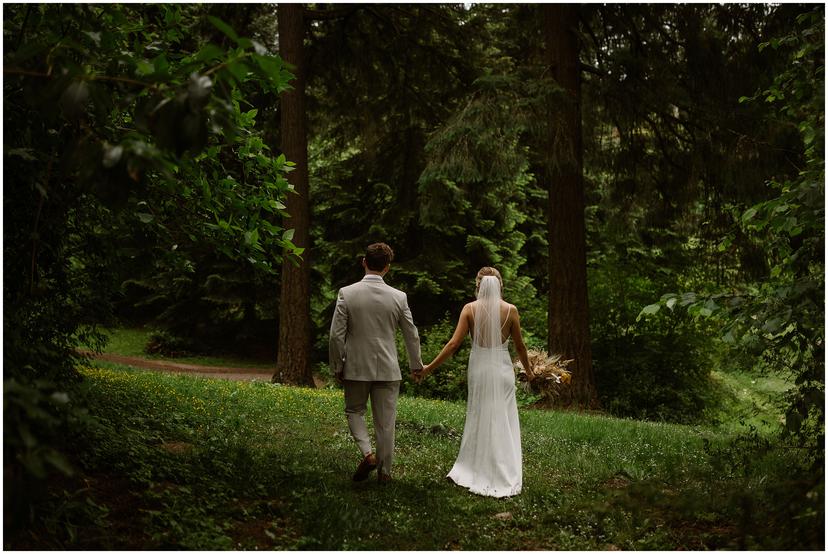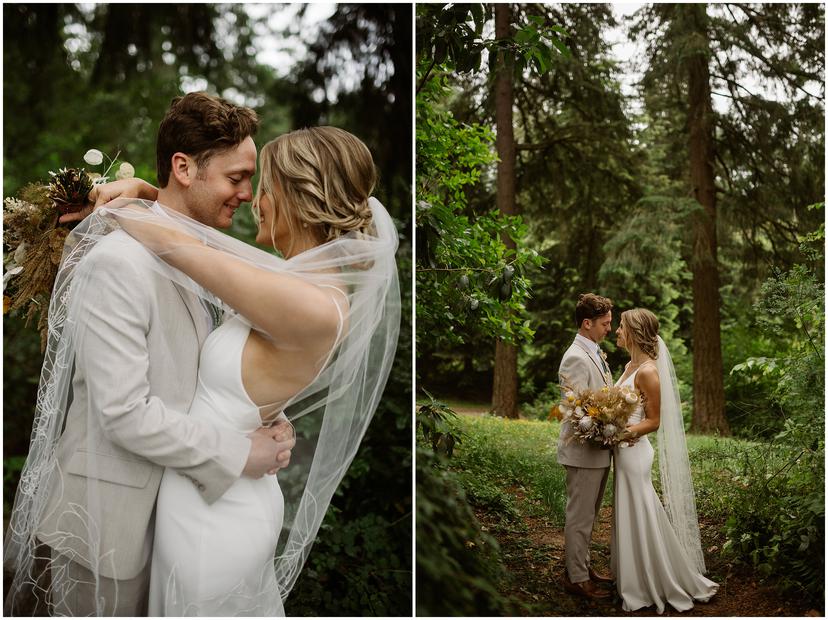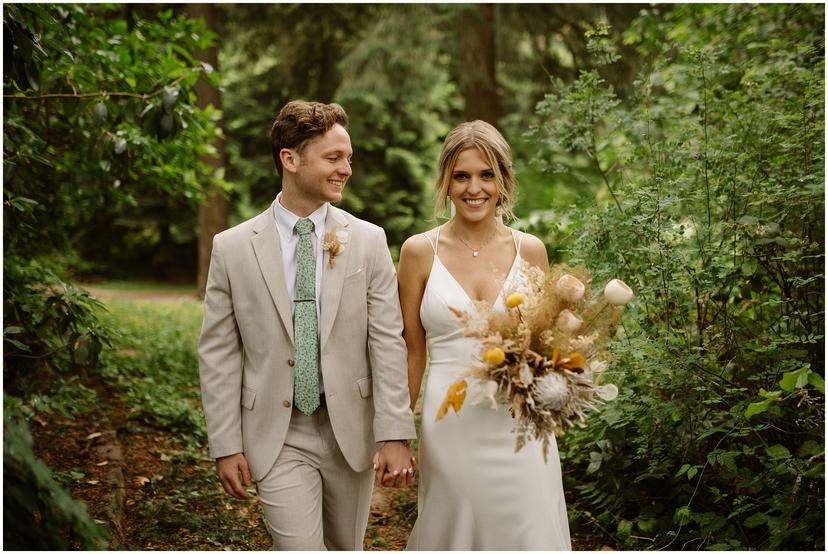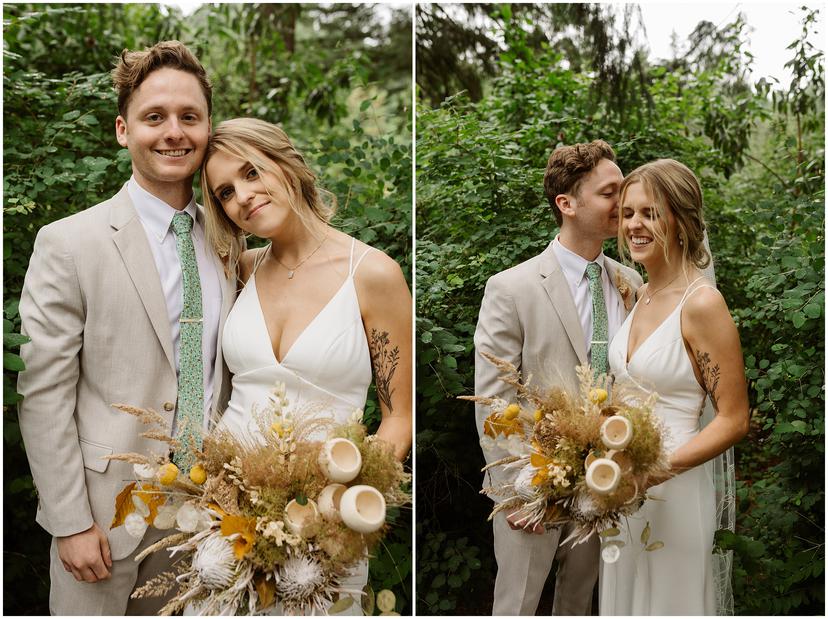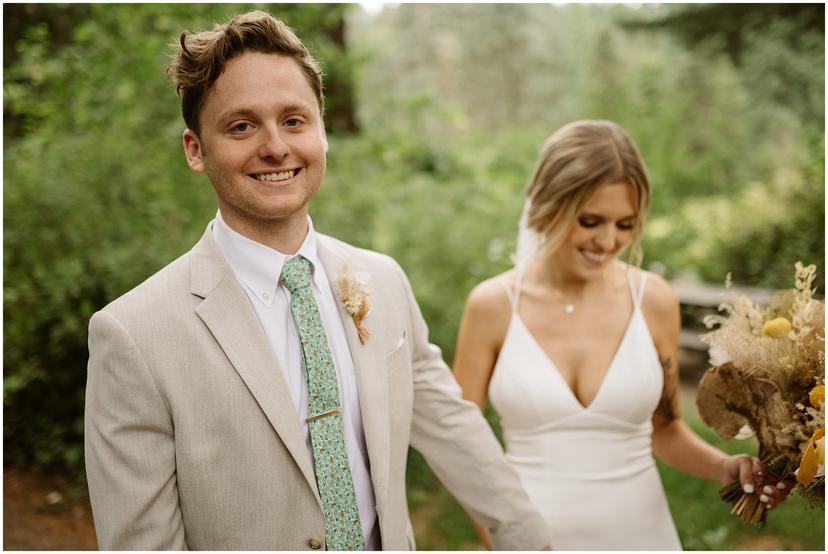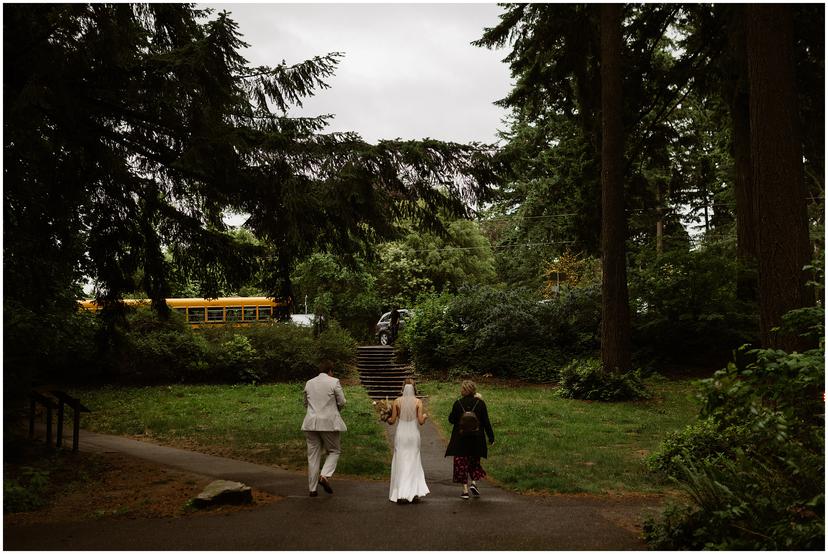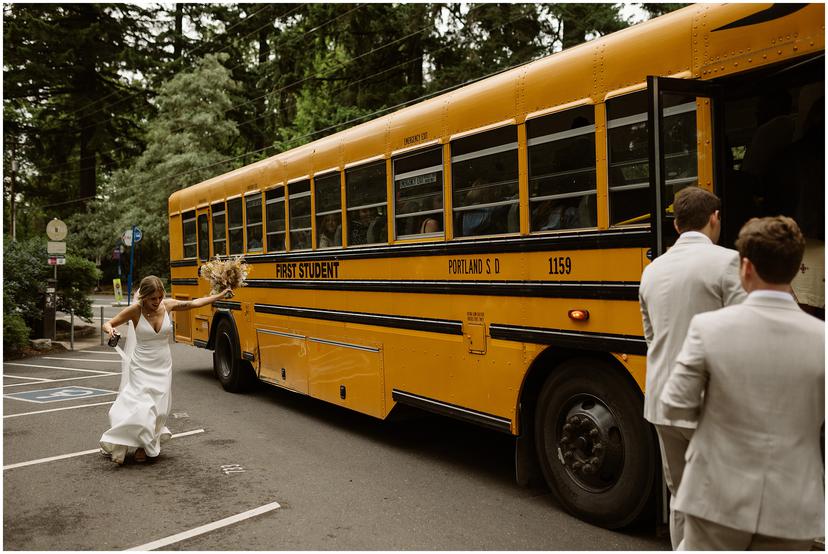 A Shuttle to Blockhouse
Wedding shuttles are an often-overlooked part of the wedding day. Shuttles make everything easier on guests, help keep things running on time, allow guests to enjoy themselves without worrying about drinking and driving, AND they are a lot of fun!
"One of my favorite inexpensive ways to efficiently move guests from place to place is on a school bus!" said their event planner Morgan on her Instagram. "It gives everybody that kids-at-summer-camp-vibe and sets the mood for the best party."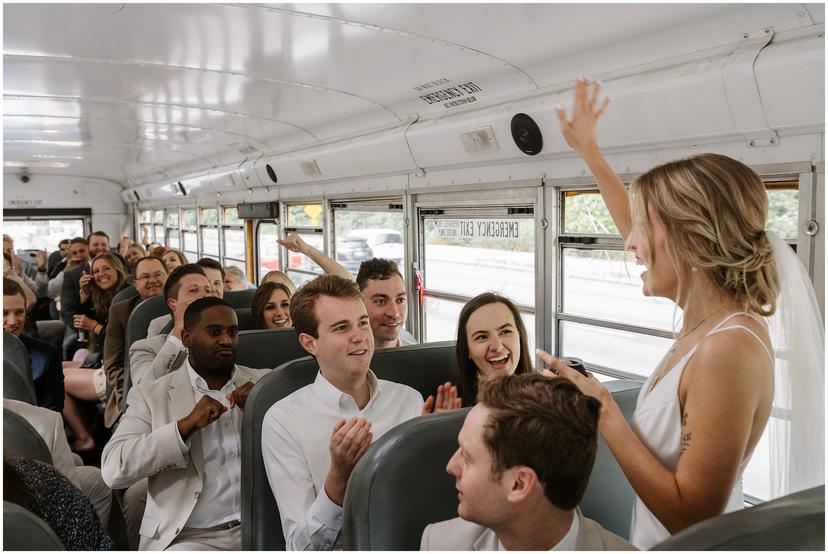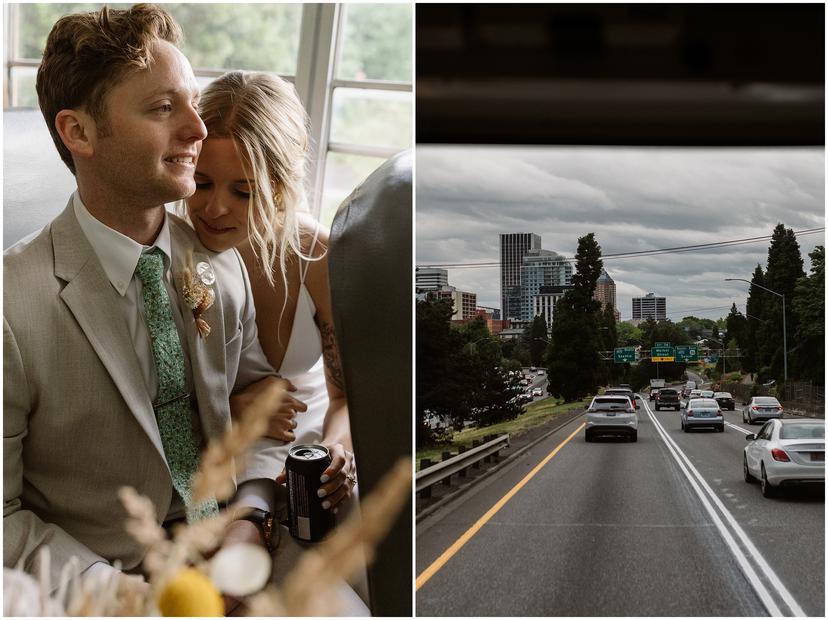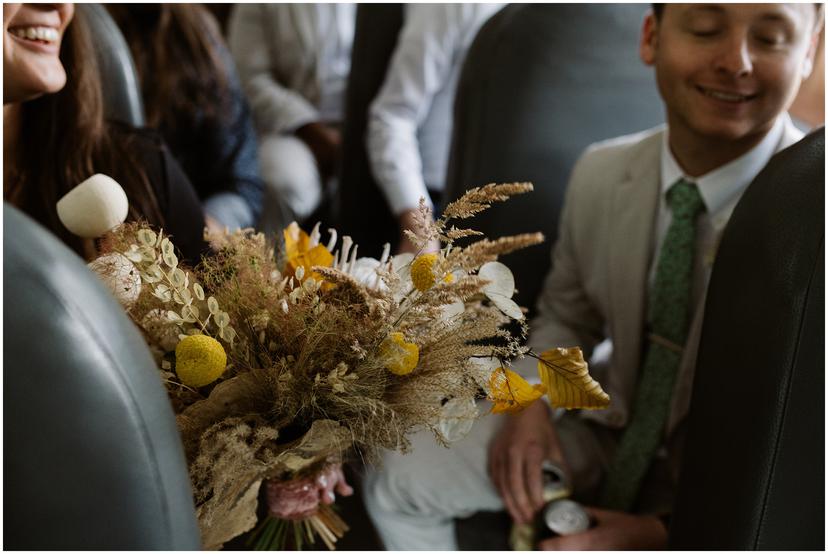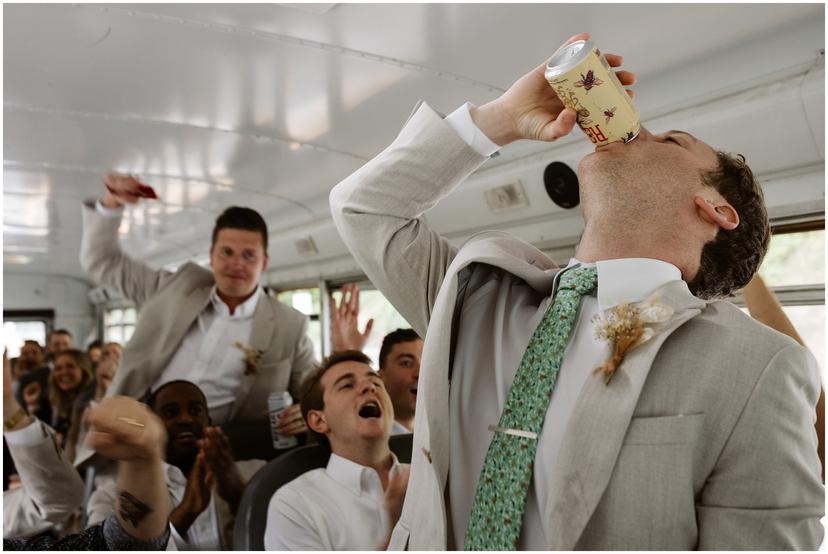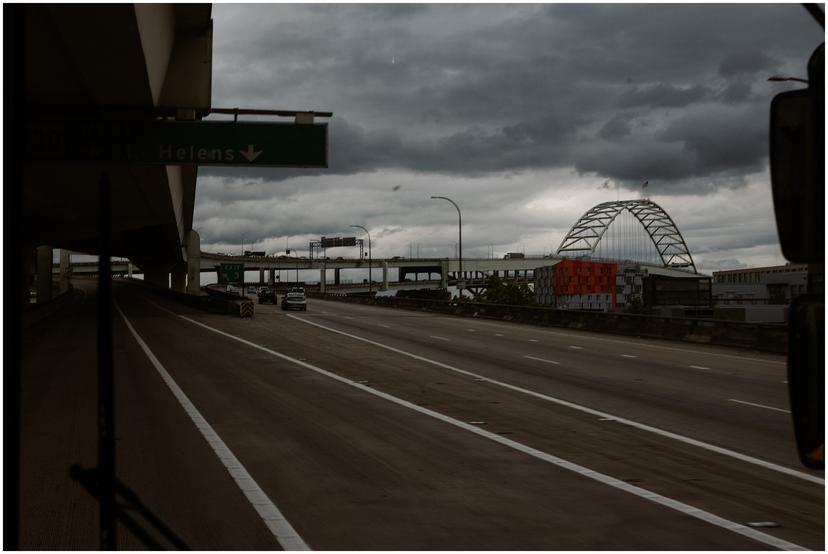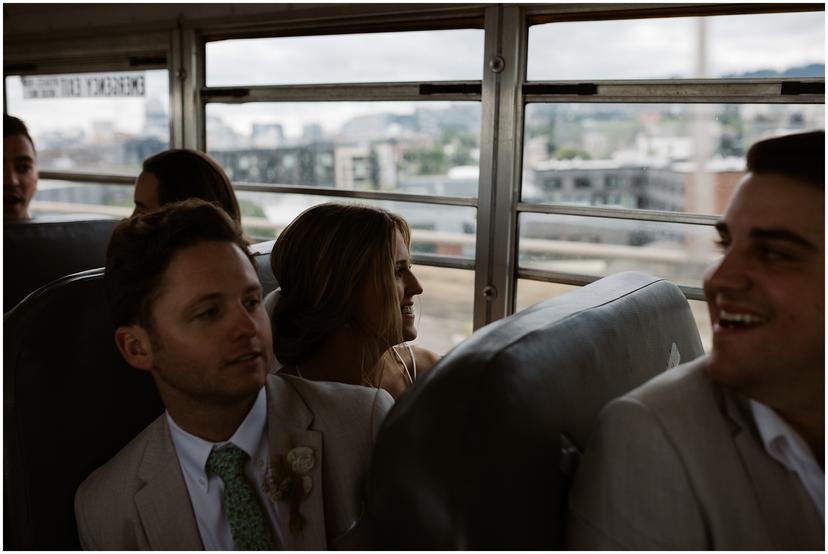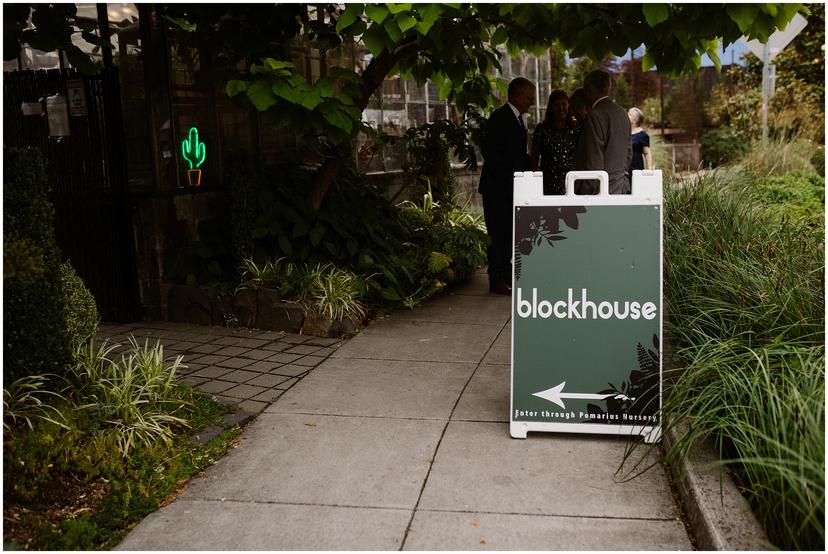 About Blockhouse
Blockhouse is a unique Portland wedding venue with an intimate urban garden feel. The space is surrounded by Pomarius Nursery in NW Portland, so you get this greenhouse-in-the-city vibe. Tall buildings, brick texture, and bridges are met with sprawling greenery, plants, colorful pots and flowers. It feels like an urban oasis.
Blockhouse describes their venue on their website as: "an intimate gathering locale where meals are shared, connections are made and life is celebrated. Blockhouse is tucked away inside of Pomarius Nursery. Built around a chef-inspired open kitchen, you can host an intimate gathering, lavish party and everything in-between."
Blockhouse Location
Blockhouse is located right behind Pomarius Nursery](https://www.pomariusnursery.com/) and Castaway in NW Portland. The address is 1988 NW 18th Ave.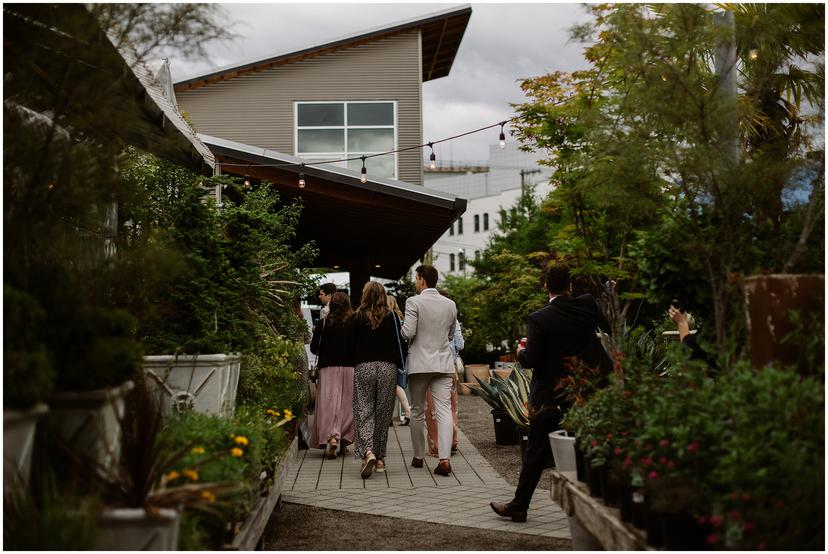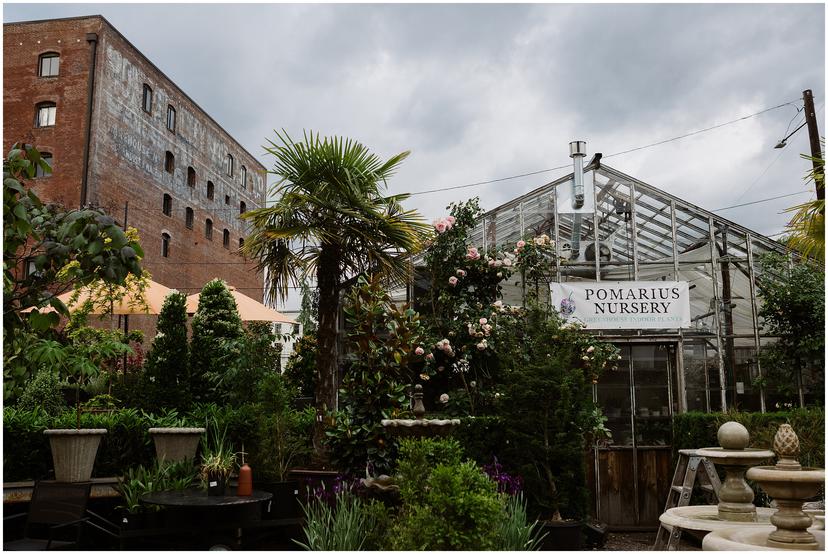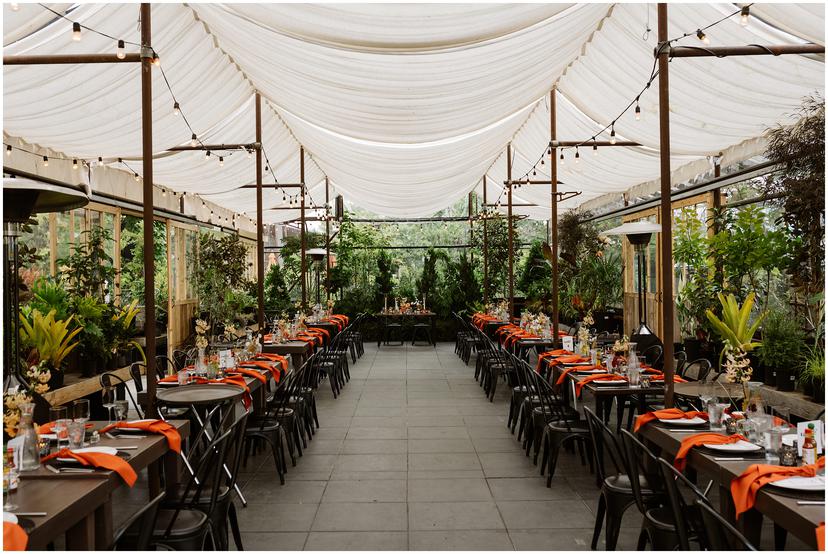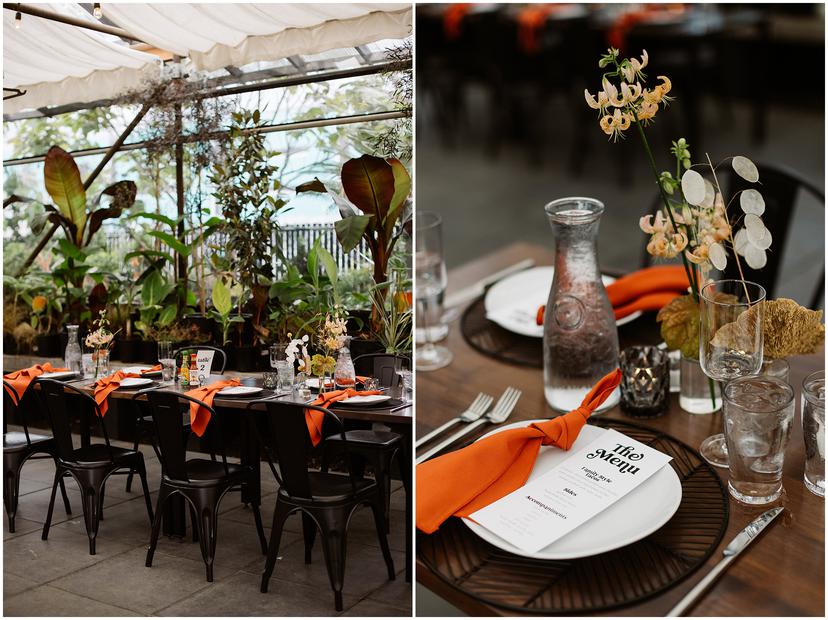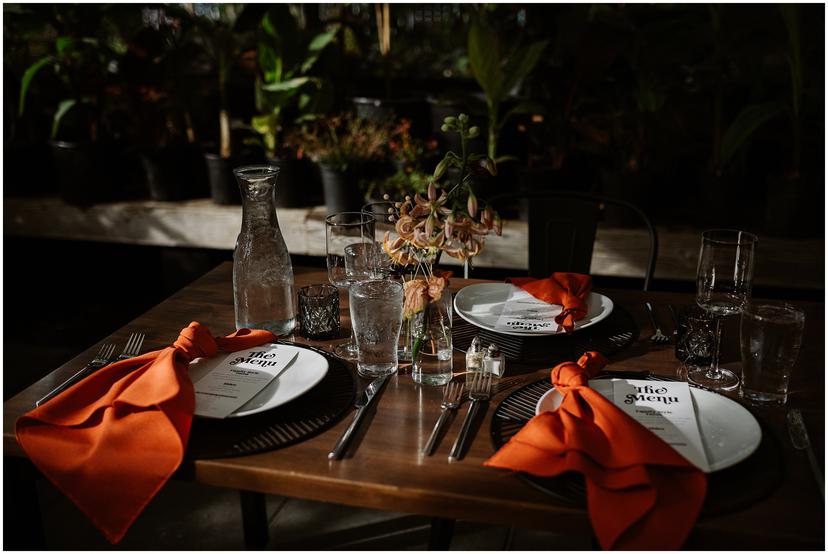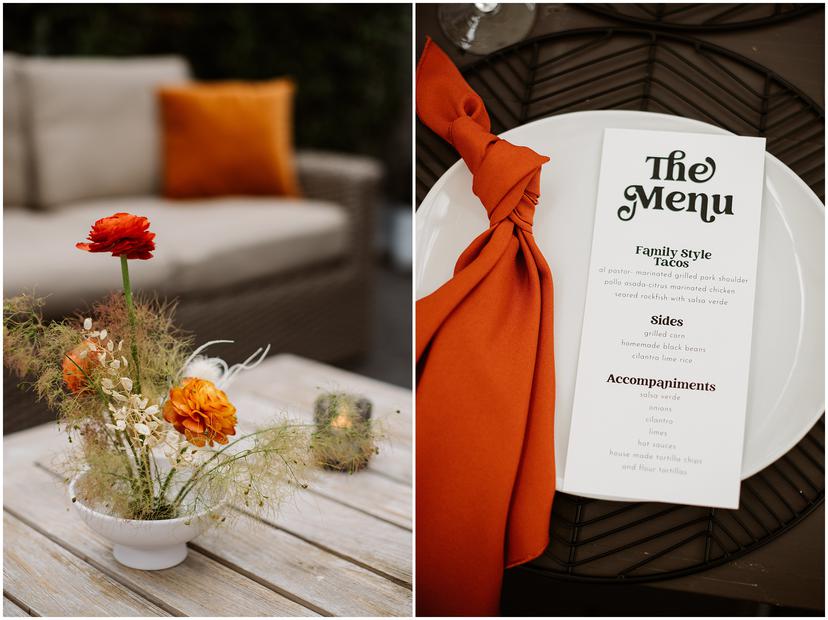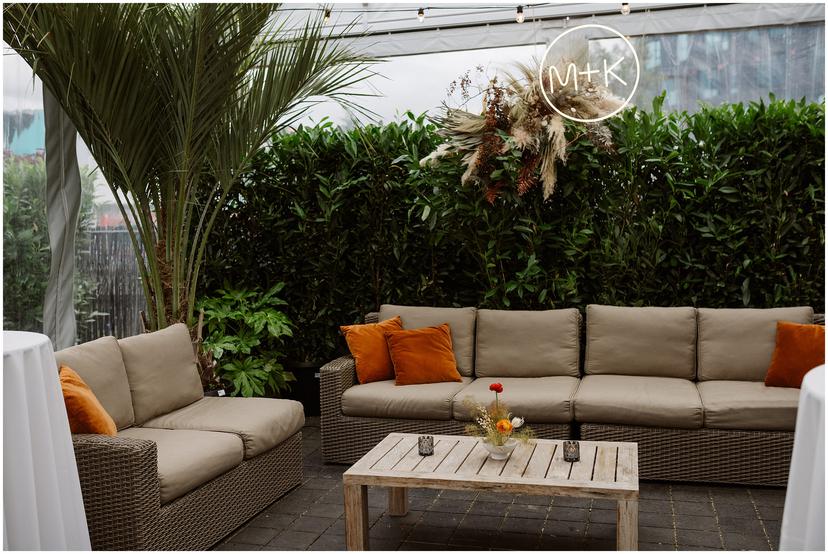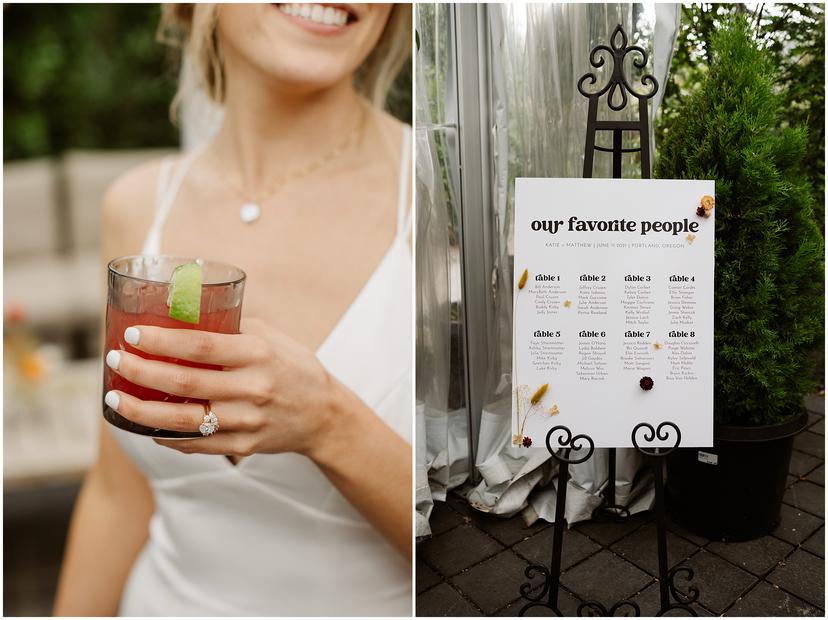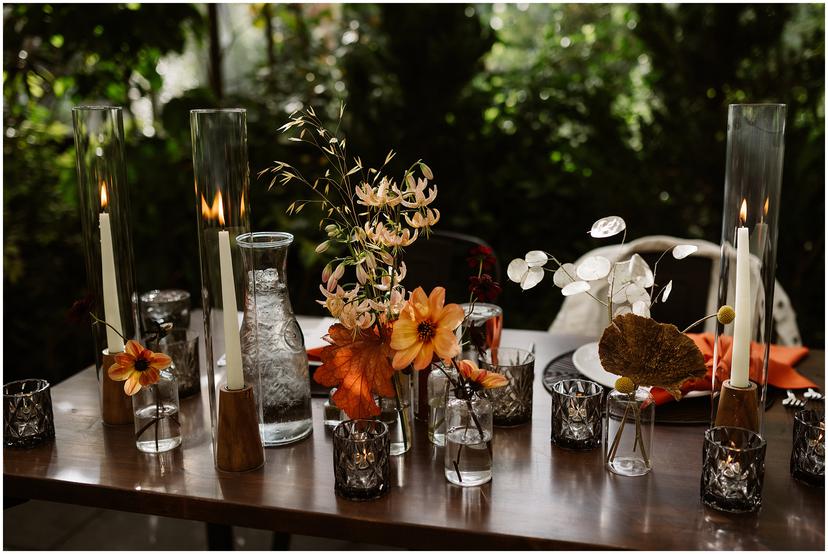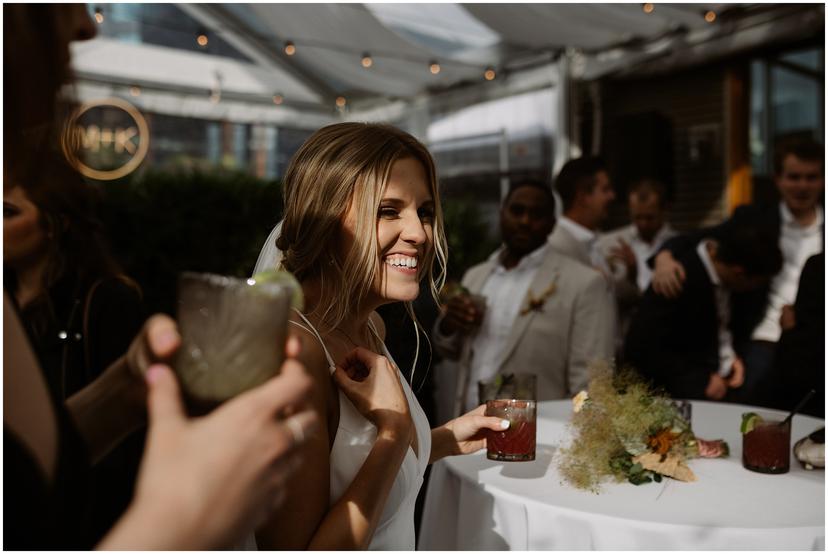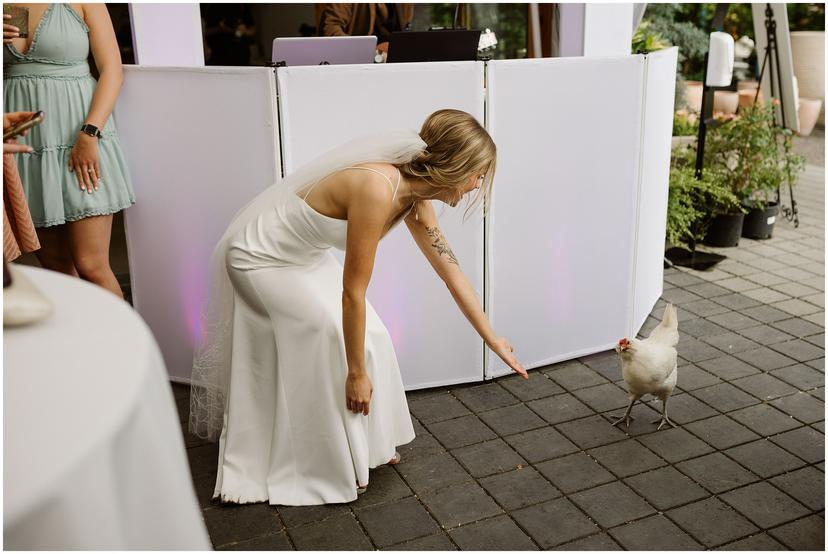 Why choose Blockhouse
Matt: "Everything. The greenhouse that provided a lot of decoration. The whole layout and setup from kitchen space blocked off (but still looking nice) to a good-sized dance floor, the farm tables, the spread out layout. All of it."
Katie: "We barely had to do anything! Staff was amazing and everything was just low maintenance - I didn't have to worry about one thing with the space. Plus the chickens."