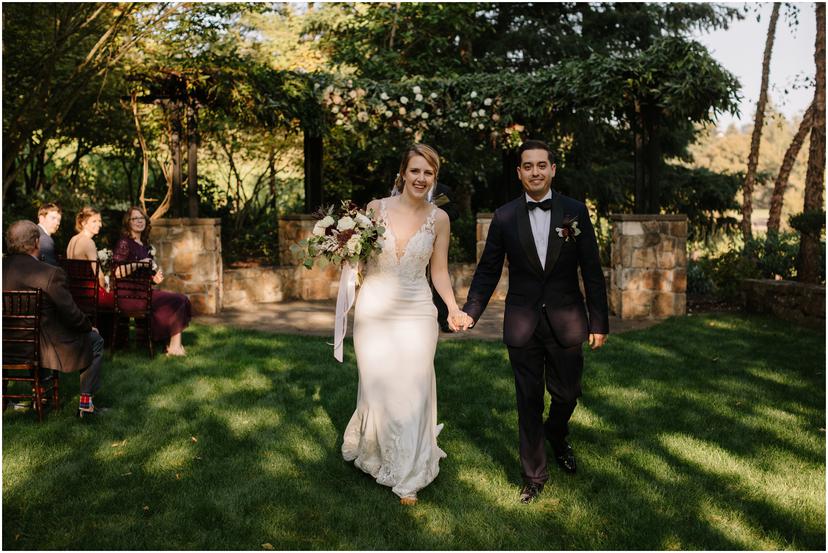 Allison Inn Wedding
Alan and Deidra got married at The Allison Inn and Spa on a warm, sunny October day. Despite a year of heartbreak leading up to the wedding, these two had the most PERFECT wedding day. It wasn't what they originally planned, but it ended up being gorgeous, intimate, elegant, and romantic. I was overjoyed to witness and document everything for them!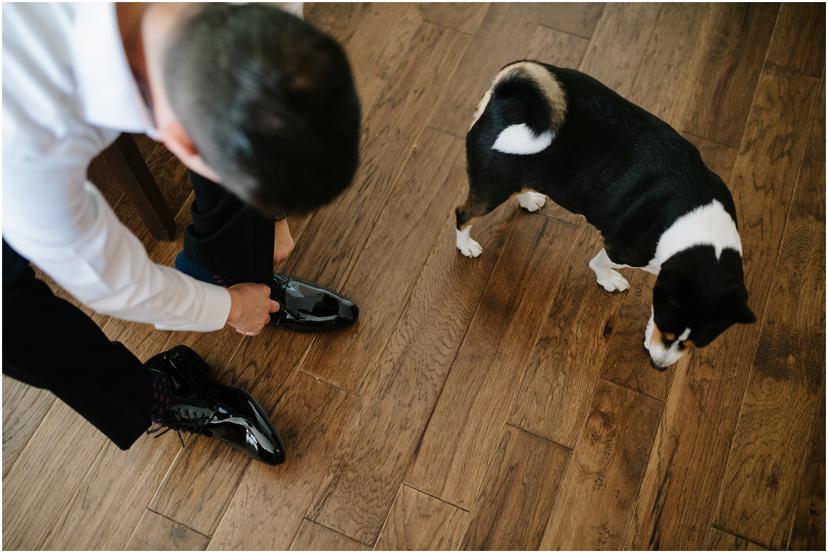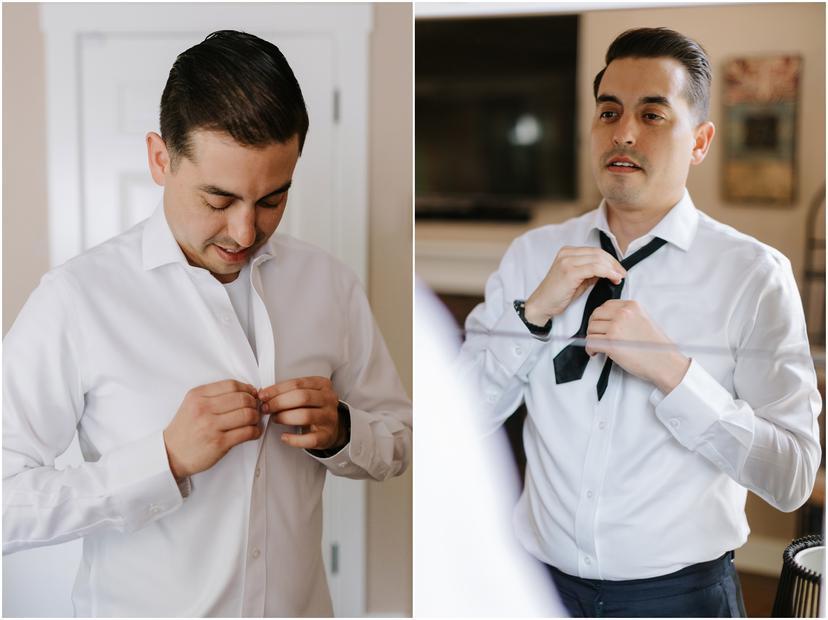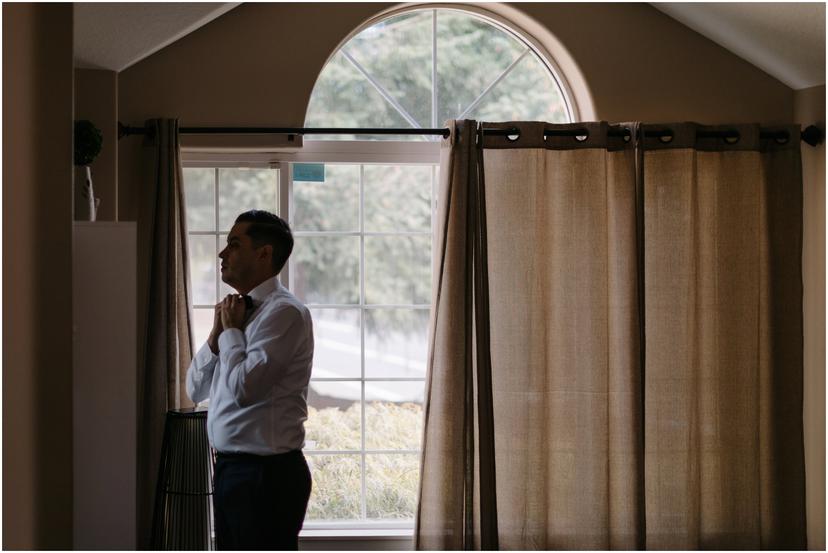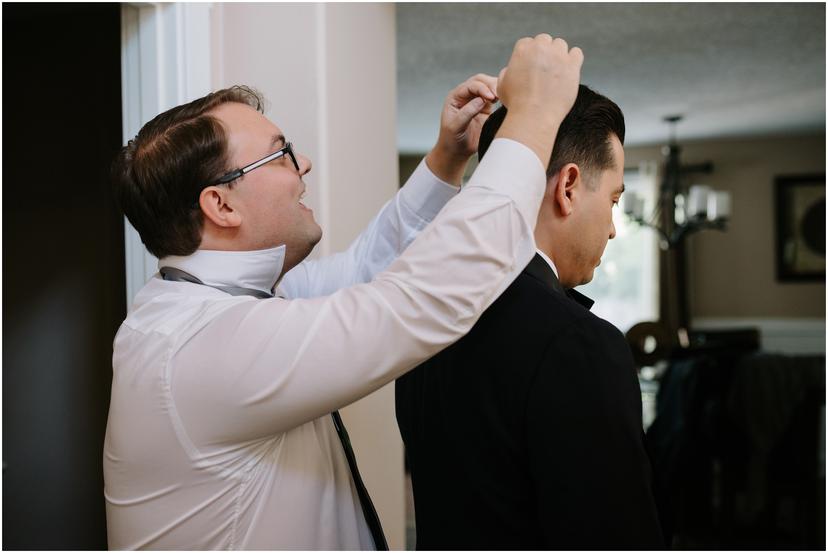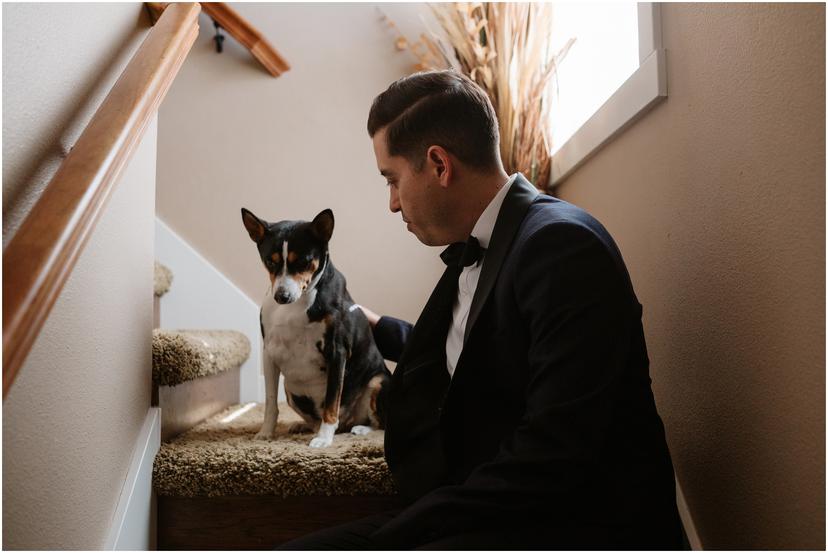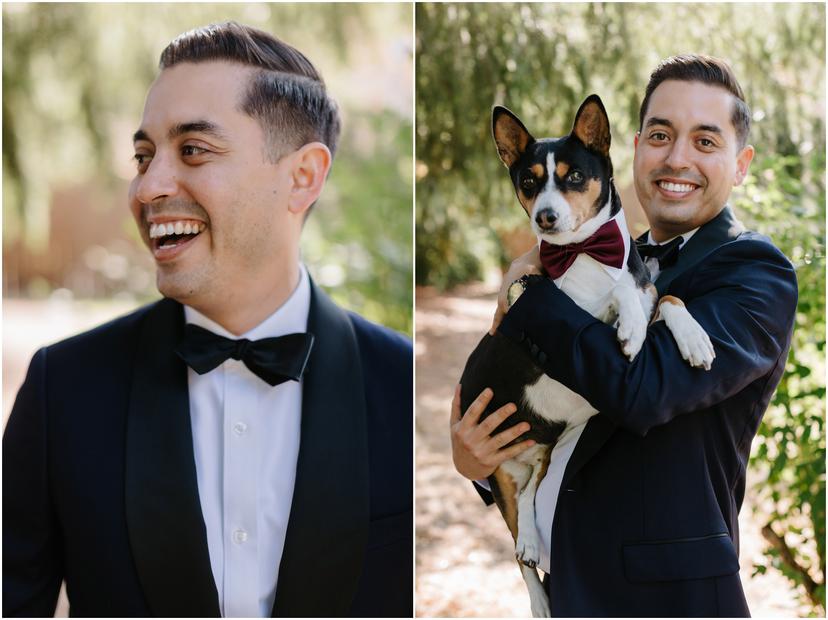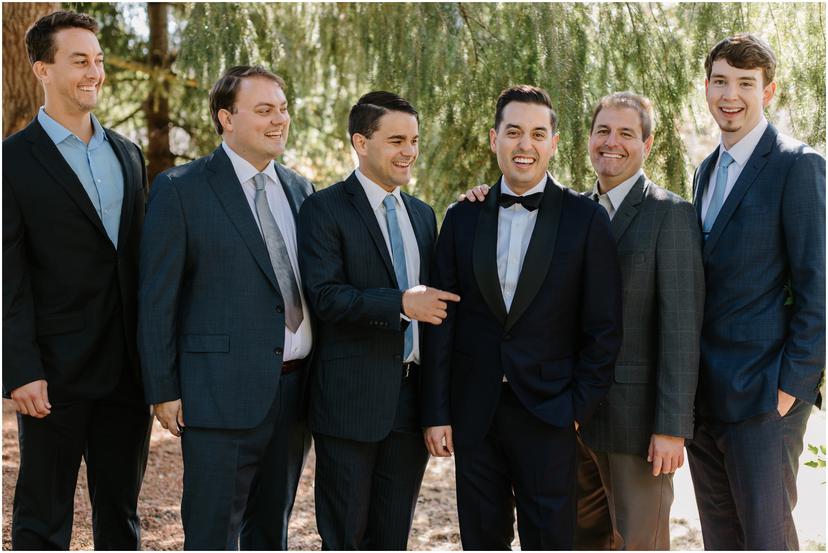 Getting ready at Deidra's family home
2020 has been a challenging year for everyone but was incredibly hard on this couple. Deidra's father passed away unexpectedly in the spring. It was awful, and her family has gone through tremendous grief in the past few months. Because of this and COVID-19, Alan and Deidra changed their wedding plans dramatically. Instead of getting married in the gorge, Deidra and Alan moved their wedding to Oregon Wine Country. Her dad had always loved wine, and it was a good compromise. Because of this shift, Deidra was able to get ready at her parent's home in Beaverton and take a few photos in the garden her father loved.
"Being able to get ready at my parents' house and then taking pictures in their garden was something I wouldn't have done with the original wedding plan, so I really enjoyed being able to do that," Deidra said. "My parents have lived in that house for over 20 years, so I loved taking pictures in the garden and feeling connected to my dad on that day. Also, having my bridal party stop by before we left for the venue made it feel like a "normal" wedding day and the girly getting ready aspects of it."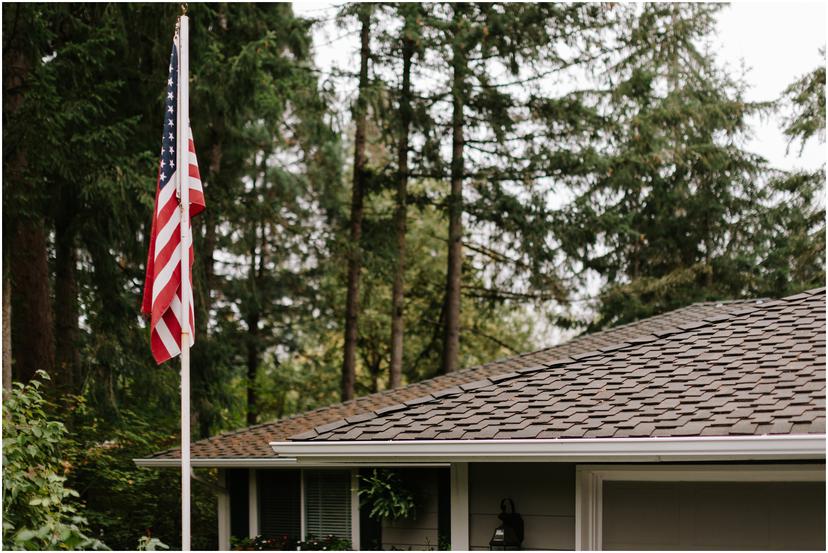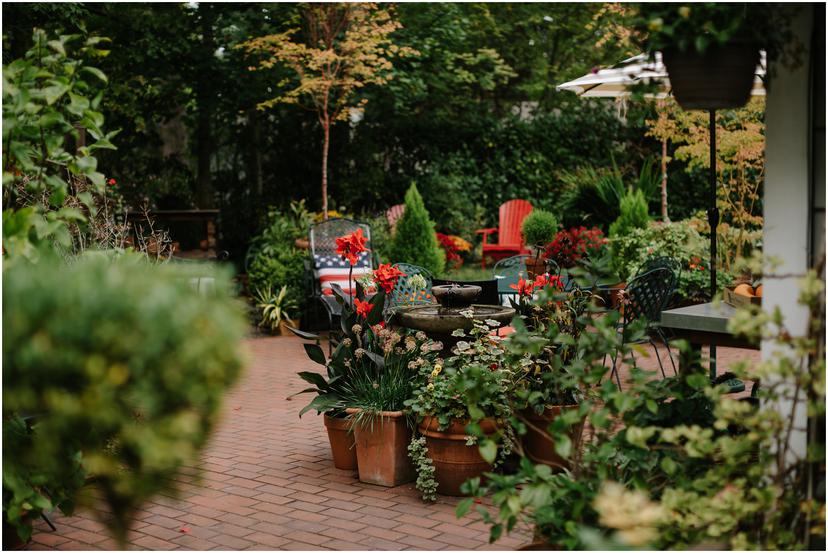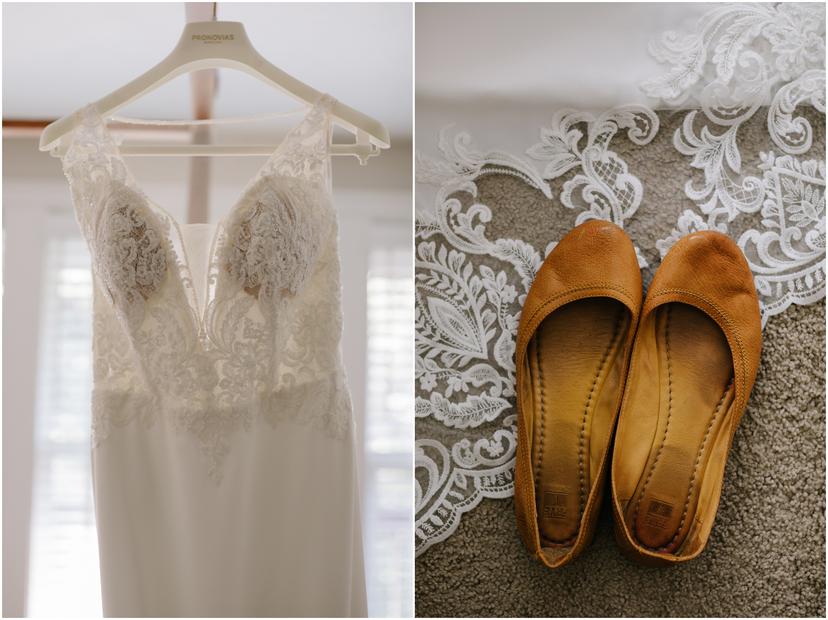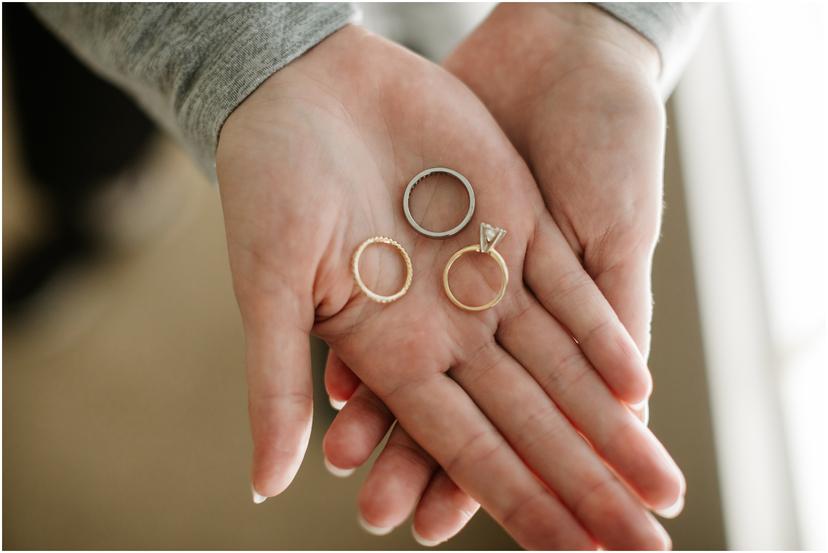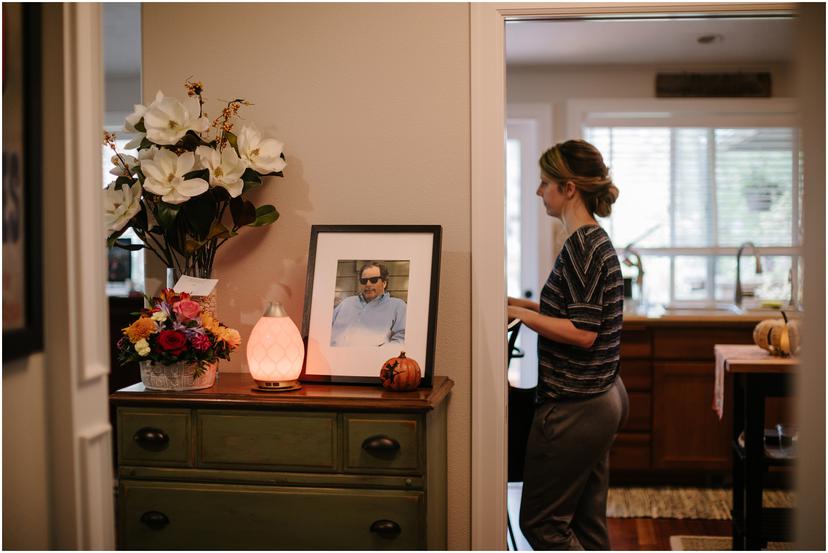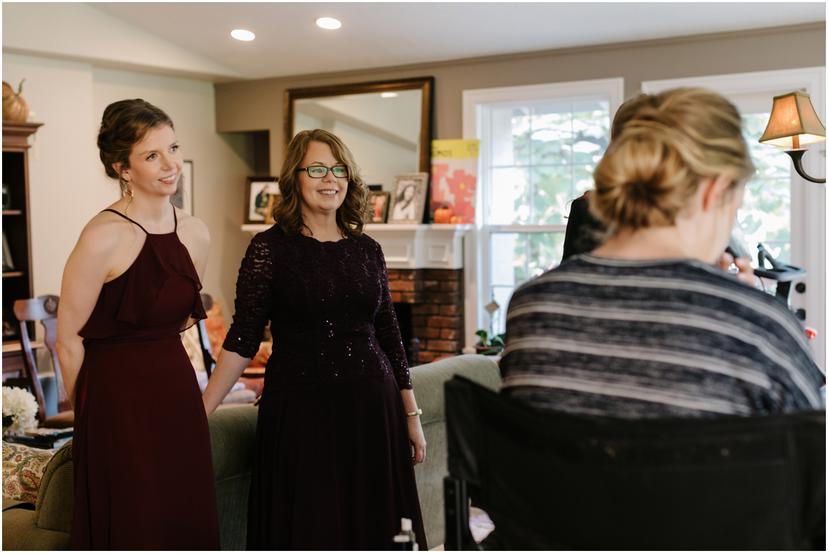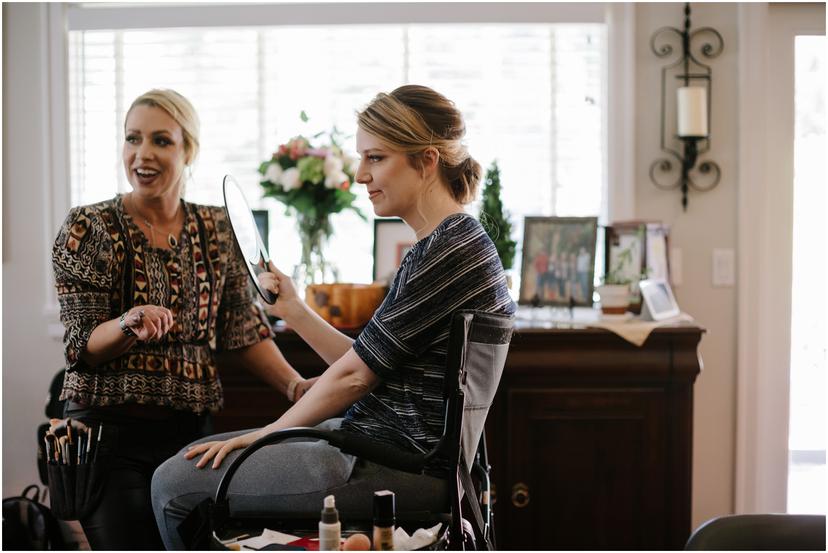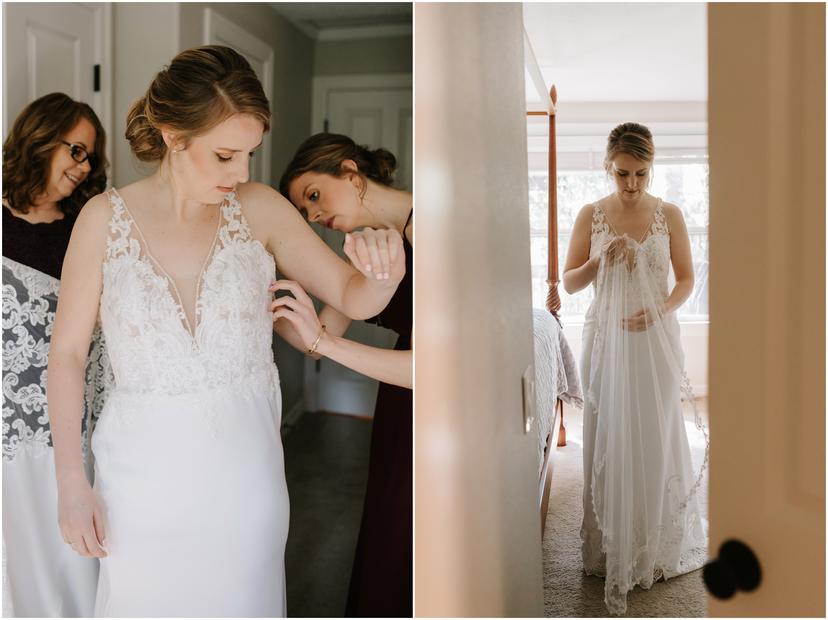 Buying a wedding dress during a pandemic
"Ania Bridal as a whole was amazing," Deidra said. "They kept me informed of the timing of when my dress would arrive and worked with me on scheduling my fitting even though I live in NJ. I ended up just having the one fitting and explained that because Alan's parents were in the hospital with COVID that we needed to take the dress altered with us. They turned the alterations around in less than a week so that I could take the dress with me in July in case we ended up getting married sooner. I cannot recommend them enough!"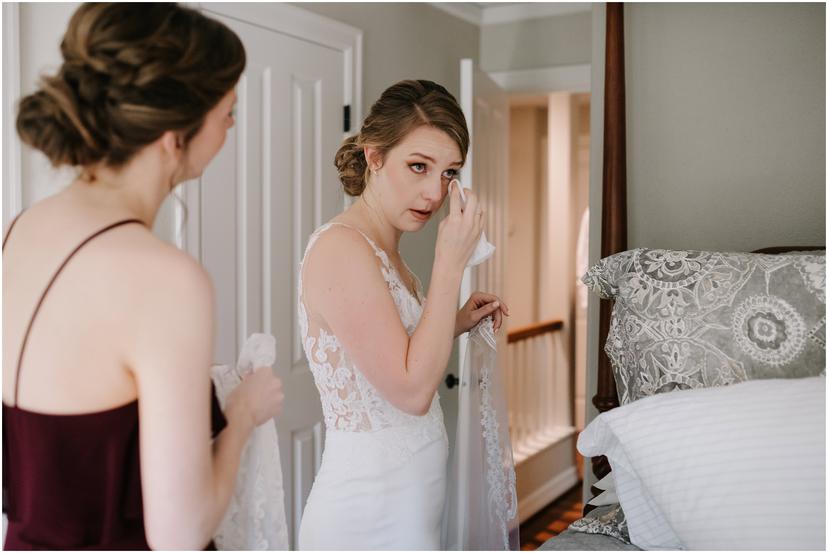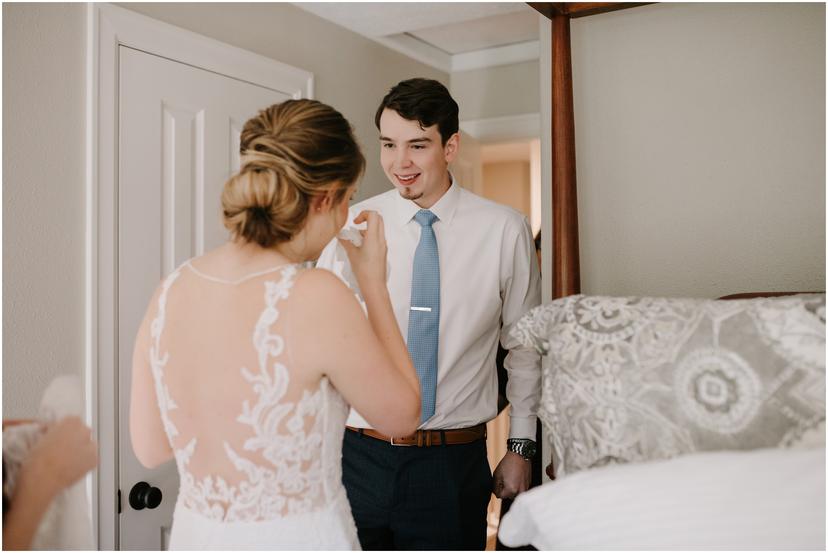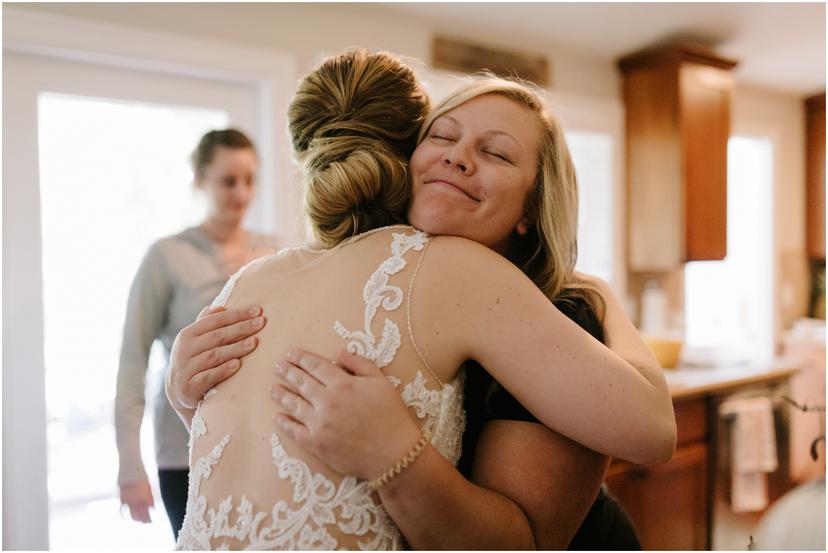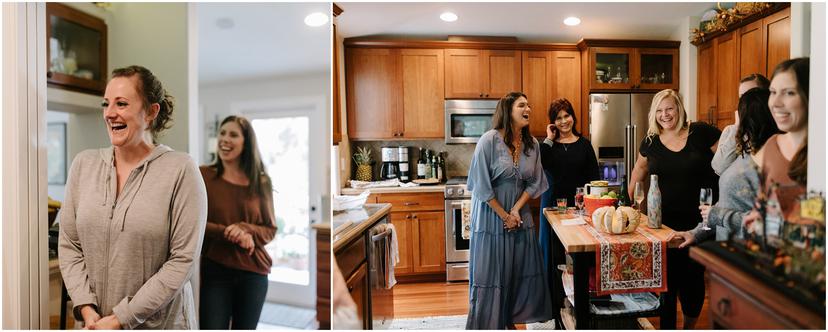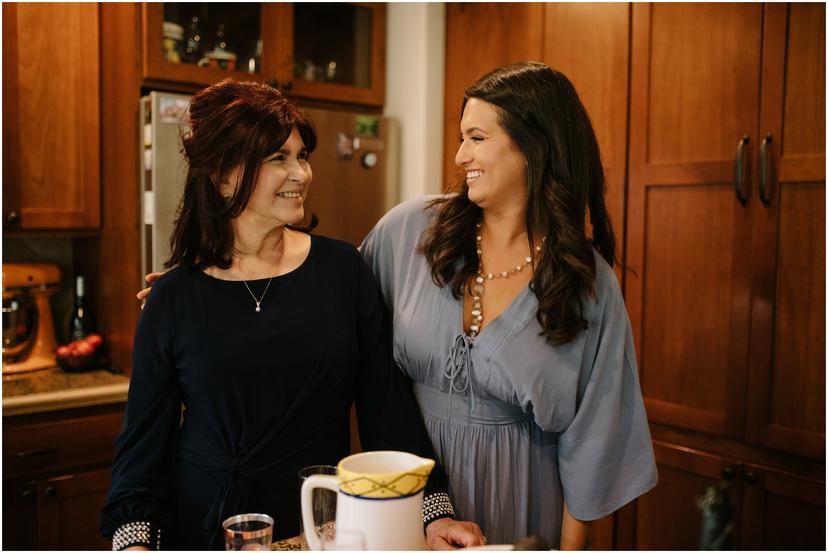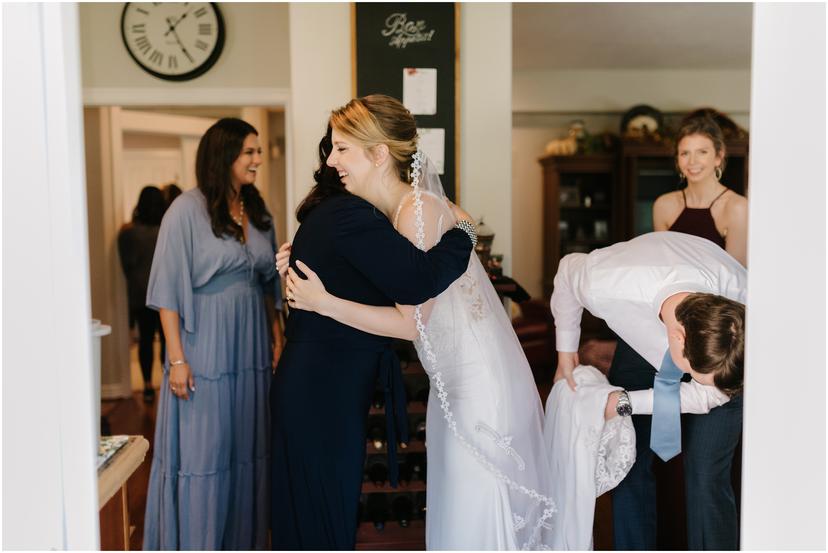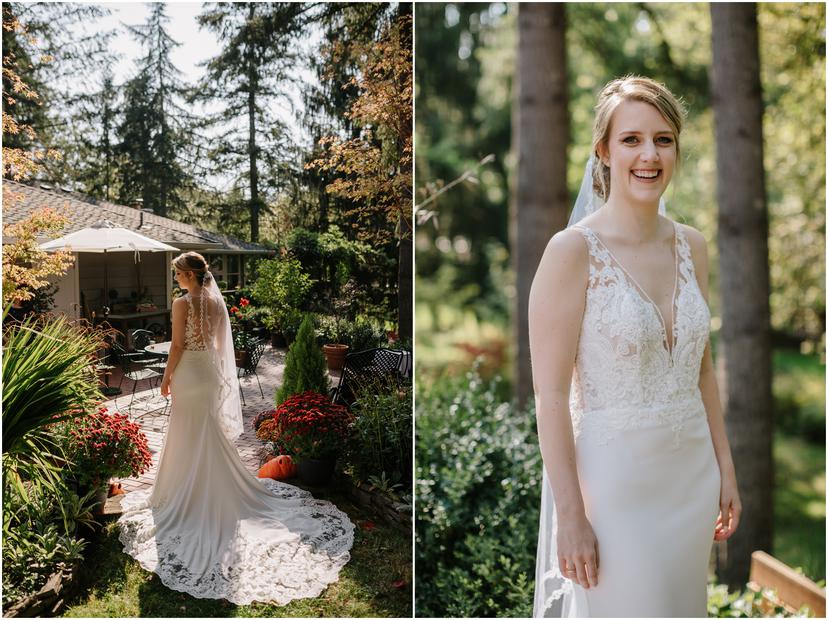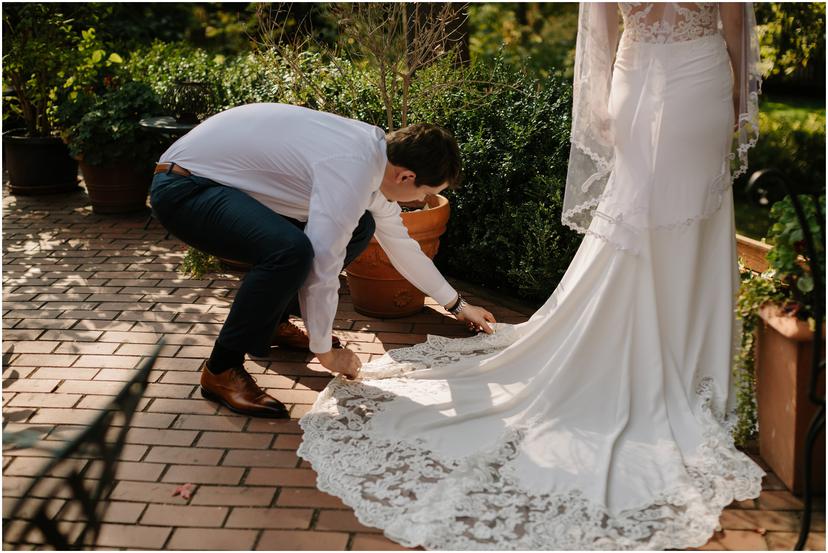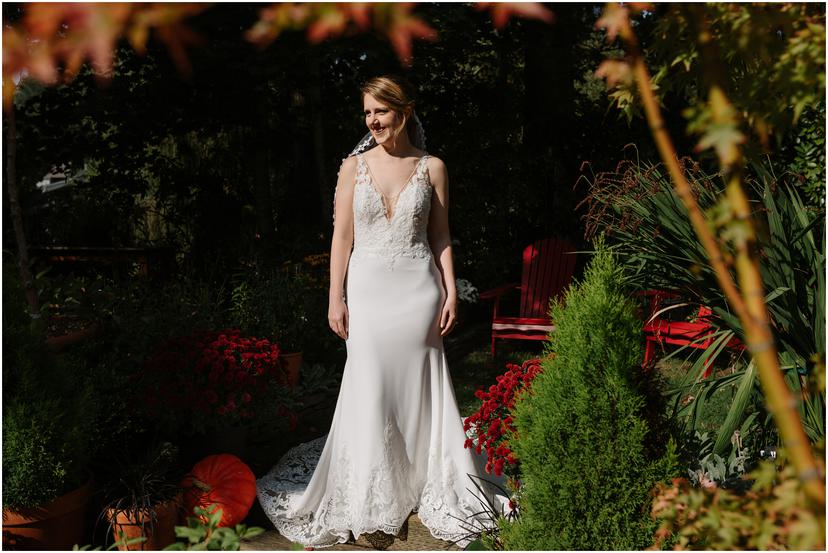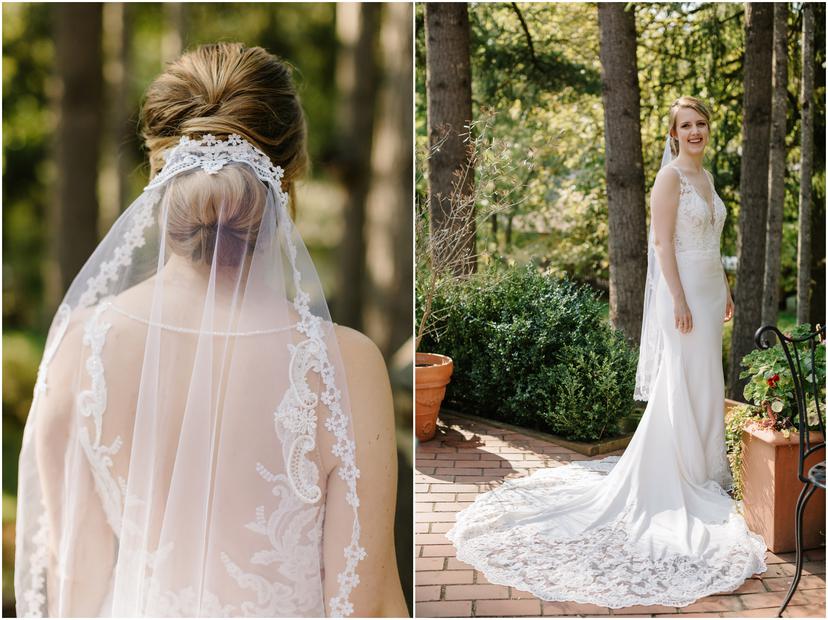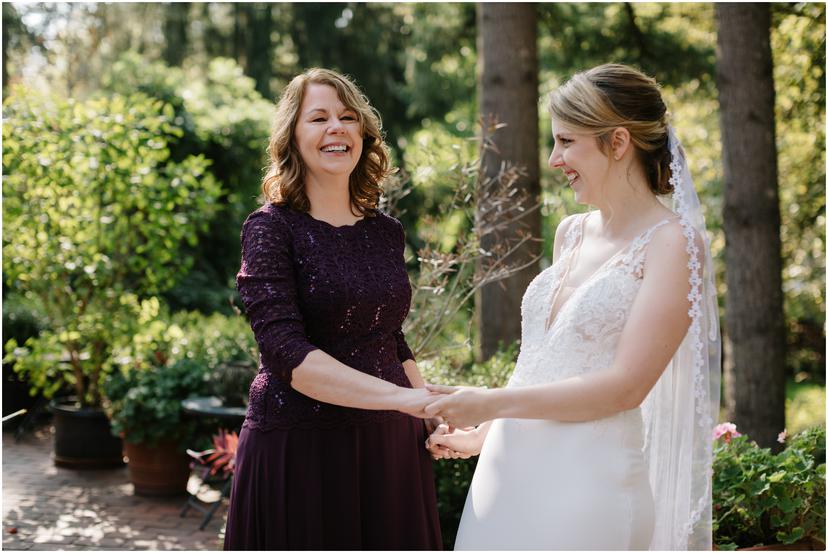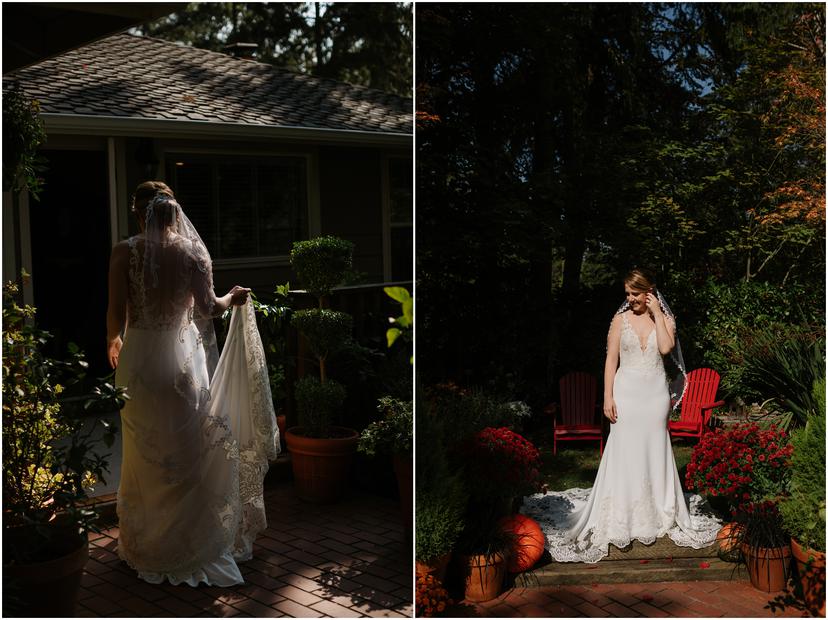 About Allison Inn Weddings
The Allison Inn and Spa is a luxury hotel resort in Newberg, Oregon, in the heart of Oregon Wine Country. The 35-acre resort is surrounded by trees and vineyards, with sweeping views of the surrounding valley and mountains. It truly feels like a beautiful oasis. I was a little jealous that I wasn't staying there with my husband, sipping wine on the balcony and taking it all it. It's a really peaceful, lovely place and the staff are SO kind.
The Allison is perfect for Oregon destination weddings because all your guests can stay on-site, relax, and even visit the spa before your wedding. The outdoor ceremony site is shaded and comfortable, even in warmer weather. The indoor banquet rooms are tastefully elegant, spacious, and perfect for a socially distant reception.
The Allison is a perfect venue for weddings with around 100-150 guests, although obviously COVID-19 means that things are a little smaller at the moment. The Allison offers several indoor AND outdoor venues. This event took place at The Meadow Garden, and with the reception in the Coopergold Ballroom.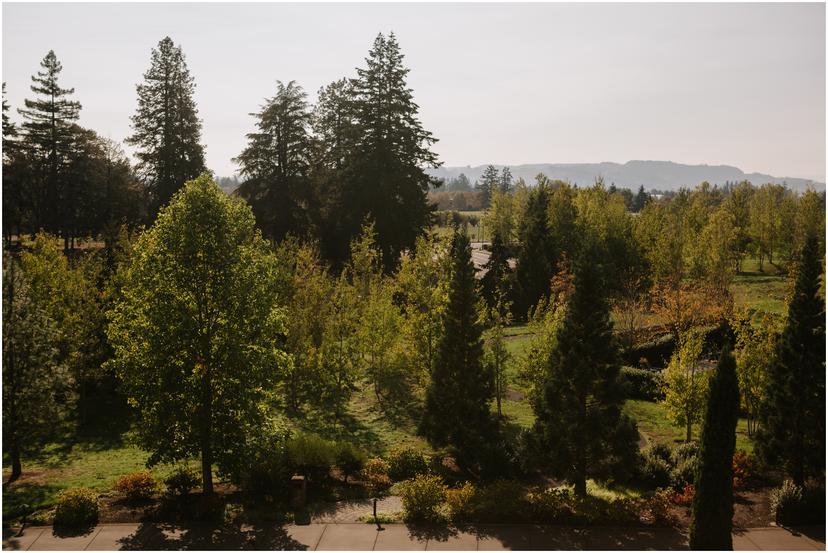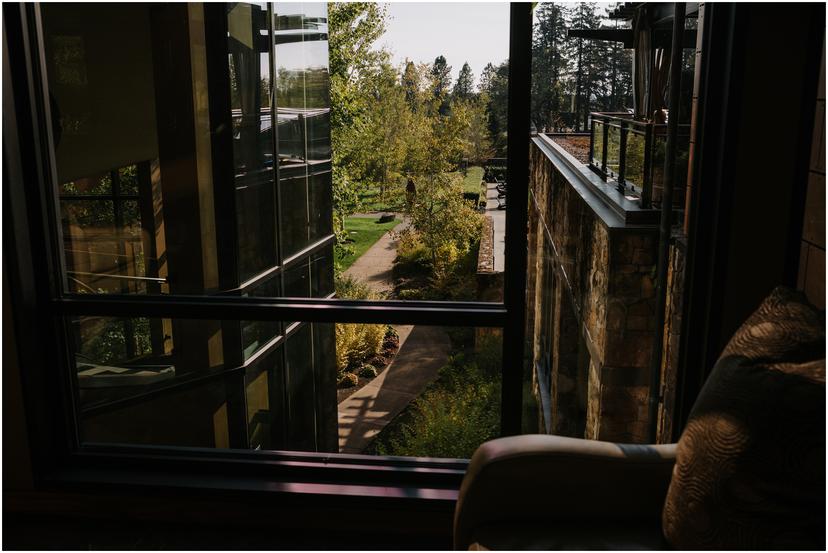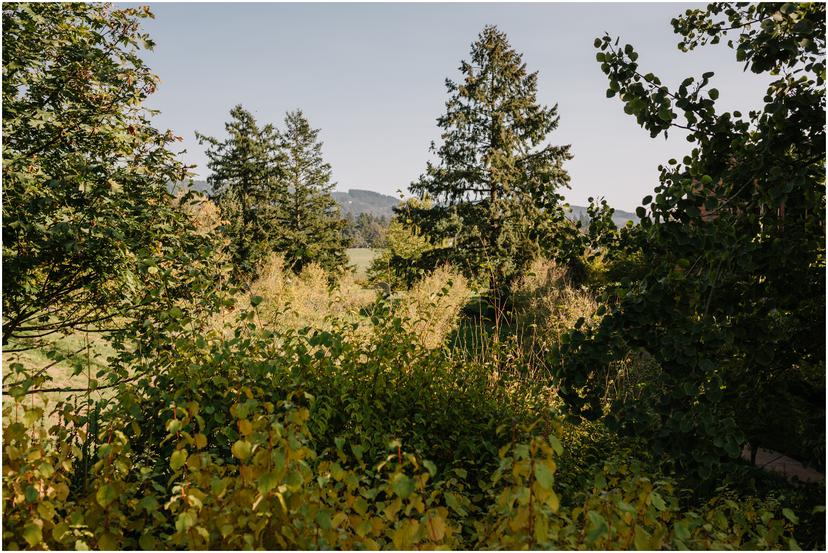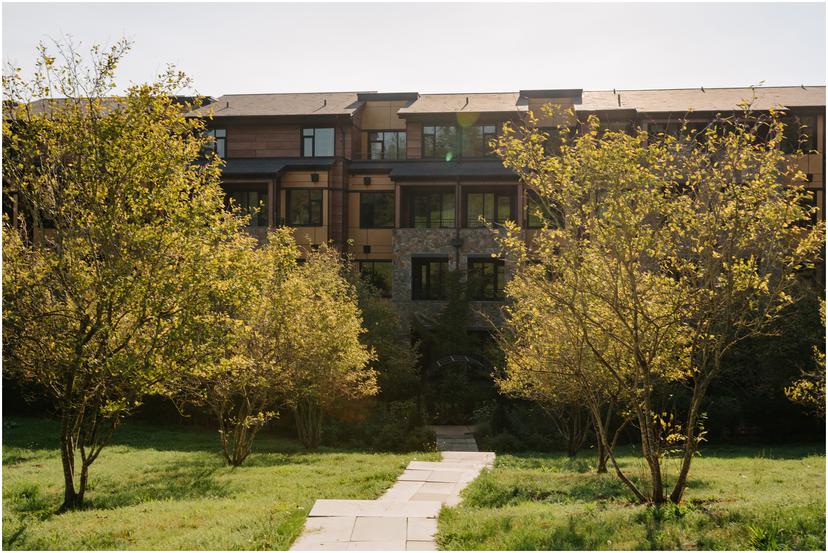 Advice for couples planning weddings in Oregon Wine Country
"Do your research/communicate with potential venues and get ALL your questions answered up front before signing anything just to be safe. I was a little hesitant to go with the valley because of the potential for rain in October, but I realized it didn't matter if it rained, and there was a backup option included with the venue if it did rain. I HIGHLY recommend The Allison."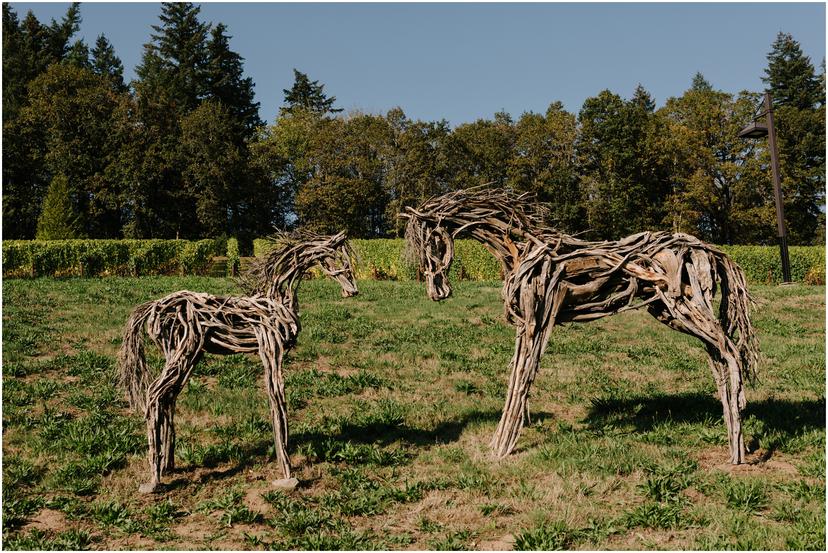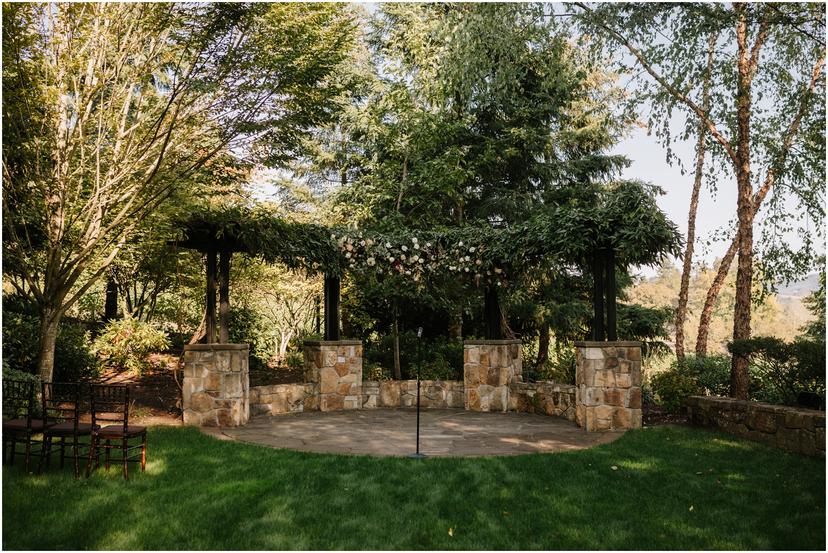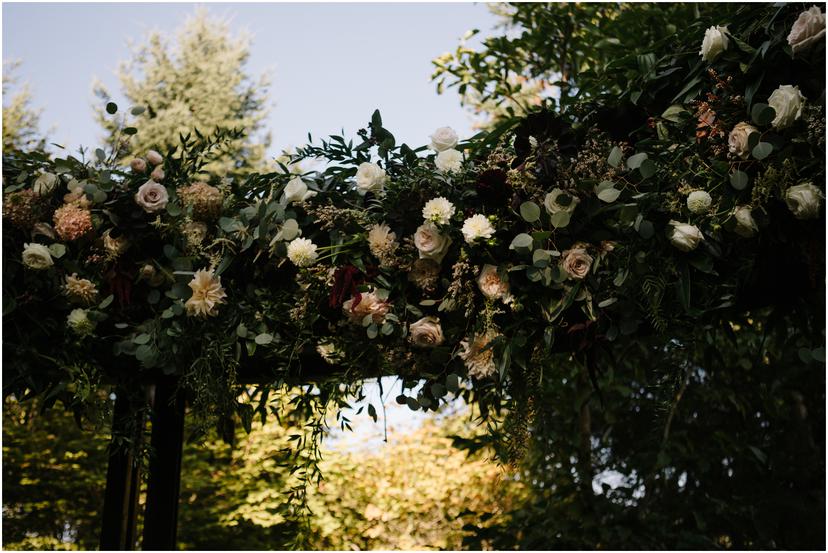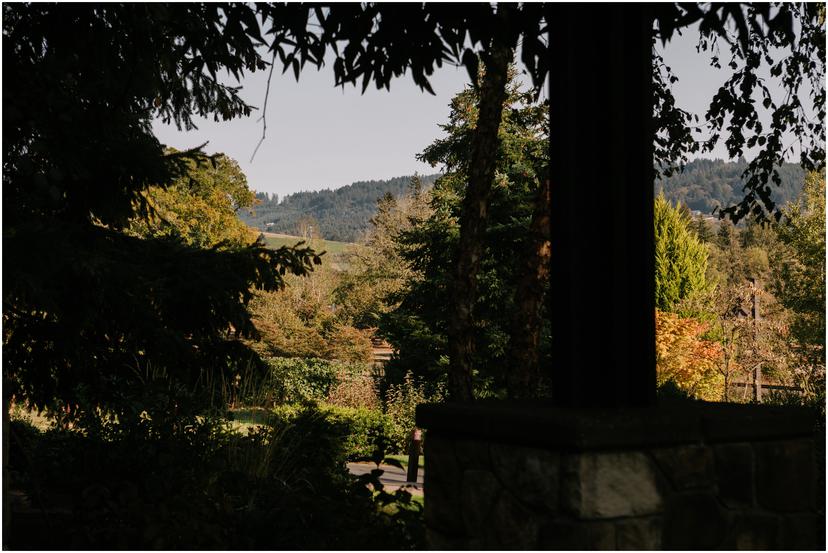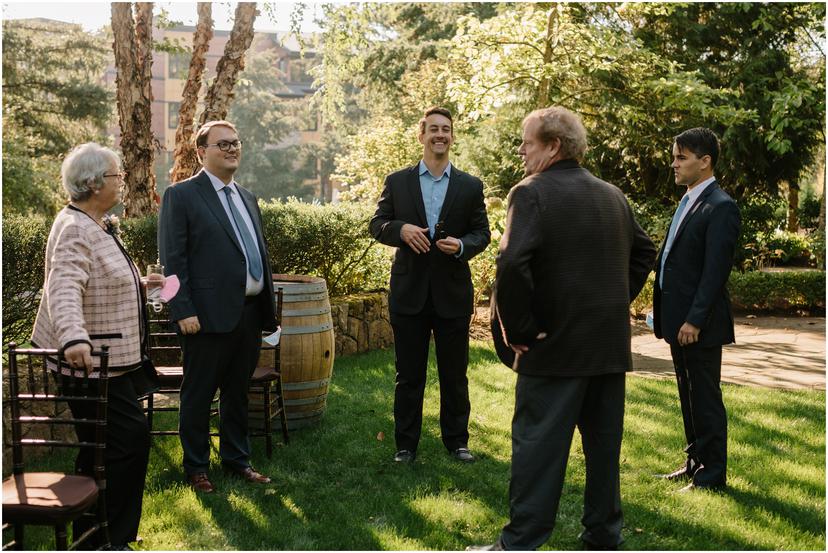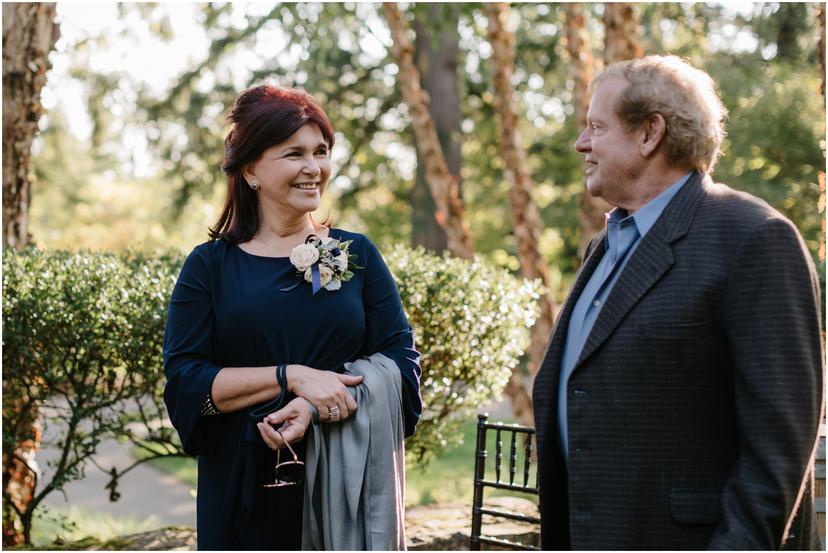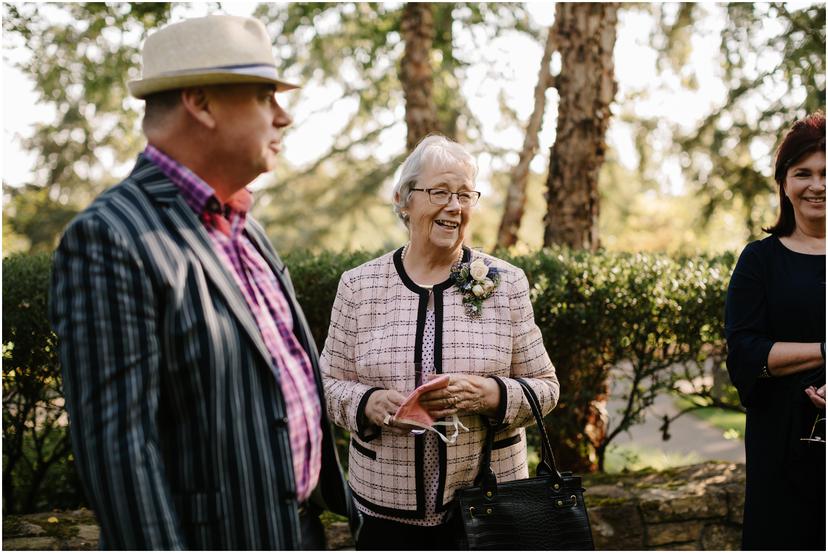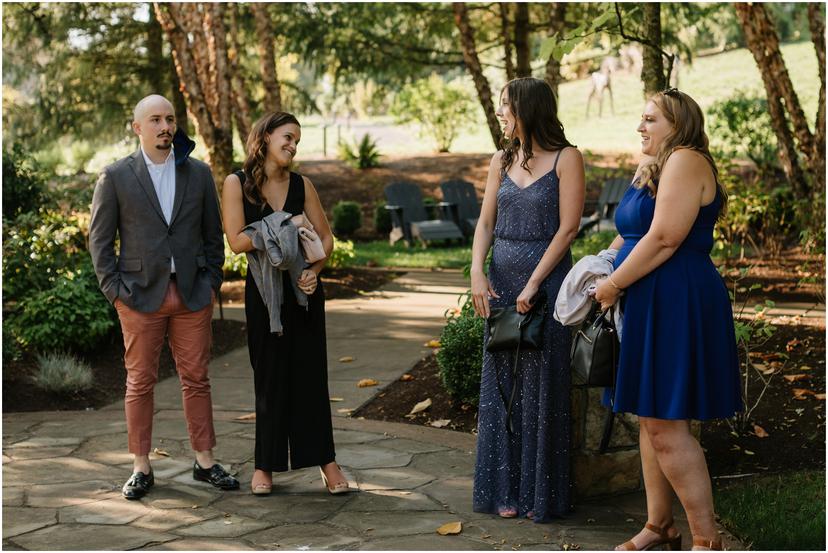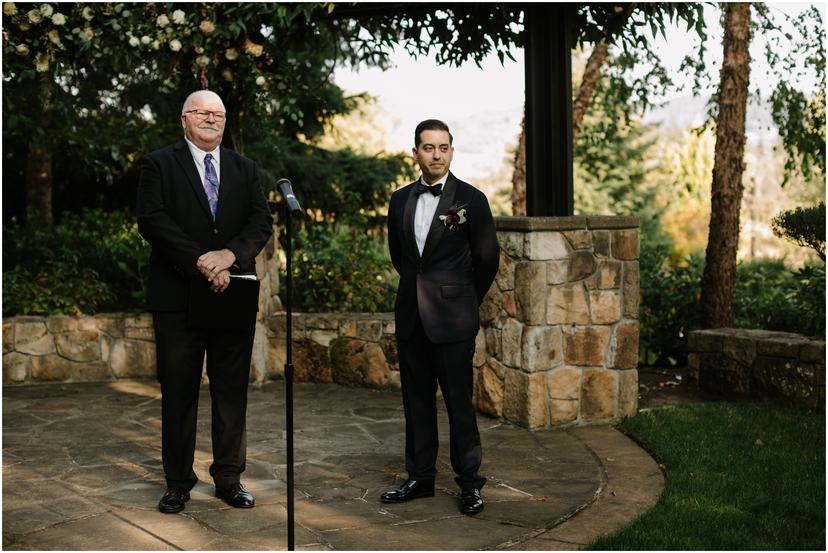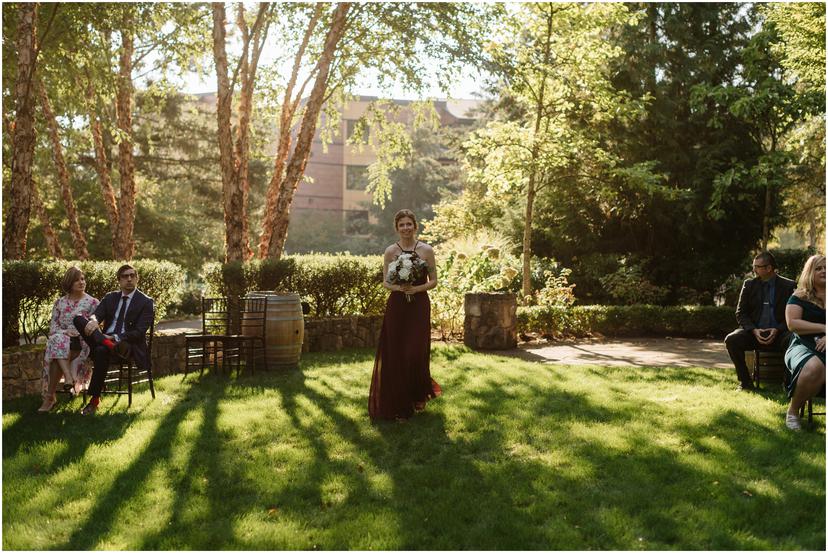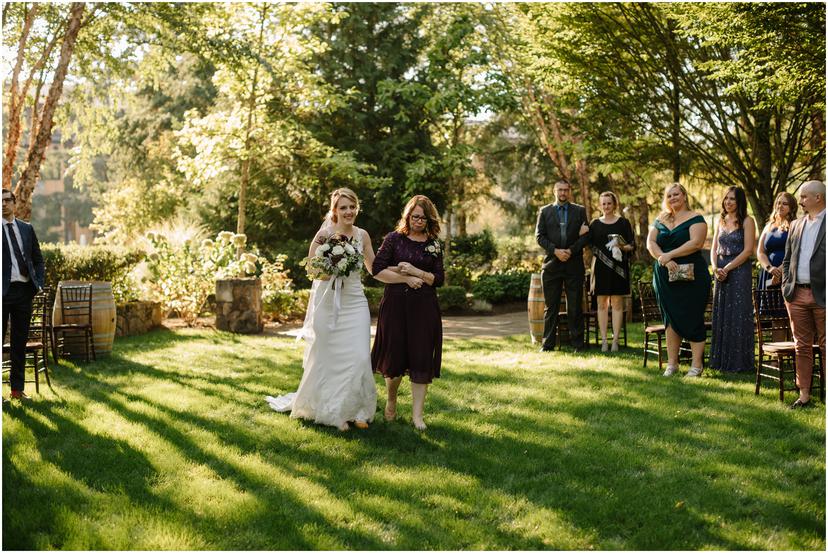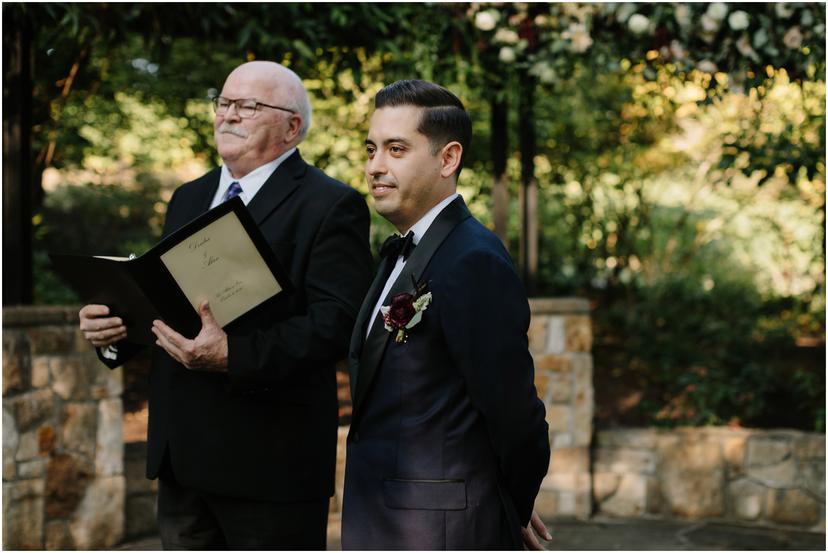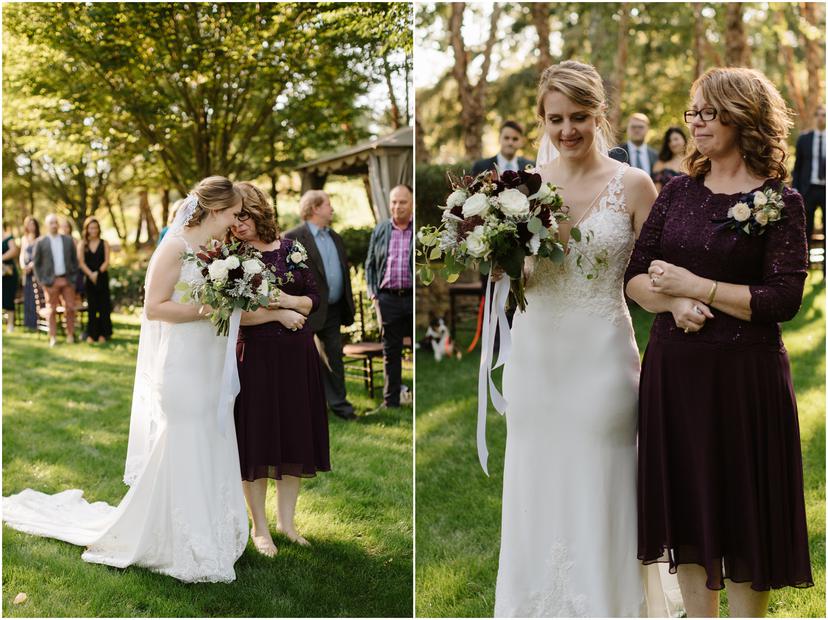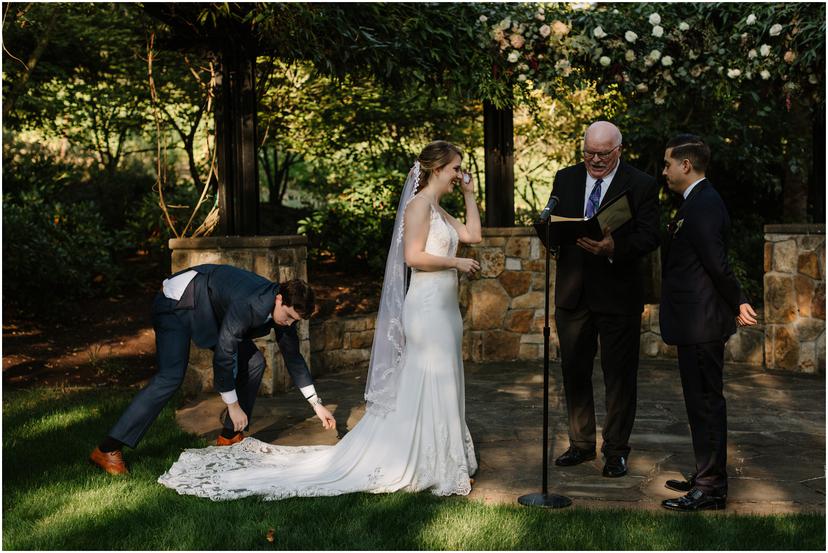 Bride's favorite wedding memory
"Finally seeing Alan at the end of the aisle and being able to walk towards him," Deidra said. "We didn't do the traditional 'can't see each other before,' so I had seen him up until about 10am that day but finally seeing him all dressed up, smiling and waiting for me made me so happy. Not having my dad there or be able to walk me down the aisle was very real for me that day, but seeing Alan was like having a calm come over me, and I knew everything was going to be ok. I'd have someone for the rest of my life by my side."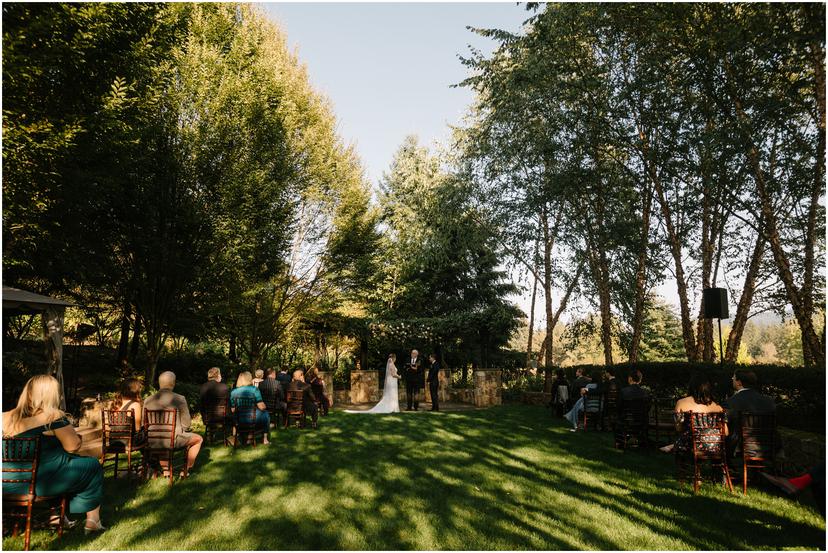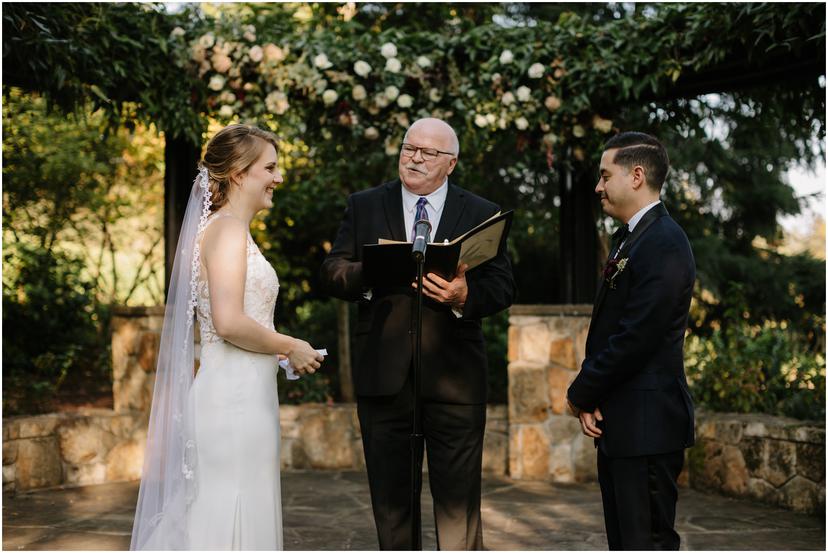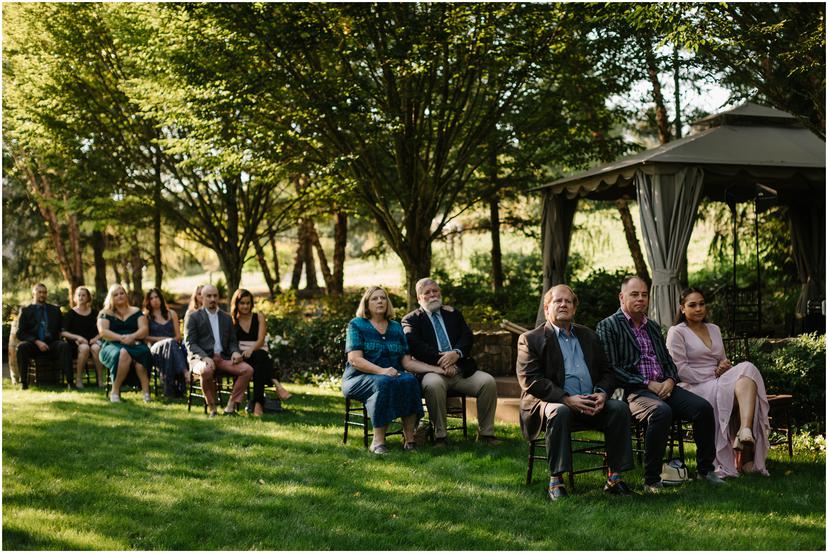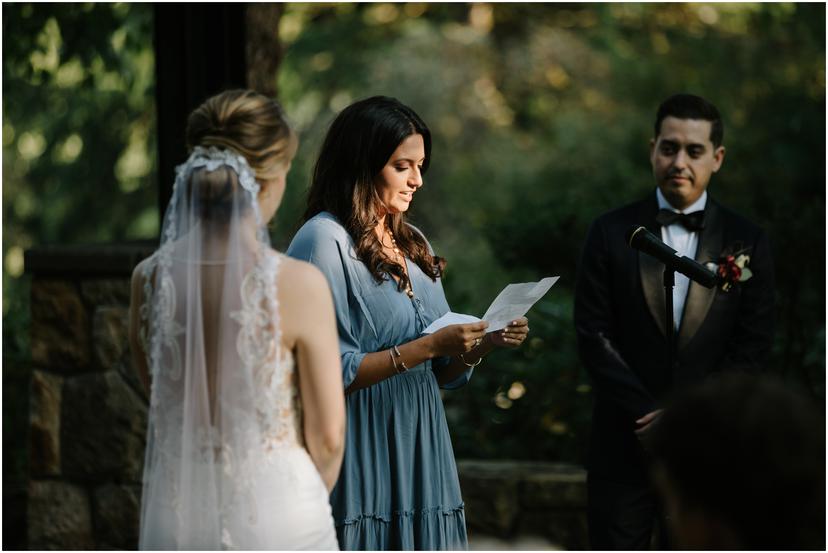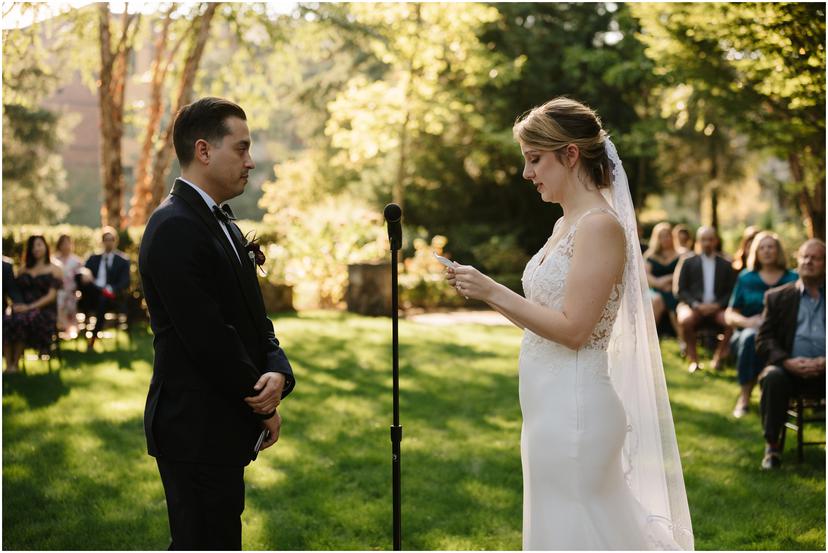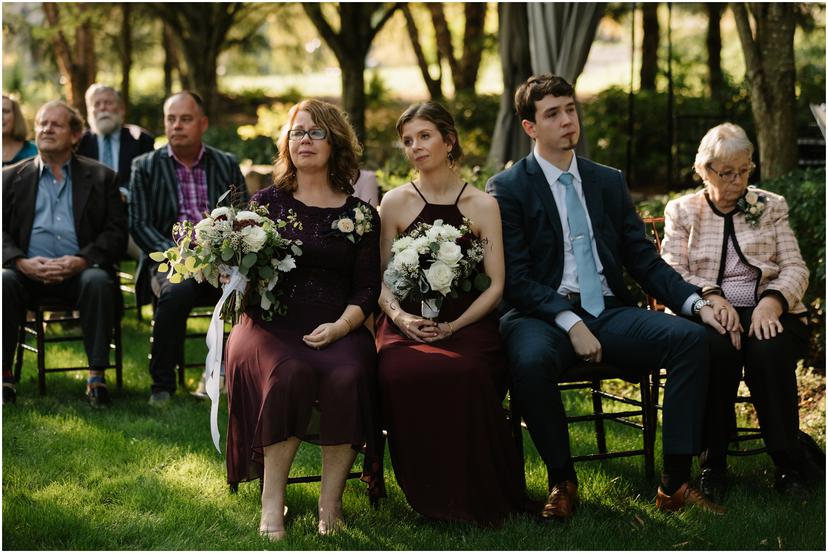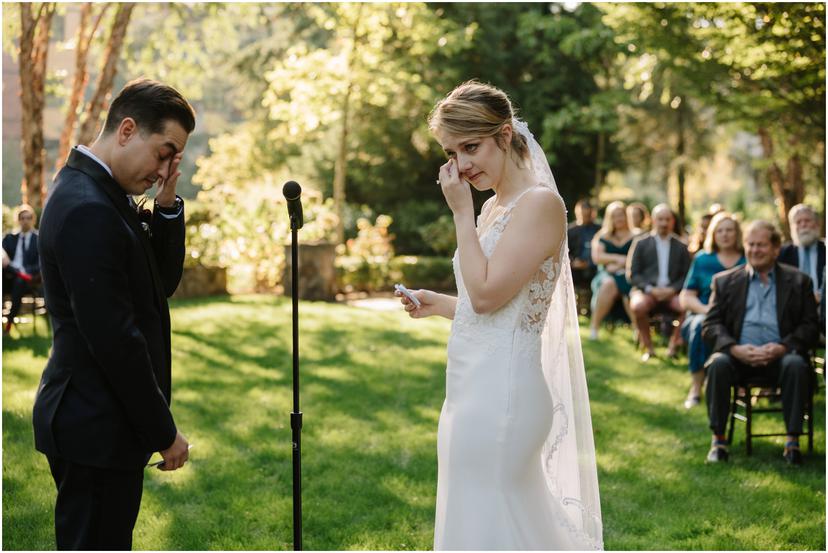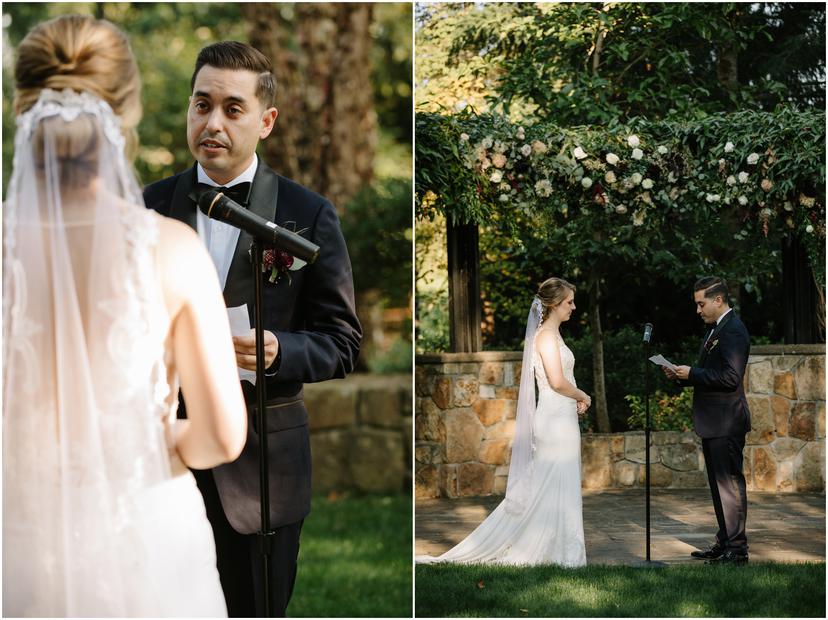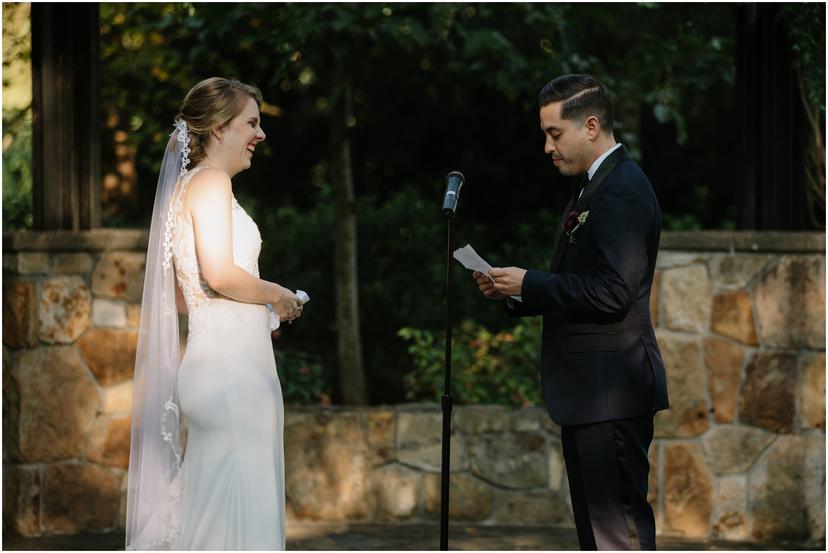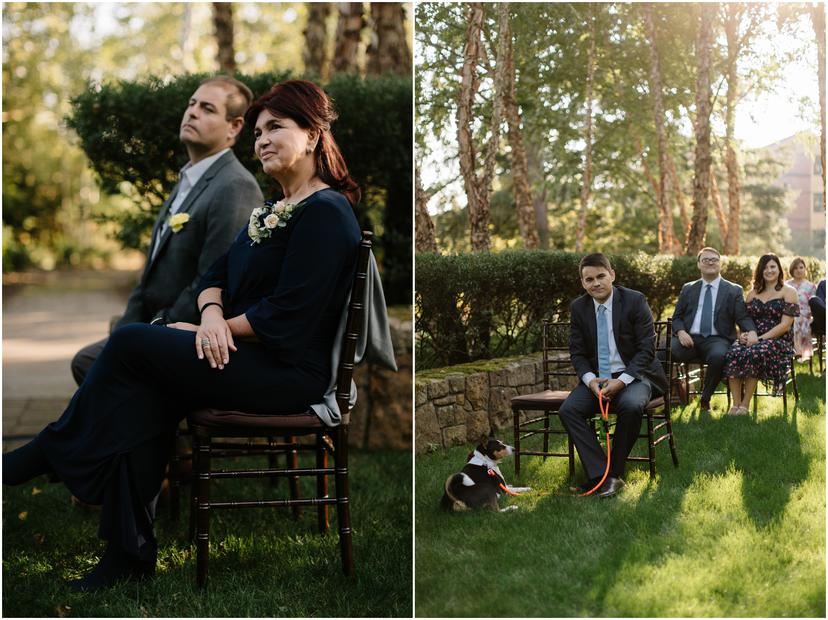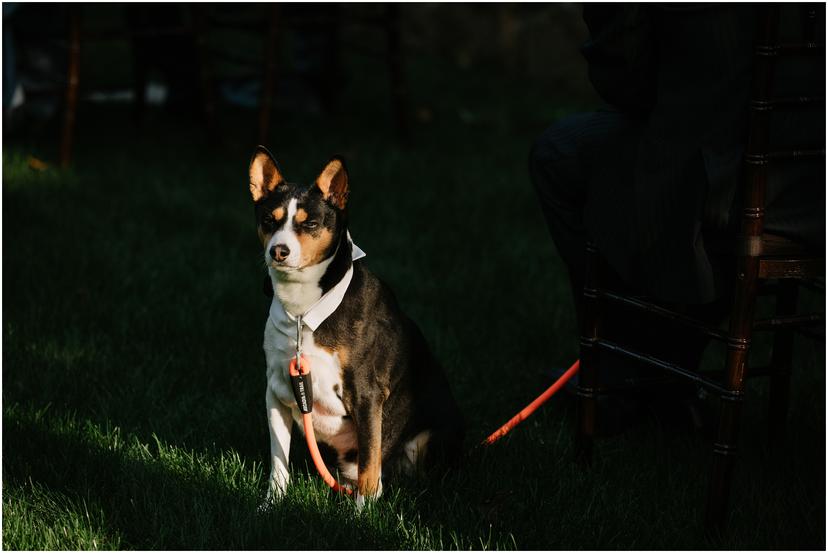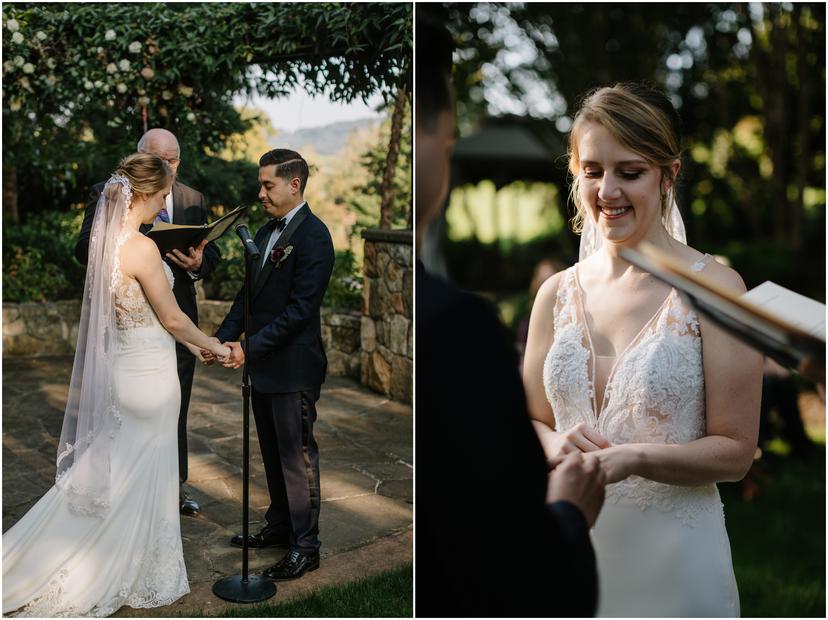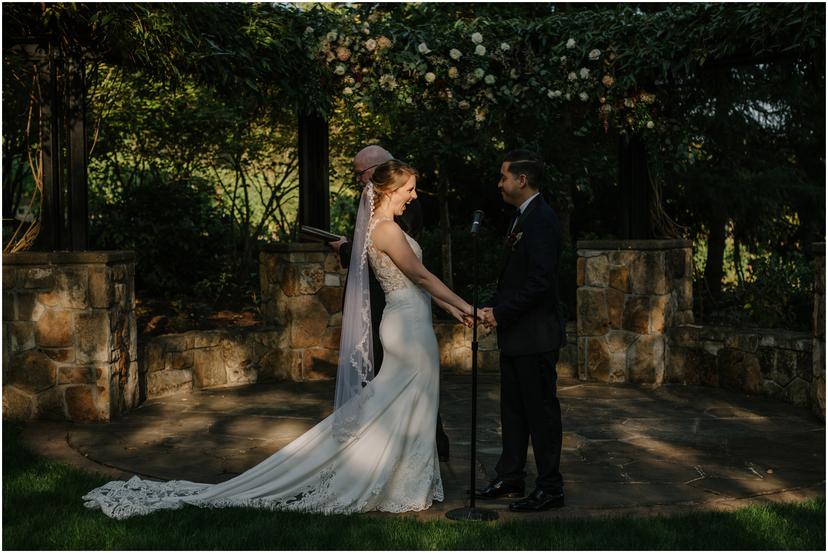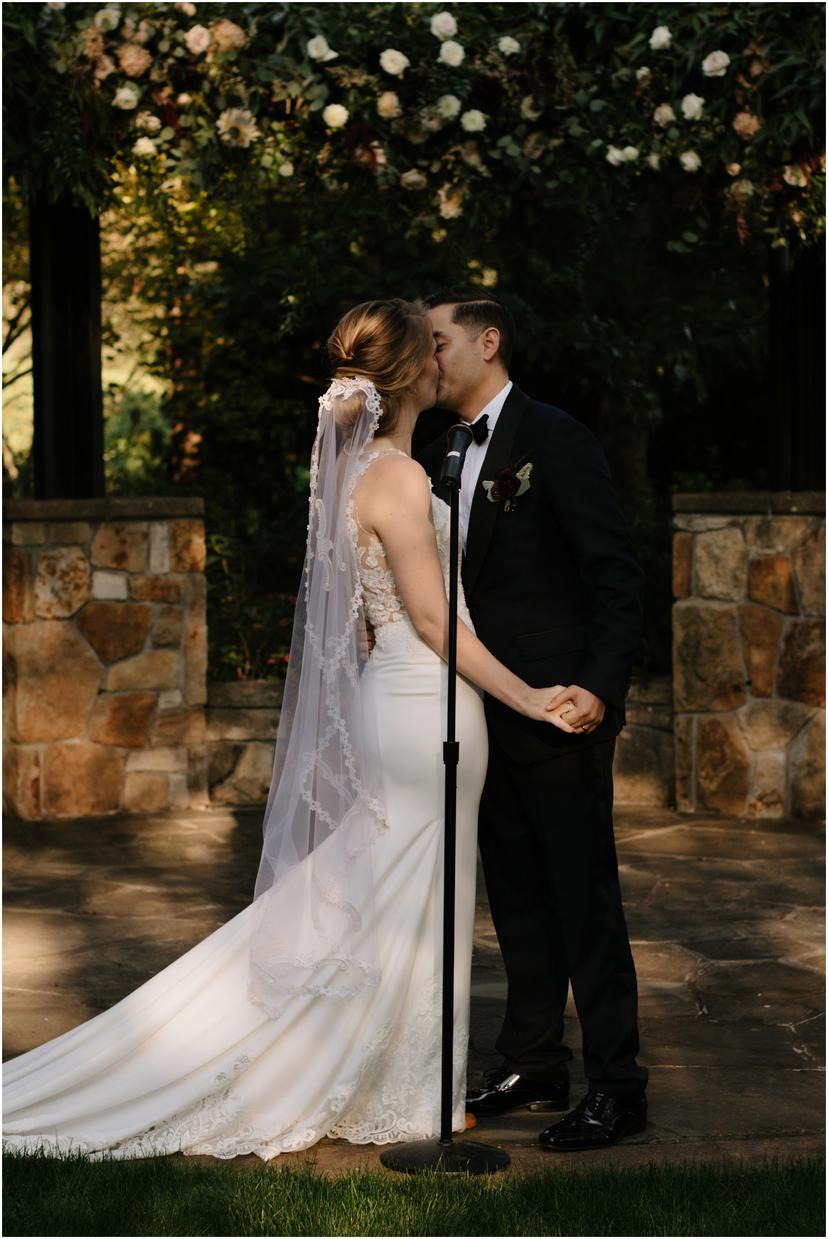 What made your ceremony special?
"The Allison was able to make the aisle 16 feet wide so that we could walk down it without masks," said Deidra. "They were also able to place the chairs a safe distance apart, so guests didn't have to wear masks either. That was really nice to make it feel as "normal" as possible and see everyone's smiling faces as I walked down the aisle and looked out at people.
"We decided to write our own vows and read them in front of everyone. I knew I was going to be extremely emotional, and my motto this year was to allow myself to feel things in real-time, and if tears come, then they come. And that was something I was able to do even with everyone watching, which made it even more special/real, I think. Hearing each other's own words when committing to one another was a memory I'll have forever and remember often."
"Even though we didn't have a bridal party like originally planned, we wanted to incorporate our siblings into the wedding. My sister, Kelsey, walked down the aisle before me as the MOH. Alan's sister, Pam, read a reading during the ceremony. Alan's brother gave a toast at the reception. And my brother did the Brother/Sister dance with me."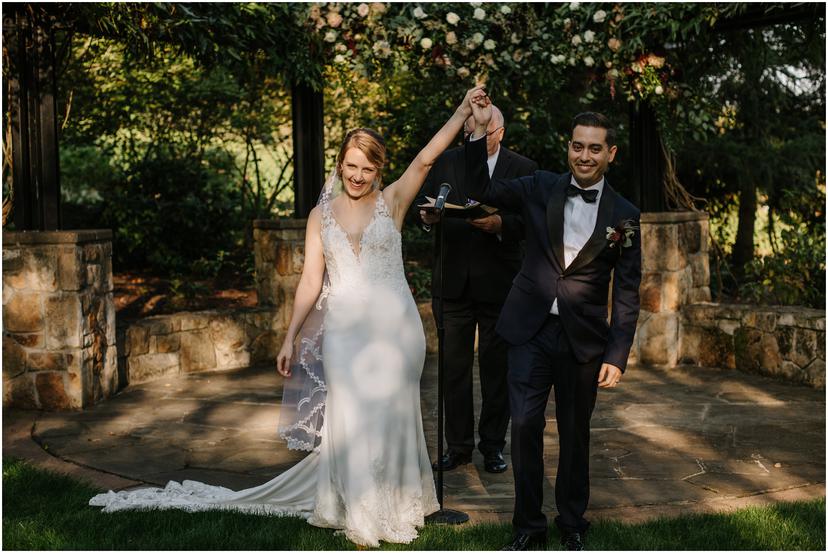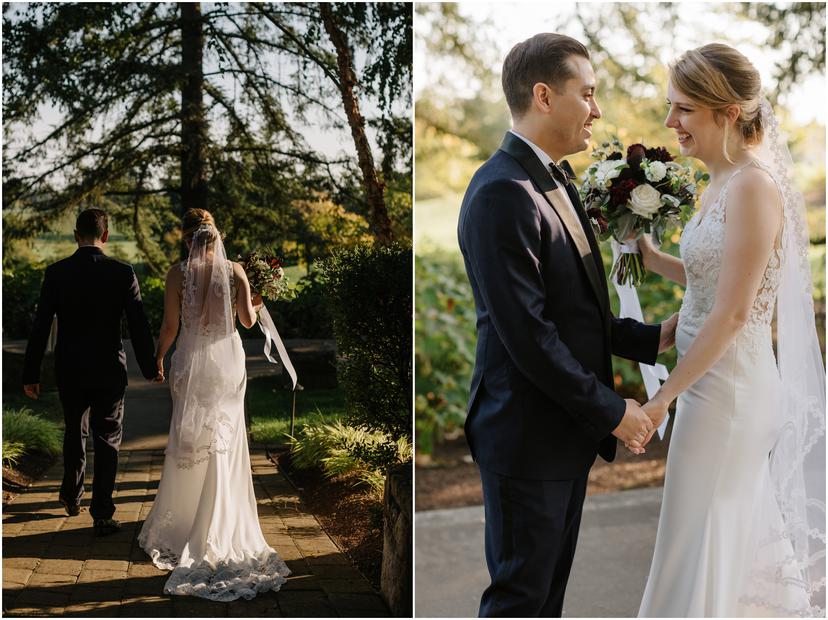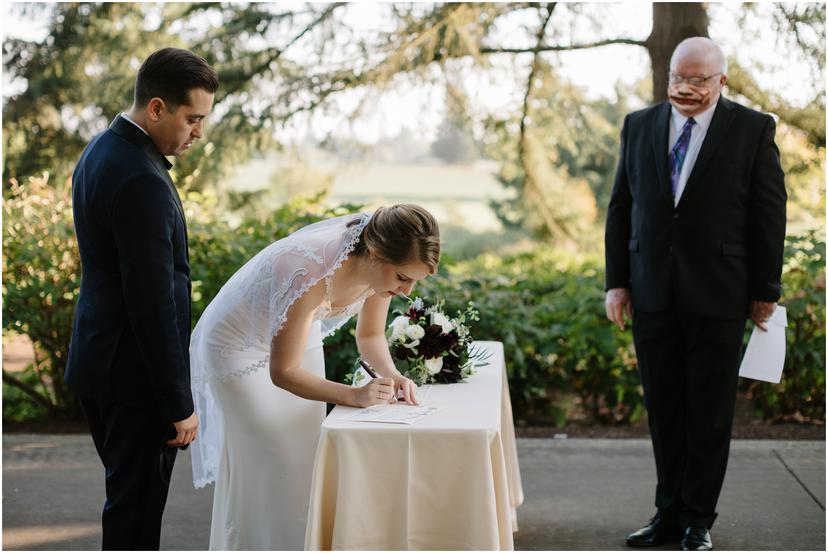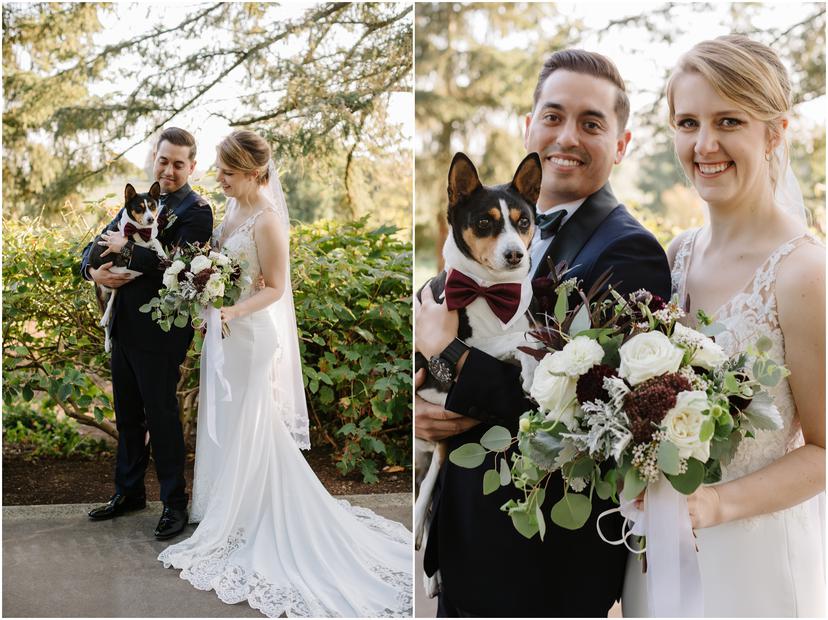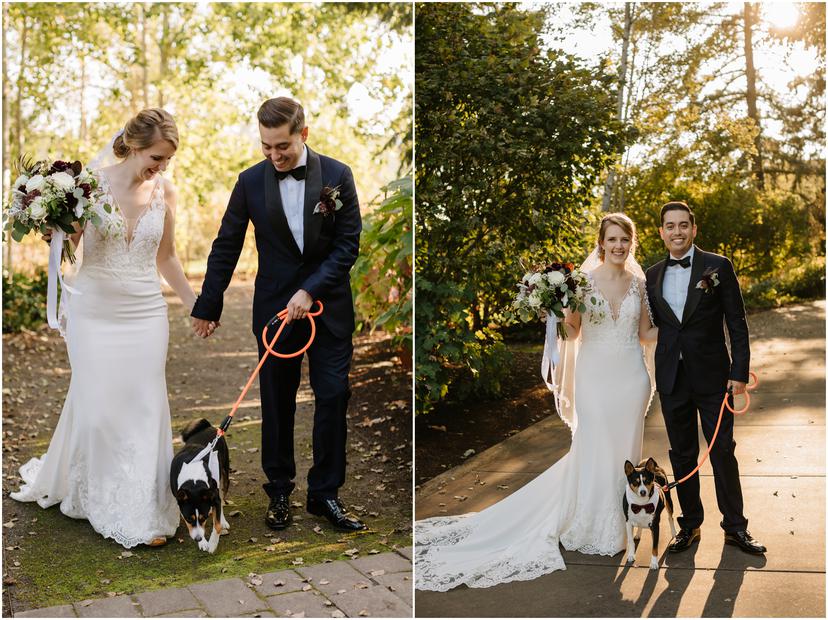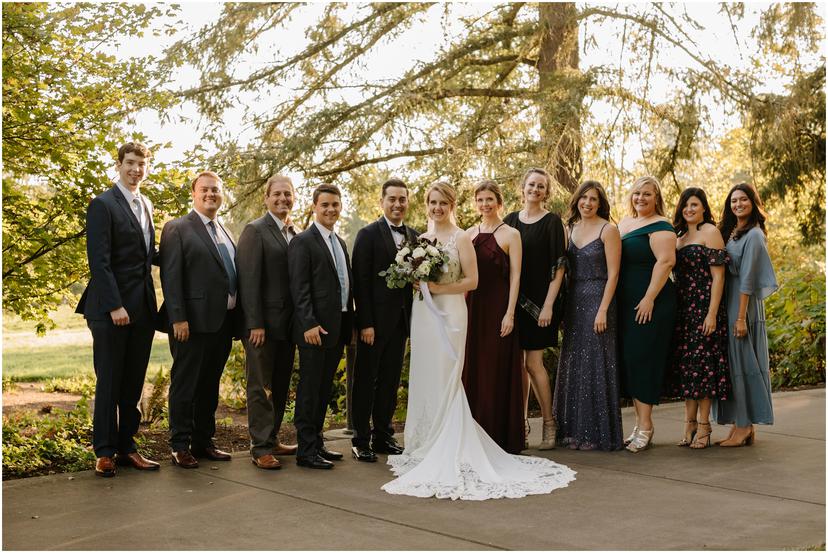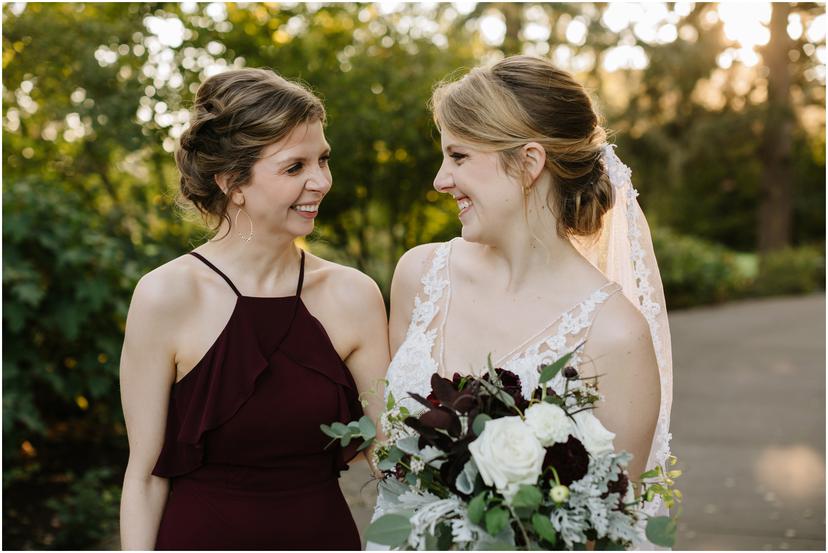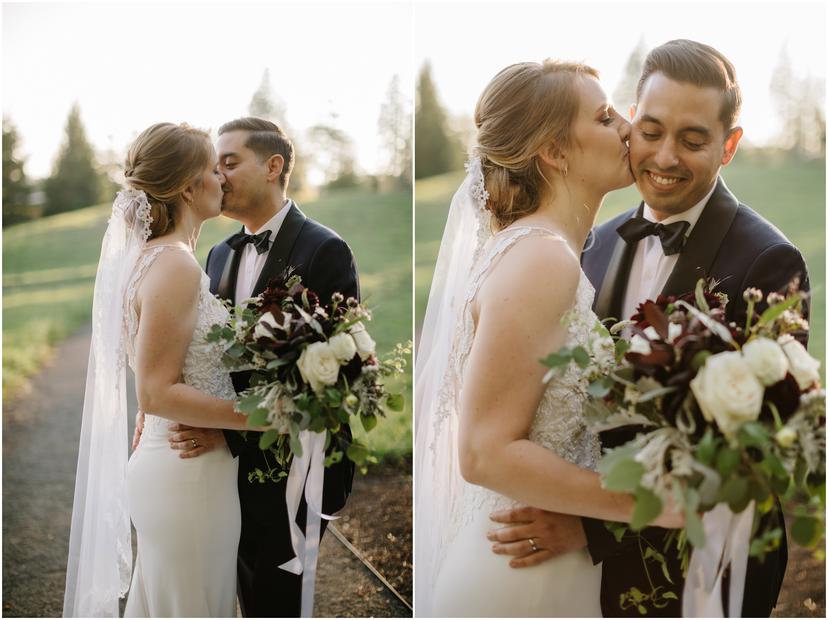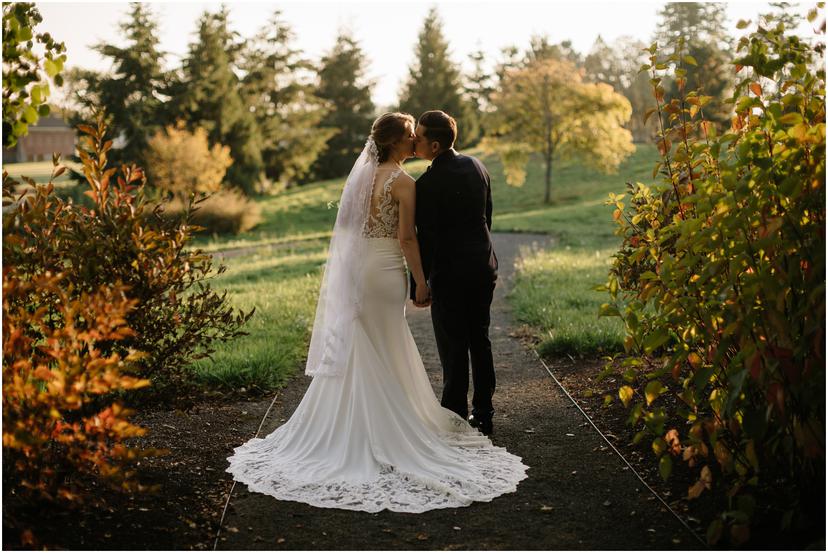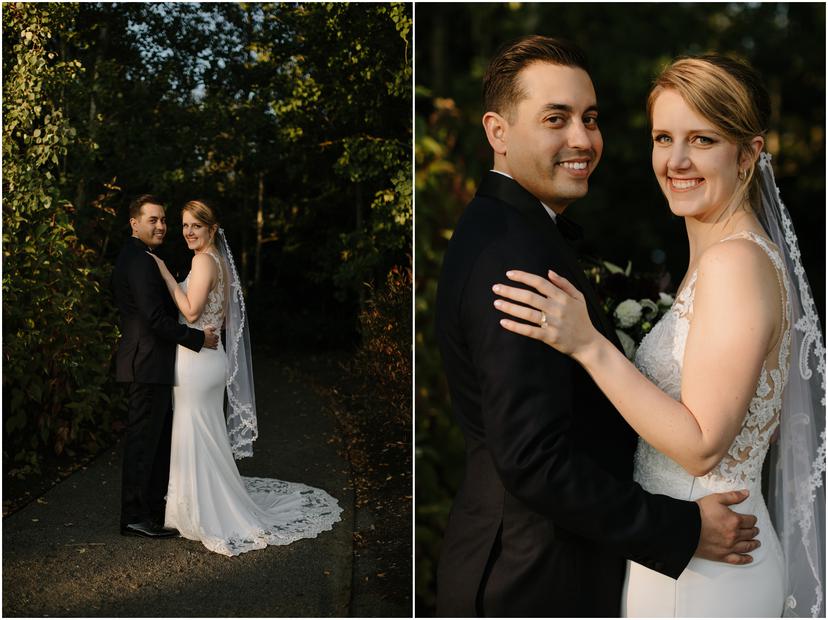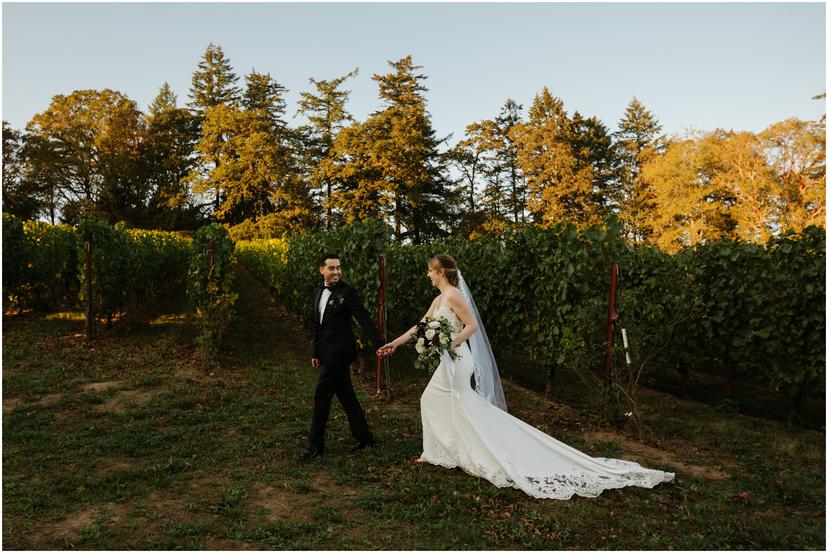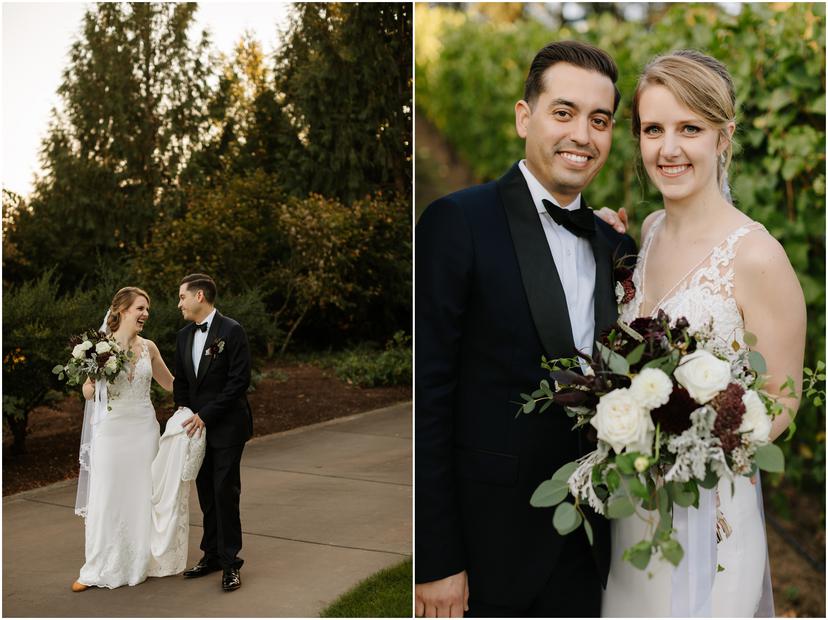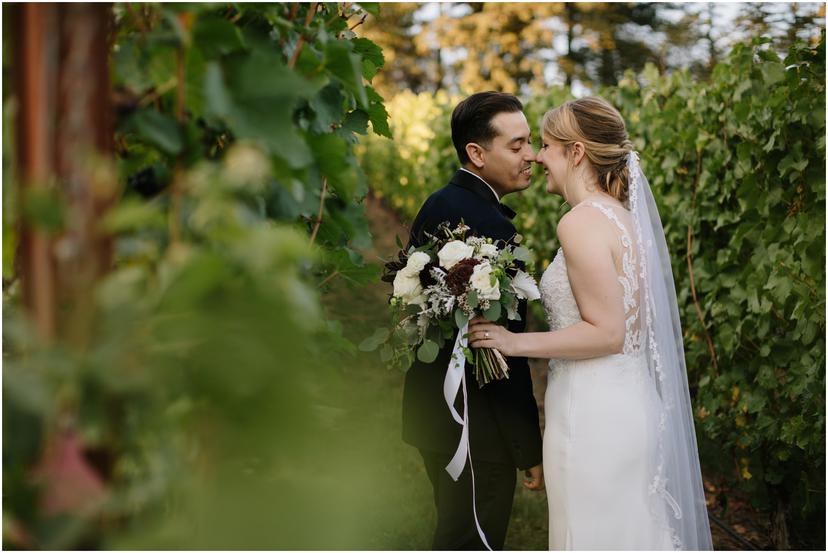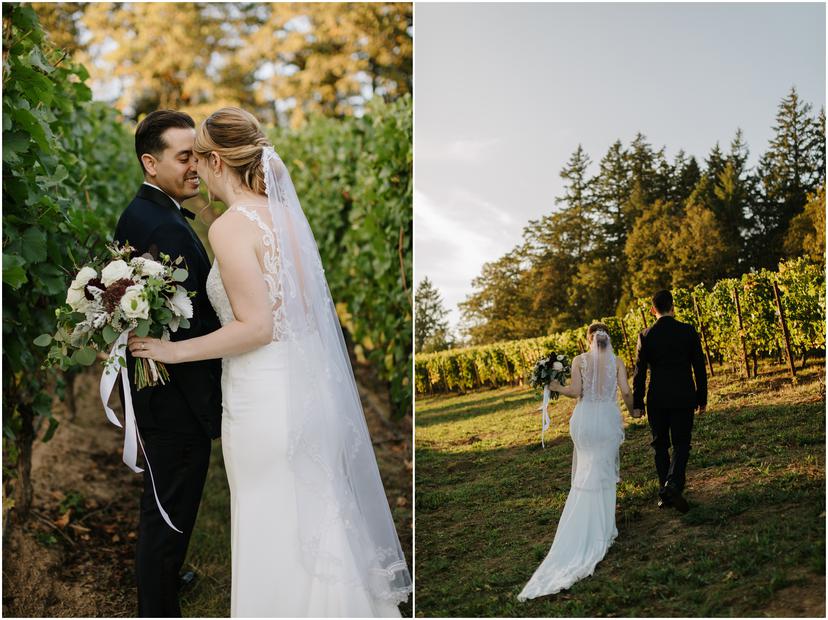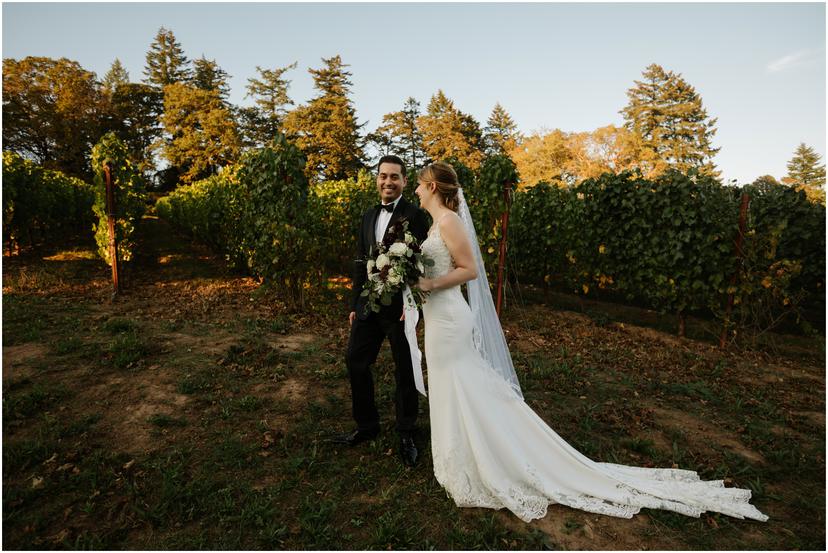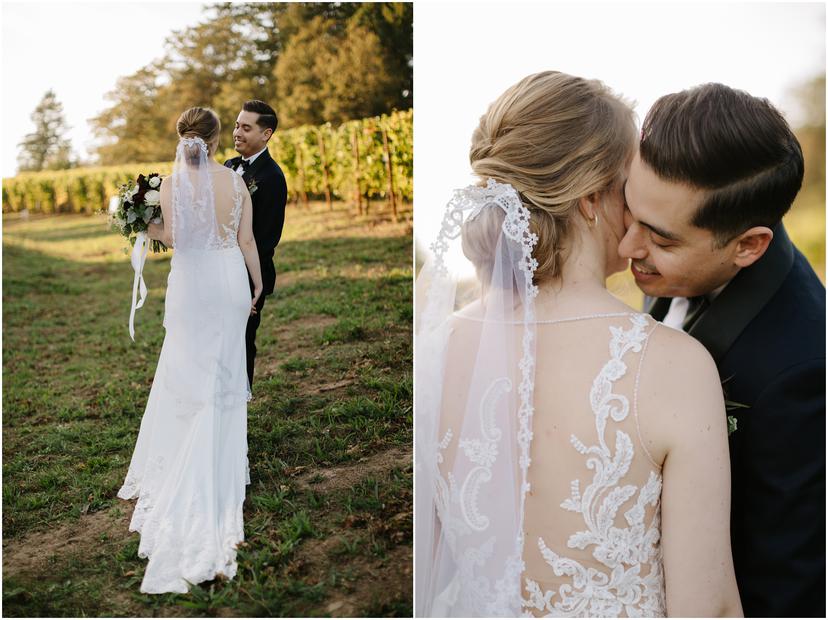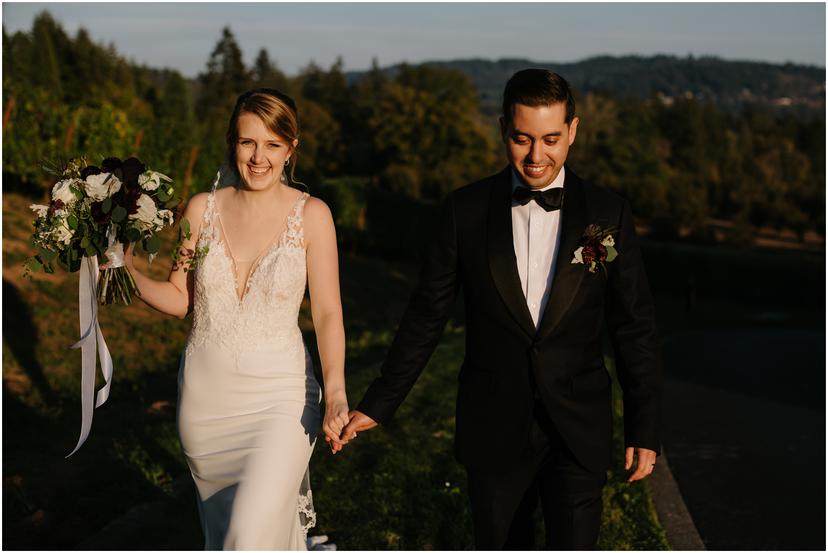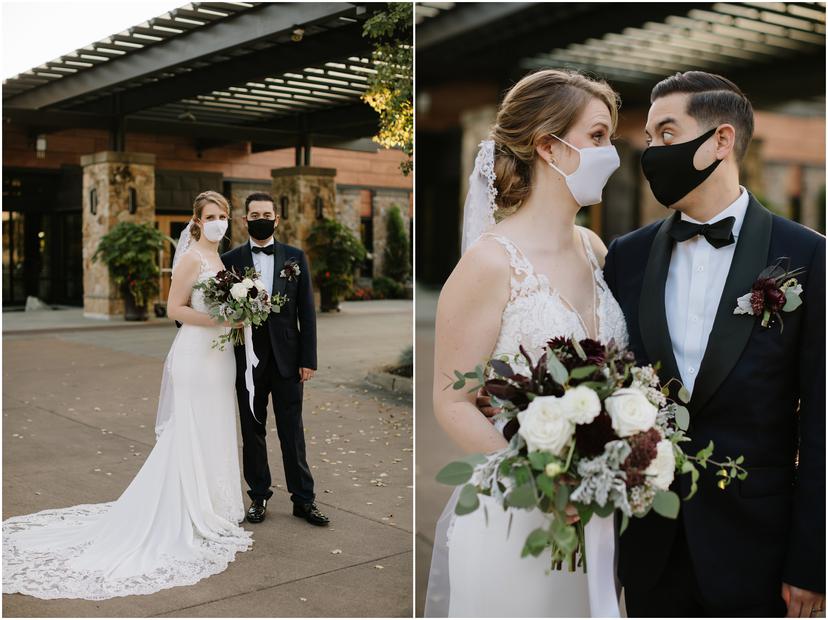 What details of the day stand out to you as unique and memorable?
"I loved taking pictures of just Alan and I after we did all the family photos," Deidra said. "We didn't do an engagement shoot, so it was our first time getting quality pictures of the two of us. I wish I had allotted more time for that to just enjoy each other in those moments."

"After taking pictures with you and going to the reception space, it felt like we were just hanging out with friends/family. It was really great being able to actually spend time with and talk to our guests since we had less than 30 guests. Towards the end of the night, Alan and I were saying how we couldn't imagine having the original guest count of 120 and not being able to spend quality time with each of them."
"It was also really awesome that we were able to FaceTime and Zoom call Alan's family from around the world so they could see the ceremony live. His family in Europe got dressed up and watched the ceremony in the early morning hours of their local time, and his dad was able to watch from Florida since he wasn't able to travel."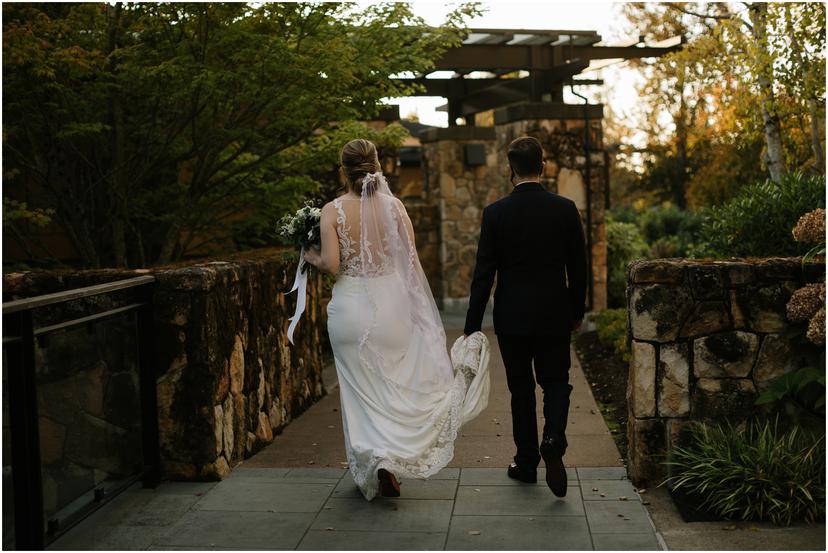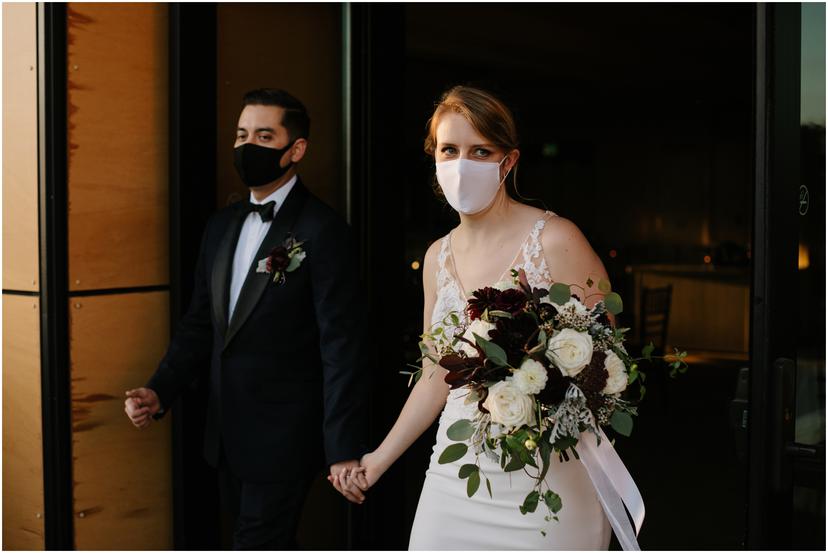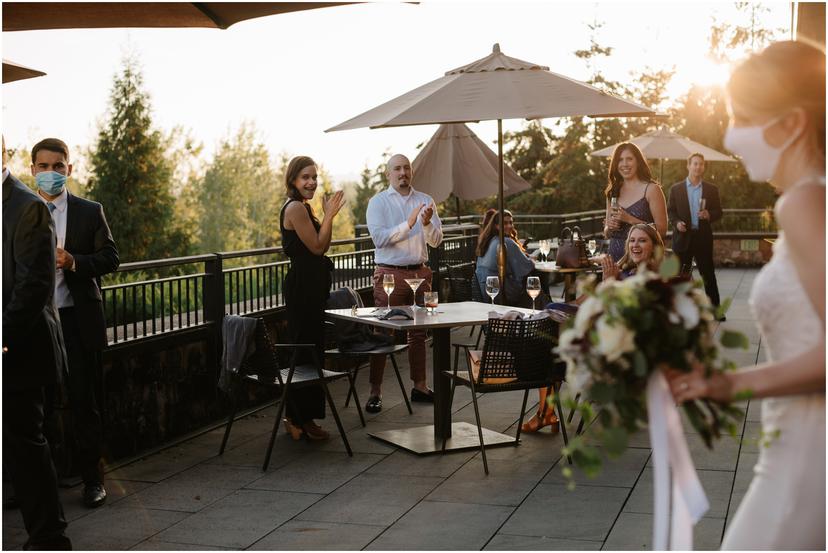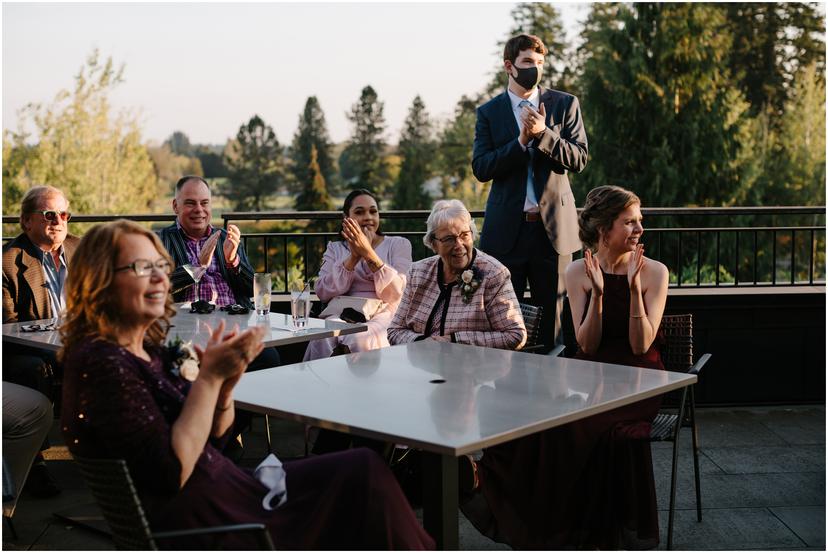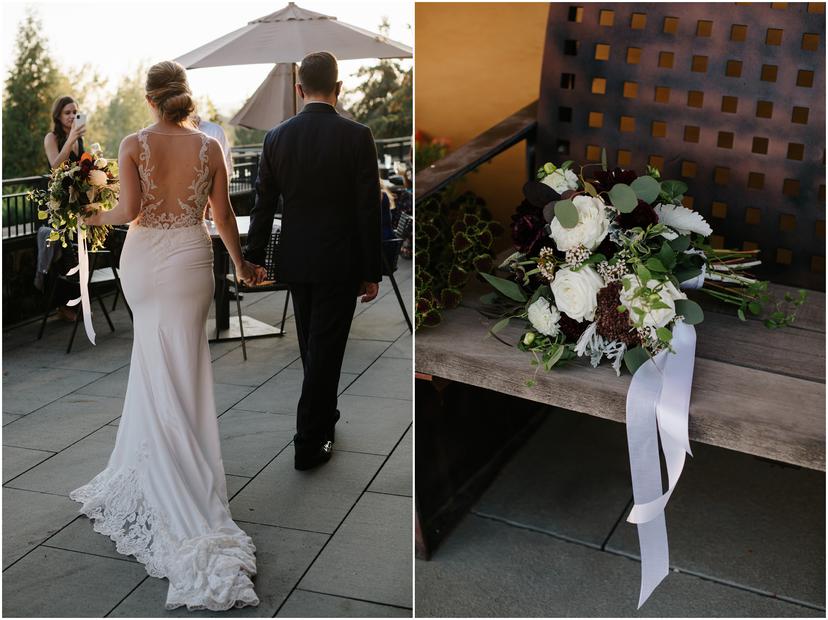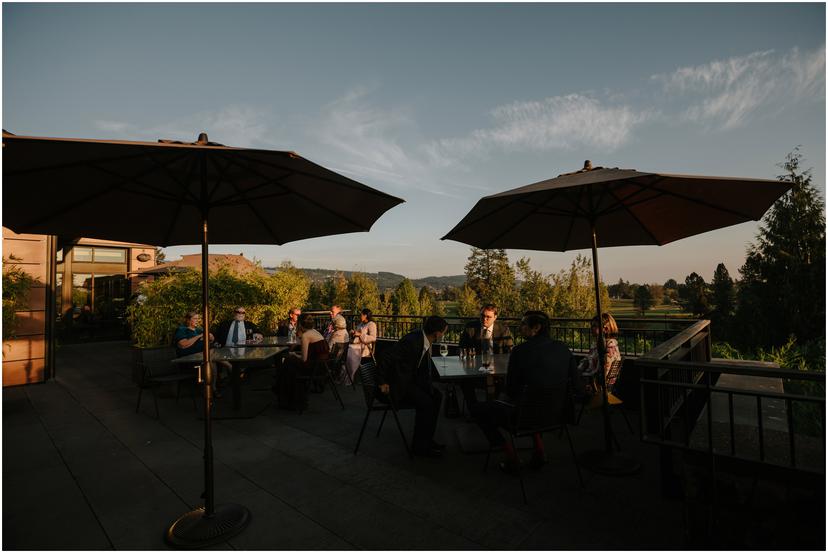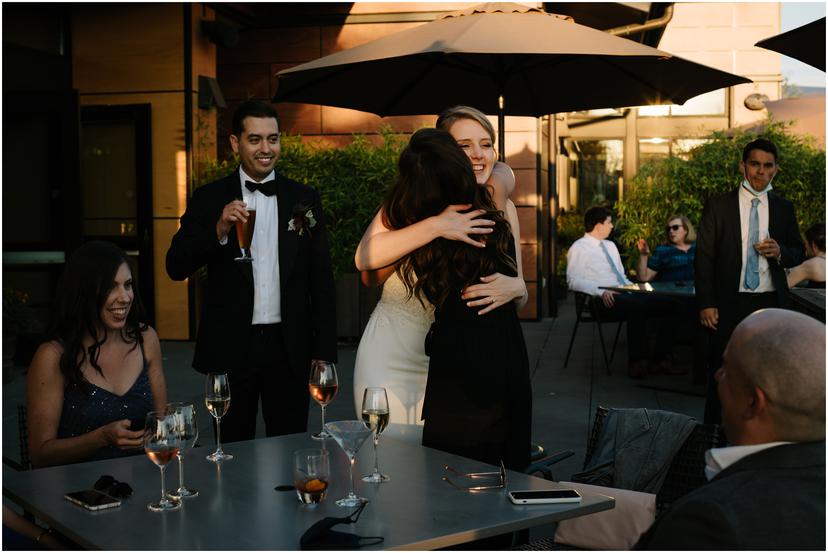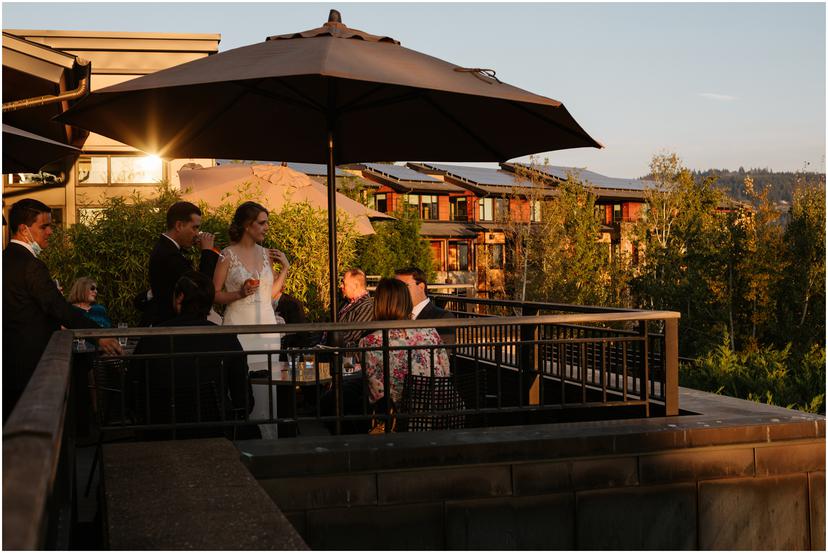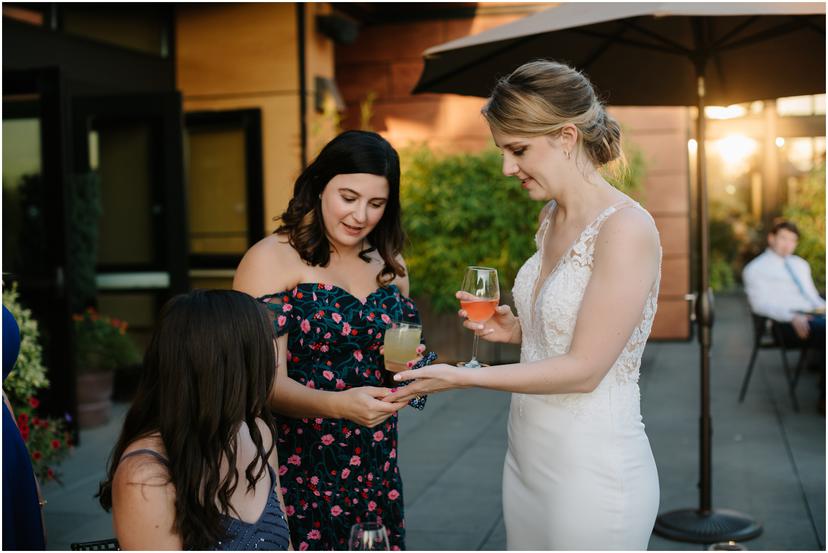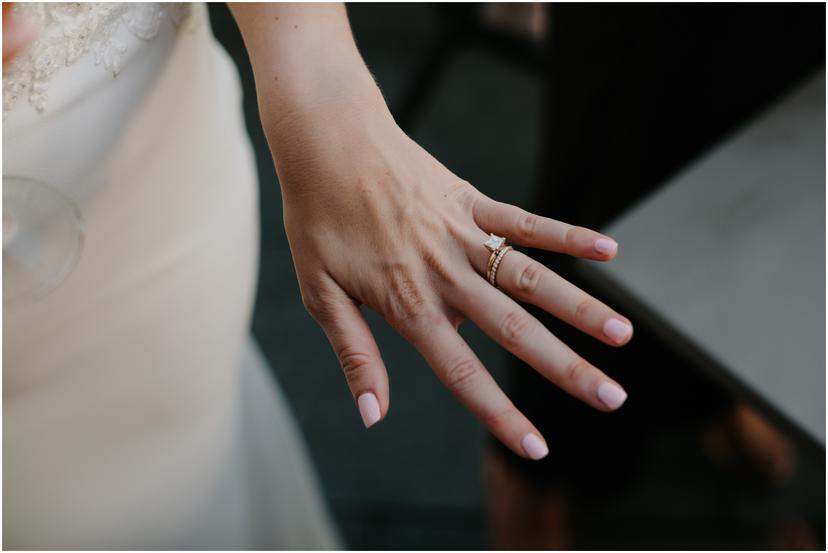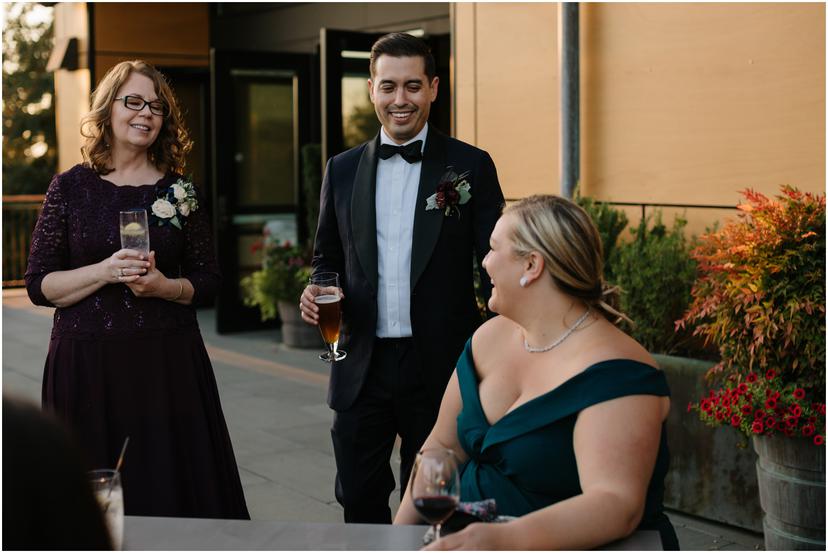 Groom's favorite wedding memory
"Seeing Deidra walk down the aisle AND being able to spend time with everyone on the balcony at the reception as the sun was setting," Alan said. "I was really looking forward to seeing her come down the aisle, knowing she was going to be my wife. I also liked having the balcony access and enjoyed having all the guests out there having drinks and saying hi after we just got married!"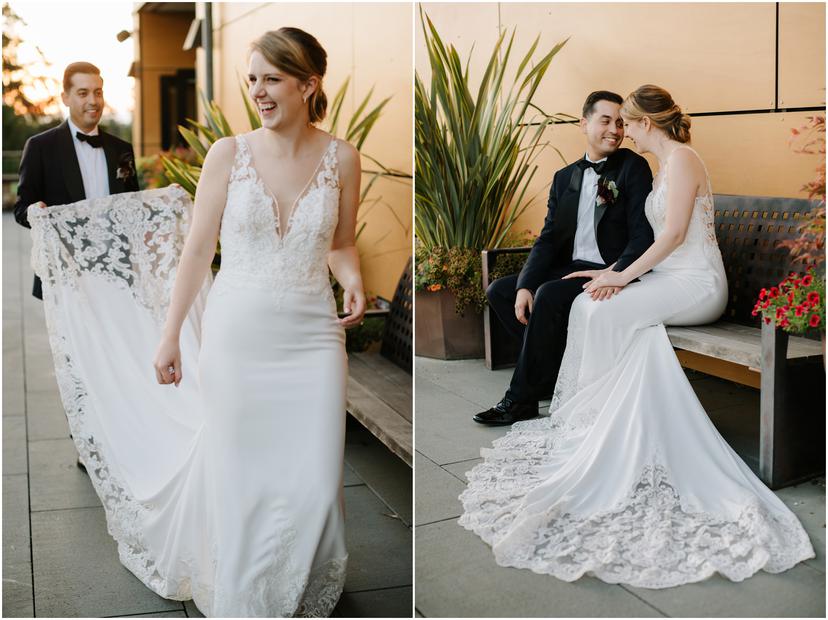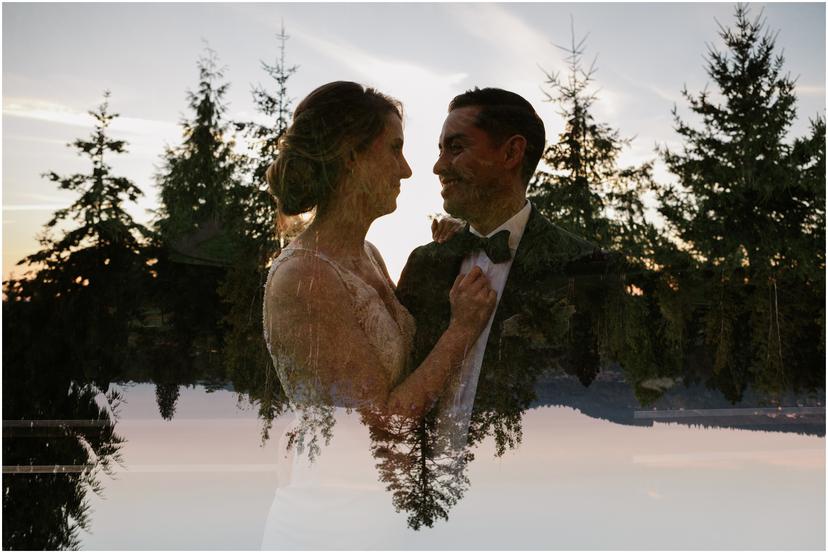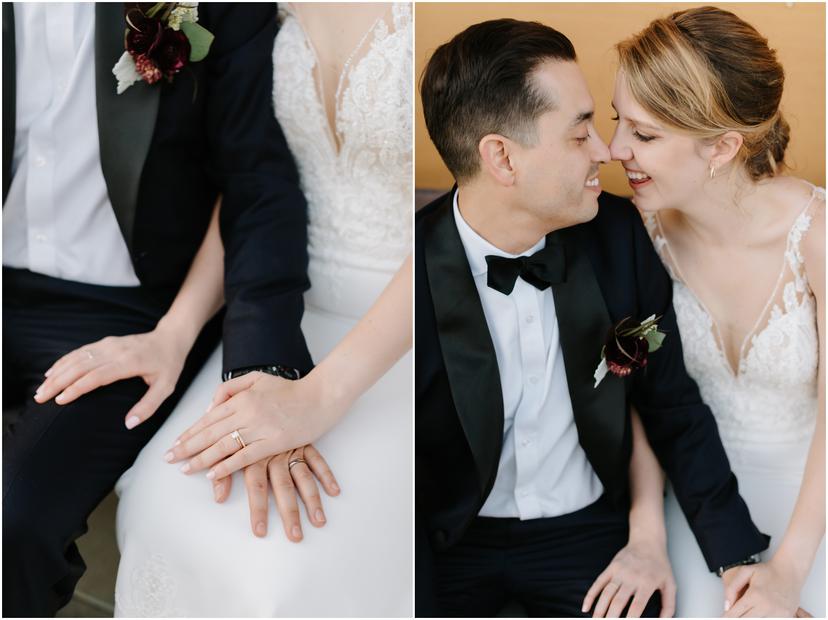 About the flowers and decor
"Blaire at Trellis Fresh Flowers is AWESOME! She was the NICEST to work with before and during COVID. She was super flexible with us when we were thinking of having just our immediate family after my dad died. And then was flexible once more when we switched things up and moved it to The Allison. Even though she is based out near Hood River she drove all the way to Newberg to make sure we had the flowers we wanted."
"As far as decor, I ended up doing things as simply as possible just to make things easy. Even with our original wedding plans, I didn't want anything too grand as I'm more of an understated person. I wanted something outdoors for sure because I wanted to incorporate that Oregon feeling that I grew up with. The Allison really had all the perfect landscaping for the ceremony space, so Blaire just added a floral arrangement to the trellis to make it stand out more. My bouquet wasn't too "whimsical" and exactly what I wanted, pulling fall colors into it. And the reception tables were simple, with either a floral centerpiece or candles in vases. Very simple and intimate. Having The Allison coordinate and provide everything for the reception was perfect for us."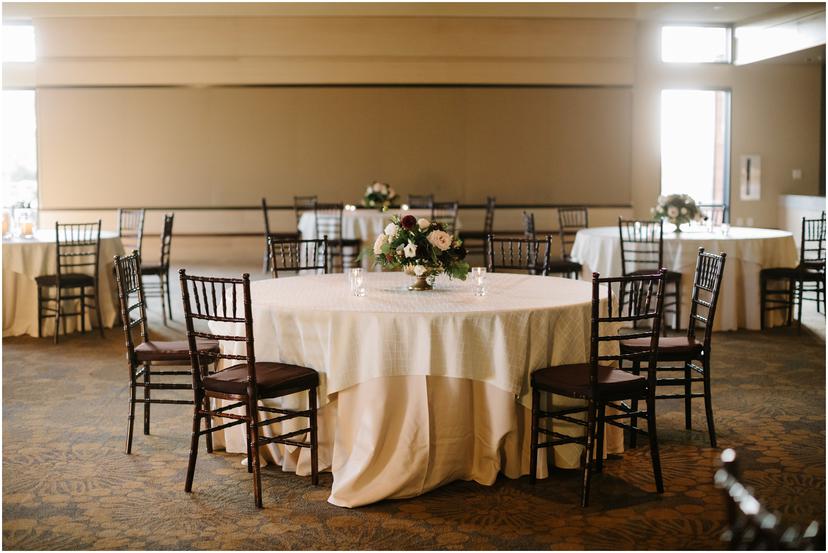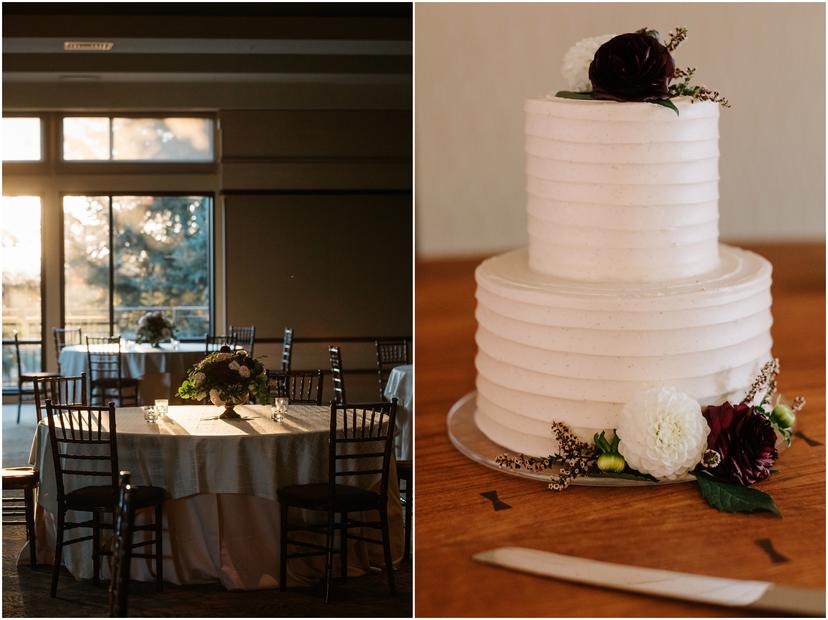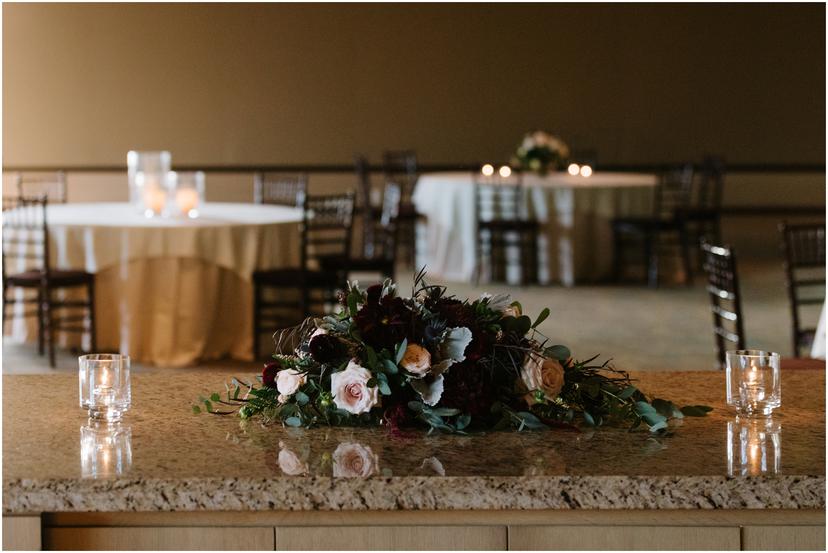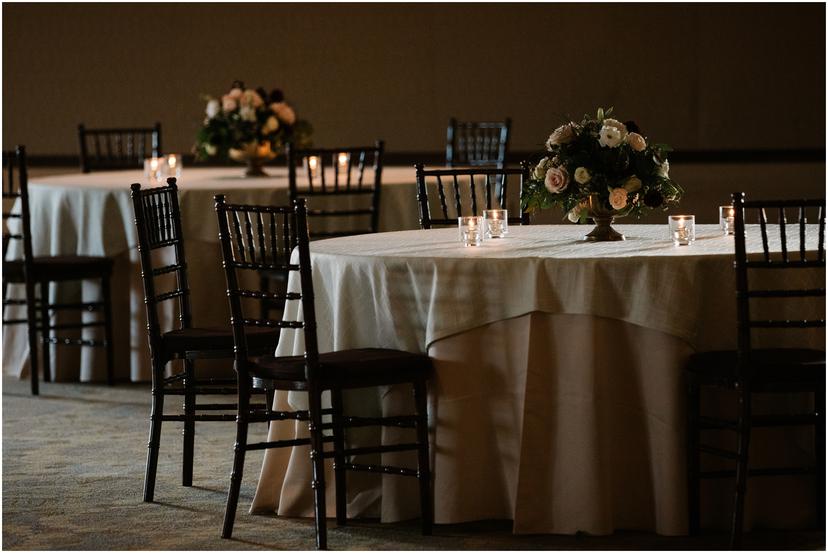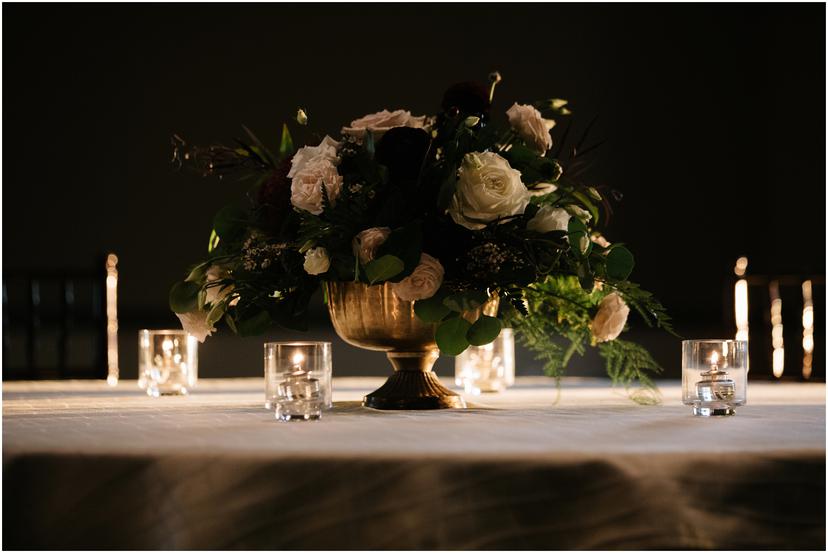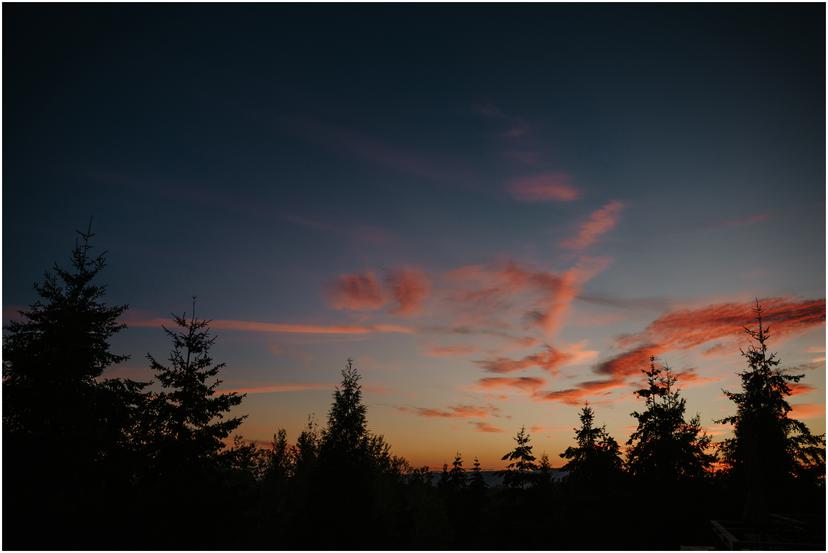 Why did you choose The Allison Inn and Spa as your wedding venue?
"We actually didn't see the venue in person until three days before the wedding, but it just looked/sounded like a great option," Deidra said. "I was looking for winery venues that were still doing events with everything going on, and they were one that popped up. I thought it may be out of our price range based on the info I found on the website but decided to email anyway. They were willing to work with us to get us where we needed to be price-wise. Everyone was SUPER nice, helpful, and transparent. We really liked the pictures and reviews, so we decided to bite the bullet sight unseen. We really enjoyed that there was an option for great food, vineyards on the property, and still had the ability to make it feel intimate even though it is a hotel."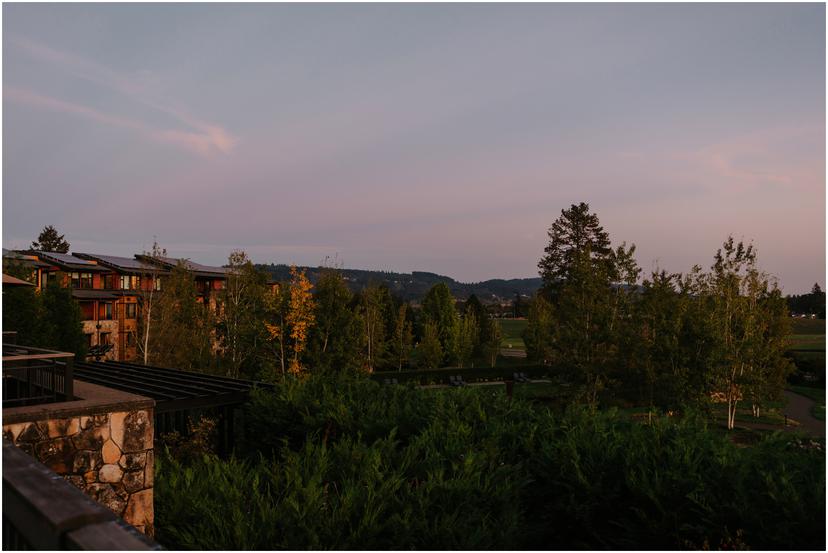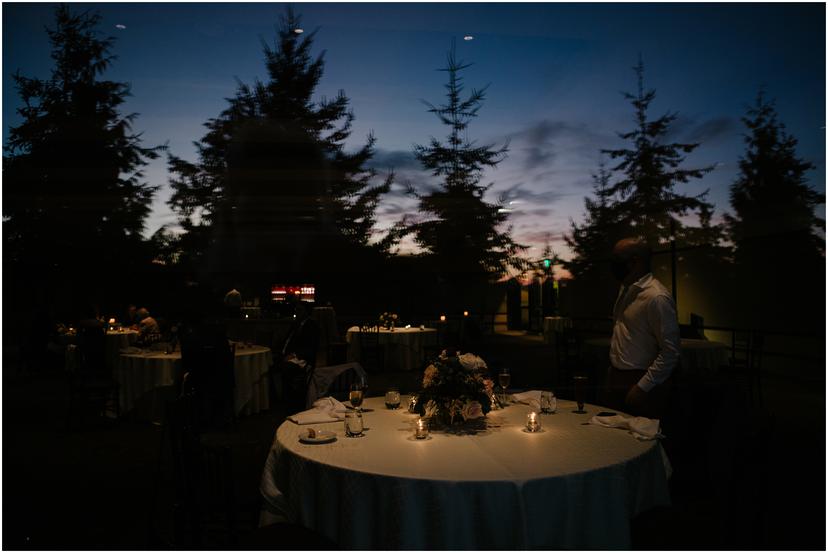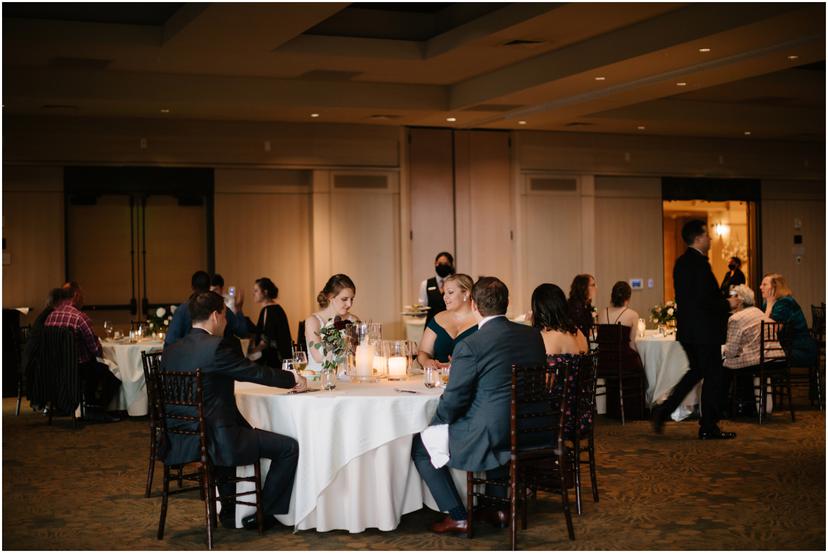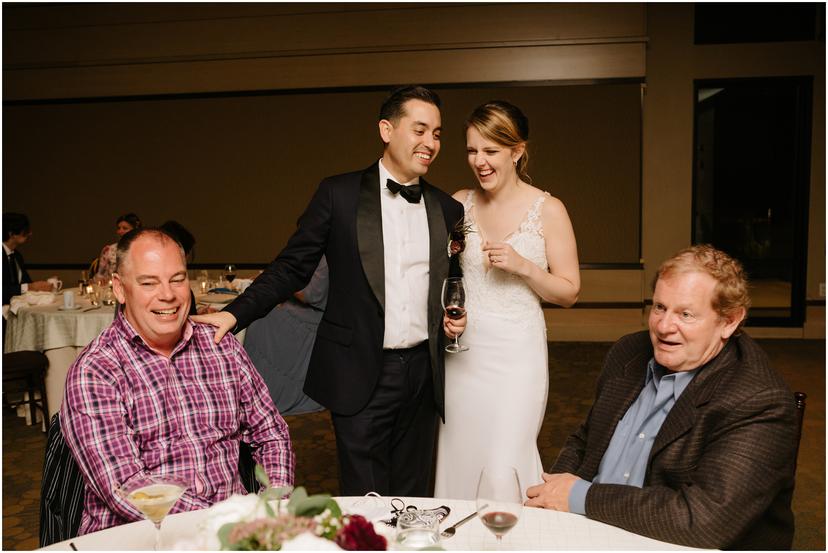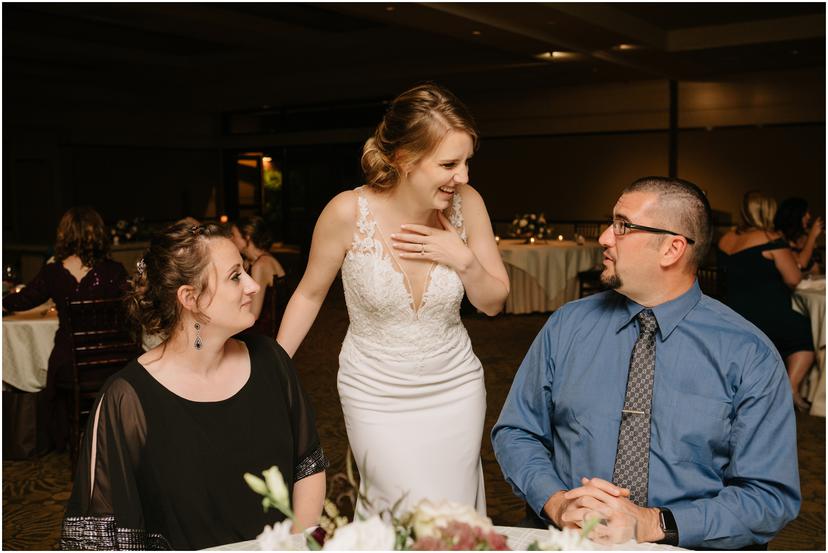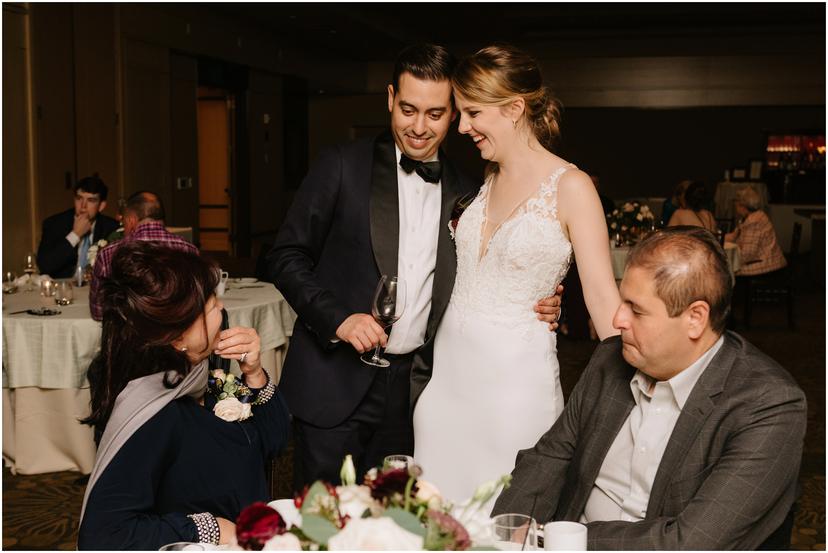 Insight for planning a wedding during COVID?
"Get wedding insurance if you don't have it already! We were SUPER lucky to have it with our original venue because they required it, so we were still able to get married and have a wedding with The Allison. I'd say to Google the venues you're looking at to see if they've been in the news at all about not being flexible (I ruled out a few places because of this)."
"This sounds cheesy but really, wherever you choose is going to be perfect because you are still getting to marry your person; it just might look a little different than how you originally pictured it. Like many people this year, we've learned a very valuable lesson that the people you love the most are all that is important, whether they are with you on that day or not. Also, everyone is very understanding if you tell them it is a guest count of under a certain number, so cut people if you need to. We plan on doing a celebration of some kind when it is 100% safe for a group gathering/traveling, and everyone is on board to still come and celebrate with us!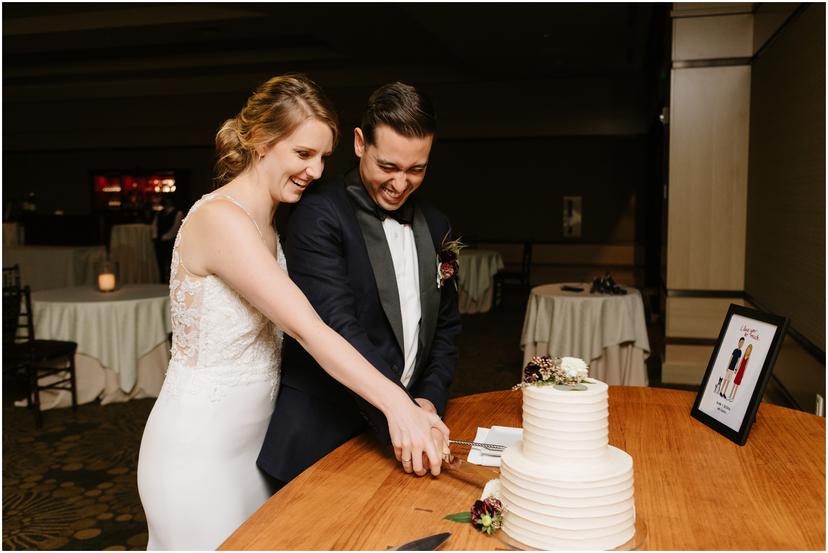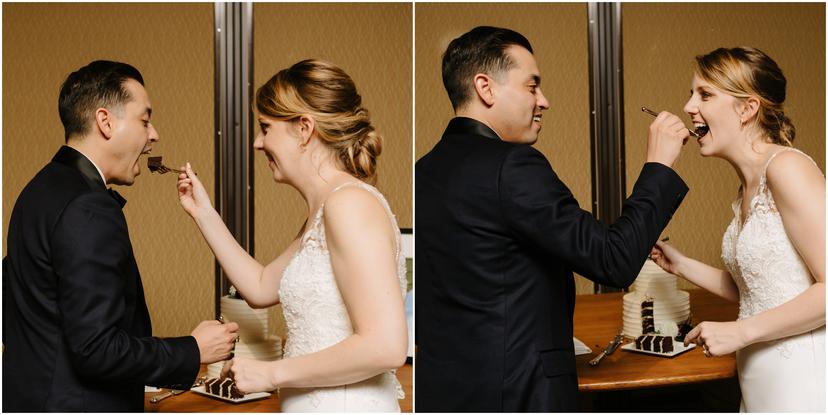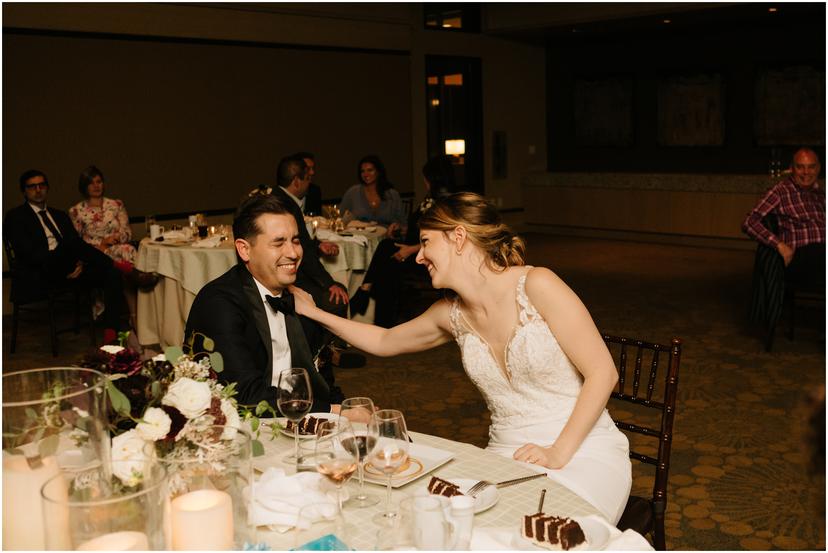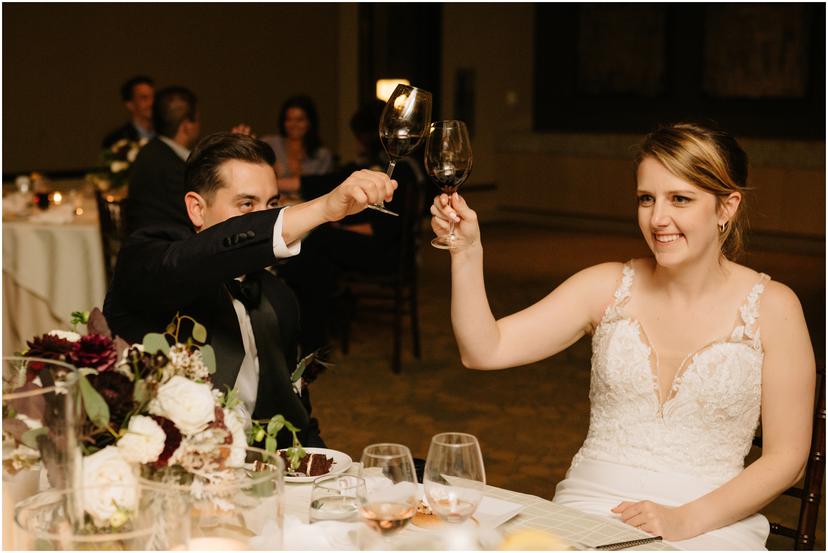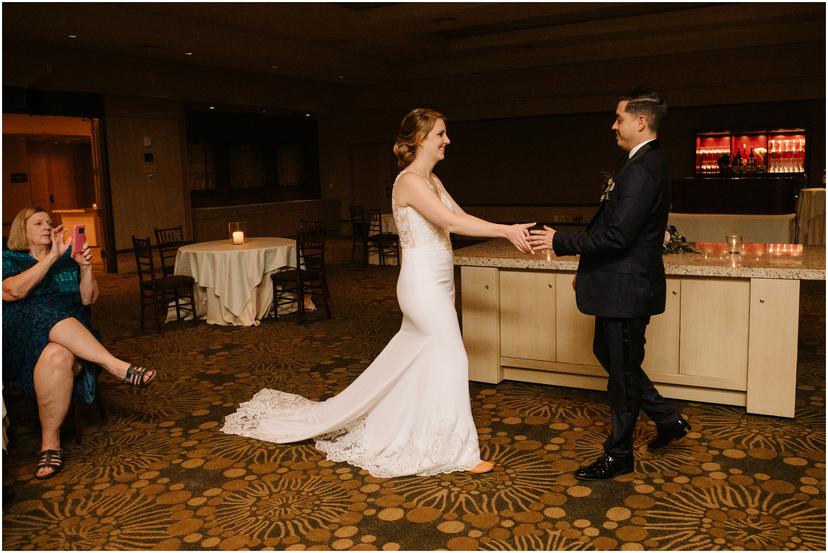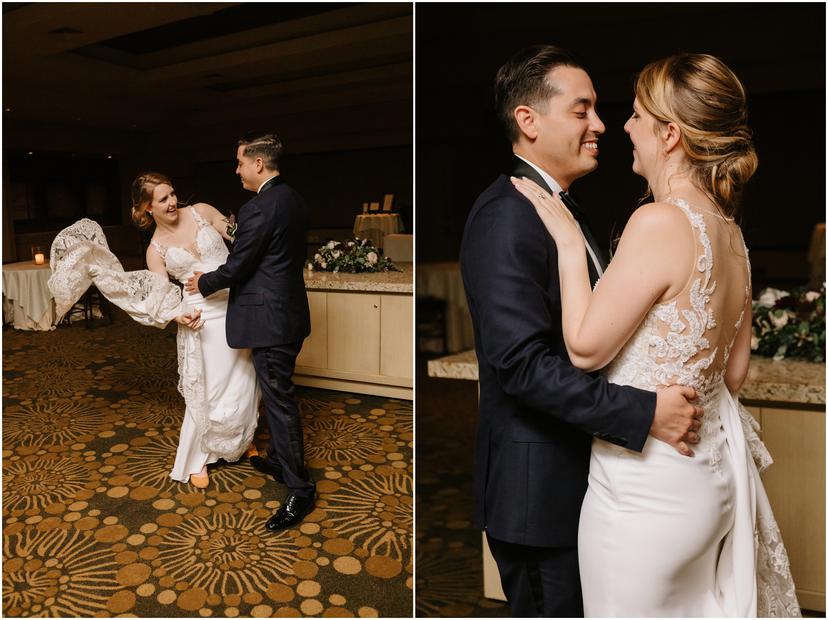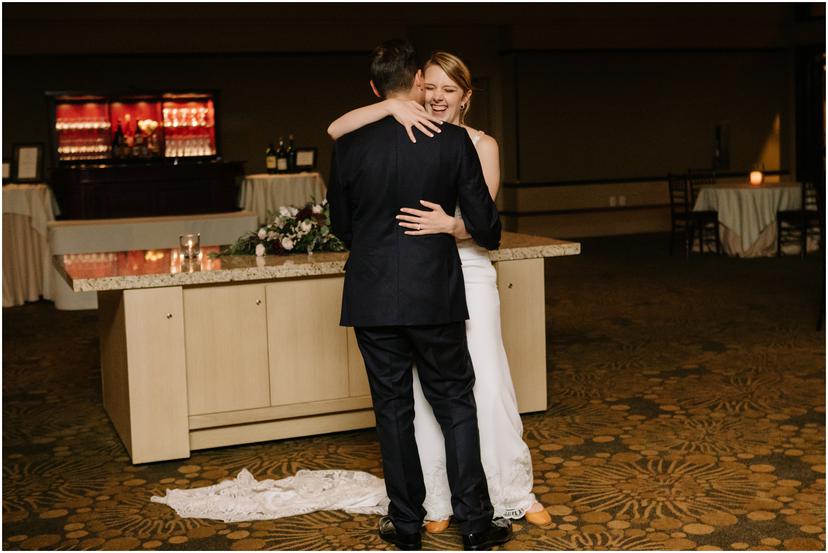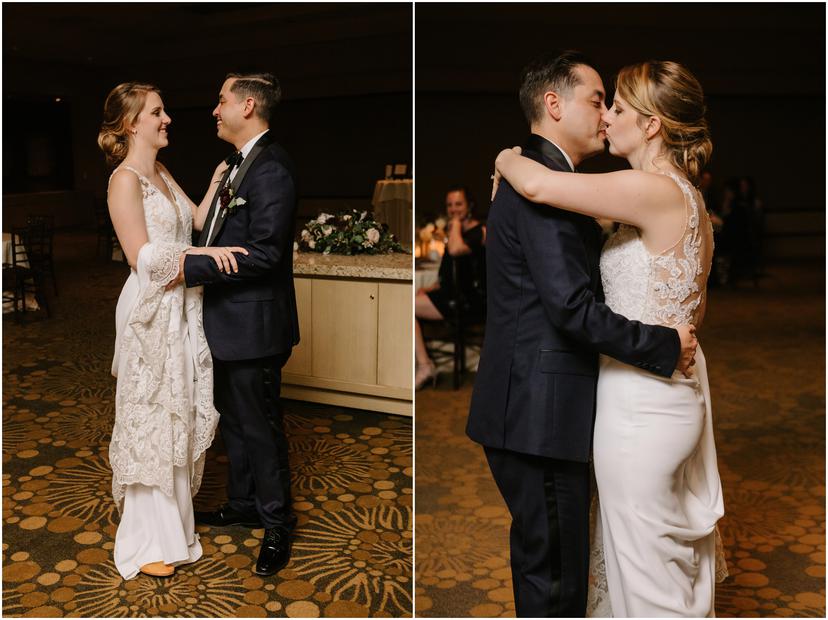 A brother-sister dance
"I'll forever remember by not so little brother stepping in and having the Brother/Sister dance with me," Deidra said. "This was the last "event" of the evening where traditionally my dad would be there, and Evan was there to make me laugh and swing me around, impressing me with some twirls during our dance. I love him for this."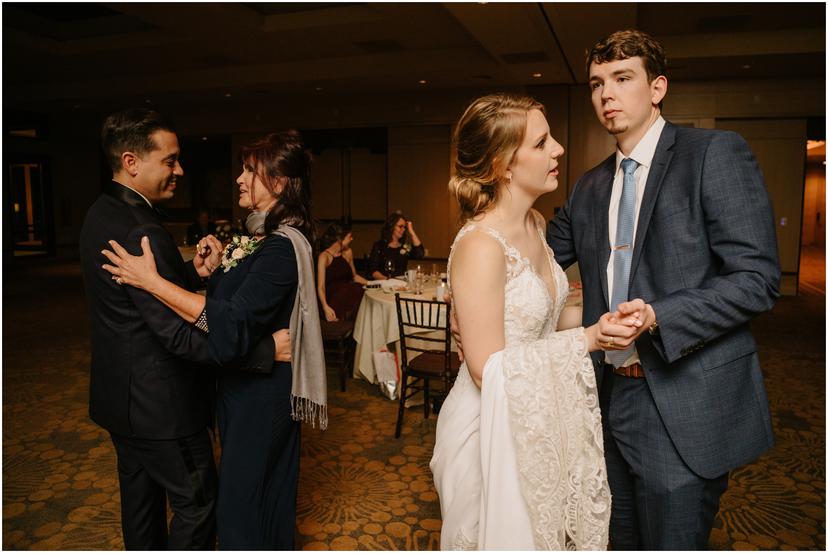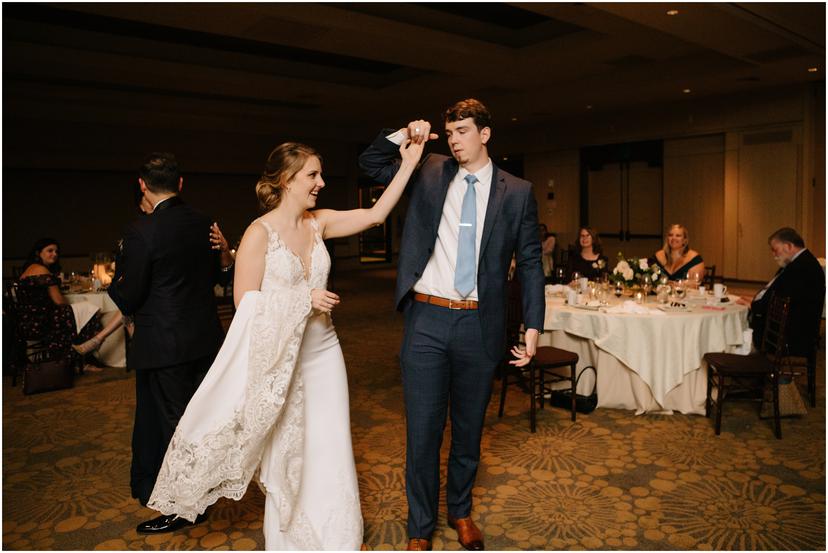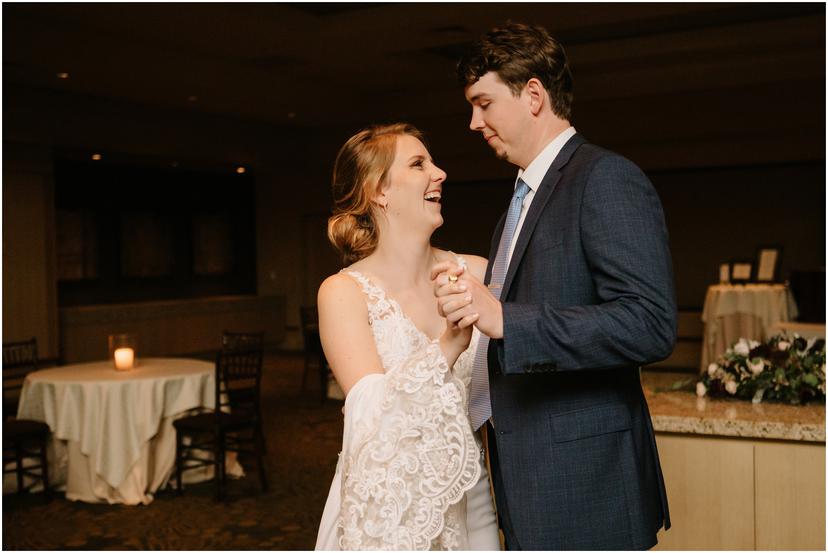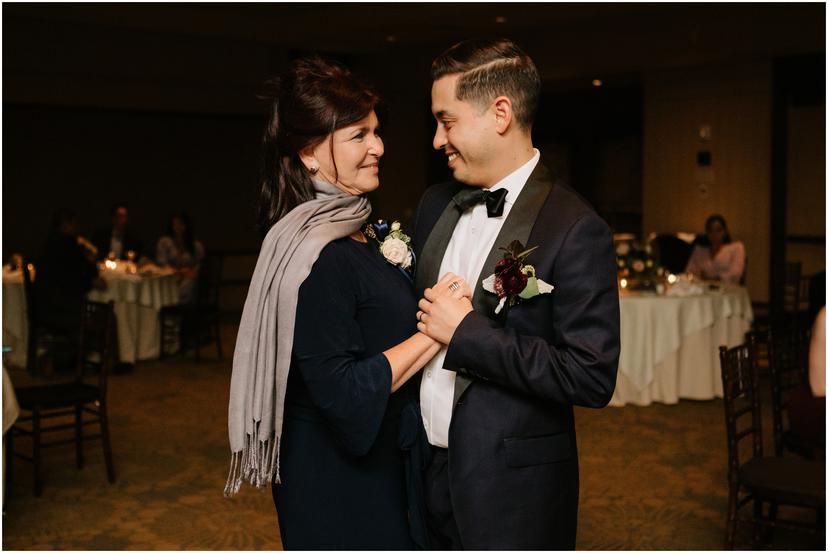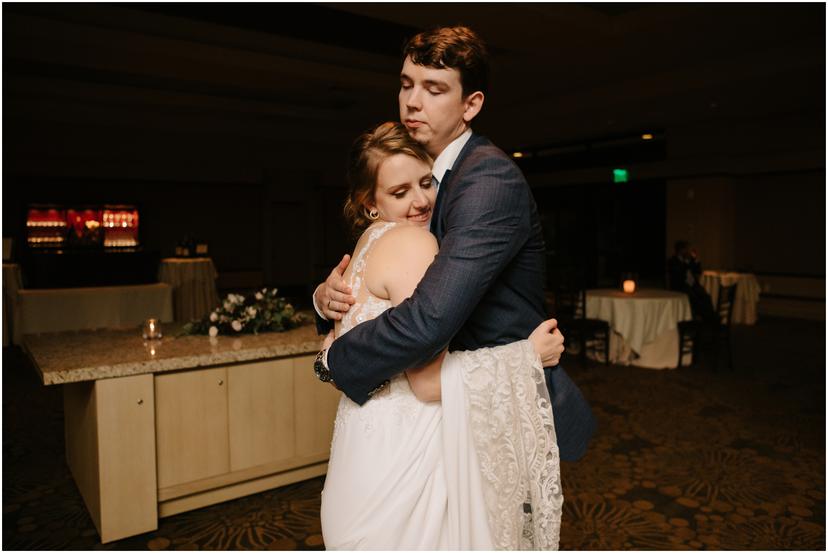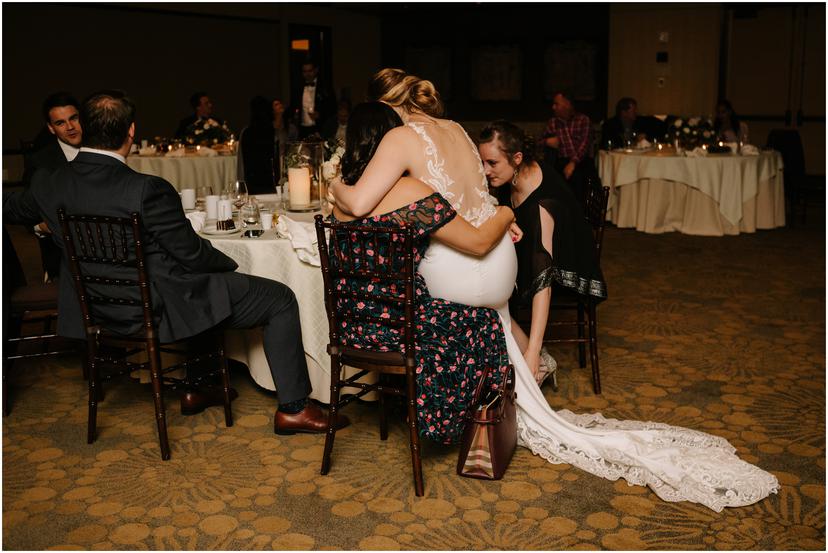 The Vendors
"Katy, you were amazing on our day," said Deidra. "Everyone was saying how much they liked the photographer, and you made it fun taking pictures. My family was super appreciative when I sent some of the sample pictures to them, and they were blown away at how everything came together, so THANK YOU! Alan and I were so thankful you were still able to capture that day for us and will be forever grateful."
Venue, rentals, catering: The Allison Inn and Spa

Dress: Pronovias, Purchased at: Ania Bridal in Portland

Tux: Bonobos

Makeup Artist: Legendary Makeup & Hair - Jules Rossi

Shoes: Frye (my dad's favorite of mine)

Florist: Trellis Fresh Flowers

Officiant: John Lloyd

Cake: Baker & Spice - The Cakery
Browse more
Did you love these romantic Allison Inn wedding photos? If so, you might enjoy these other vineyard weddings I've photographed recently! And always, feel free to contact me if you have questions, or reach out if you are planning your own Oregon Wine Country wedding!
WATER OASIS BRUNCH WEDDING IN NEWBERG