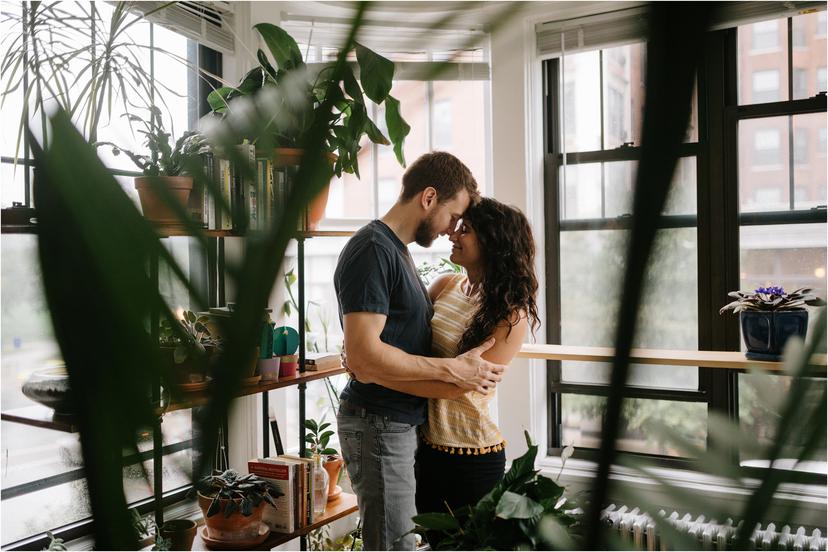 8 REASONS TO DO AN IN HOME PHOTO SESSION
As much as I enjoy getting cold, wet, and muddy in the beautiful Pacific Northwest, I also LOVE documenting couples and families in their own homes. There are so many great reasons to do an in-home photo session! Whether you want to celebrate your first home together, or just get some lovely photos with your kitties, an in-home session can be creative, comfortable, fun and deeply personal. It's often much more honest and real than a photoshoot at an epic outdoor location too!
Here are my top reasons to do an in-home photo session!

1. TO CELEBRATE A NEW HOME TOGETHER
Living together is really special! Whether it's your first apartment together, the first house you've ever purchased, or just a new home that you absolutely LOVE, in-home photos are a perfect way to document this part of your journey!

2. TO INCLUDE YOUR PETS
Let's be real for a second. For many of us, our animals are like our children. They make every day better, and we love them SO much. But many animals (like cats!) don't enjoy being moved around, so the only way to get good photos with them is at home! It's so special to have professional photos with your fur-babies, and your home is usually the most natural place to do it because your pets will be the most comfortable. I know photographing animals isn't always the easiest and sometimes takes a little patience, but it's so rewarding to have these photos! This is honestly one of the biggest reasons I suggest in-home sessions to my couples. I'm a big-time animal lover, and I always have a blast taking these pictures!

3. TO DOCUMENT A PLACE YOU LOVE BEFORE YOU MOVE
Your home holds SO many memories. Maybe it's where your relationship first started or where the proposal happened. Perhaps you've lived there for 10 years, and it's hard to say goodbye. Regardless, doing an in-home photoshoot can be a great way to remember a place you loved before you move somewhere new!

4. TO SHARE MORE OF YOUR PERSONAL STYLE
I don't know about you guys, but my home oozes everything about my own personal style. We have huge bookshelves overflowing with books, cozy quilts that my mom and grandma made, Pendleton blankets my fiancé thrifted, paintings of birds I made in college and so much quirky, colorful art on the walls that was passed down from my grandparents, created by artists in my family, or collected on our travels. Whether it's the bold yellow wall in our loft upstairs or the airy office space where we work, my home is SO me. And I know that this is true for so many others too!
Taking photos in your home allows you to show off your personal style in your clothing AND in your surroundings! It's an honest depiction of your personality through the objects and spaces that you have curated yourself. I love witnessing how different people plan their homes, and I think it is SO fun to document people in the areas they've built for themselves!

5. TO TAKE PHOTOS IN THE PLACE YOU SPEND THE MOST TIME TOGETHER
I definitely spend more time at home with my fiancé than anywhere else. Maybe I'm a homebody (okay, probably, but I'll go ahead and blame that on being a Cancer trait, haha) or perhaps I just happen to work from home, and my fiancé does too. But either way, we spend WAY more time at home than anywhere else, and it totally makes sense that other couples are probably like this also!
Sure, we've been photographed in remarkable locations around the US and the world, but the most accurate depiction of our relationship ever was our photos taken in our home. It's just where we spend ALL our time!

6. TO BE YOUR MOST AUTHENTIC SELF
To piggy-back off my last point, regardless of whether you spend the most time there or not, your home is usually where you can be the most honest, unfiltered, ridiculous version of you. Real, raw, genuine you. No pants, messy piles of clothes, favorite beer in the fridge, dog hair on the sofa, you. Are you nervous about taking photos in public and having people stare at you? Do it at home instead, and the only one watching will be your dog (creeping like Bran in Game of Thrones probably). You can put on your favorite tunes, wear your favorite clothes, sit in your favorite room with your favorite person and be 100% yourself. I am ALL about that.

7. TO AVOID HORRIBLE WEATHER
Hey, sometimes it's winter, and it's raining cats and dogs, and the last thing you want to do is go outside. Or you don't want to worry about having to reschedule because of weather (hi Oregon, I see you). Why not skip that stress and do an indoor session instead? The same thing goes if you live somewhere hot and your only availability is in the middle of the day. In-home sessions can be a great way to get gorgeous pictures without sweating your faces off! Sometimes it's just the most practical choice, and that is okay!

8. TO MAKE YOUR PARTNER AND KIDS THE MOST COMFORTABLE
Got kiddos? Chances are they will be the happiest and most natural in their own home. I love photographing parents with their babies in nursery and bedrooms. Same goes with a partner who might not enjoy being photographed. Your home is your safe space, and that alone can help you relax more in photos (wine also helps, TBH). Being in an intimate space can make a significant difference on your stress load. PLUS, no extra worries about traffic, commute time, being late, etc.!

HOW TO MAKE YOUR HOUSE PHOTO READY
I know what you're thinking. "What if my home doesn't look like something out of a hipster magazine?" Don't worry. Very few of us have perfect homes. You just need a few simple things to make in-home photos work:


Hide the clutter (it doesn't have to be organized, just temporarily hidden haha). Your house doesn't need to be spotless or super clean. Just tidy enough that it looks intentional. You can usually pick 3 spaces to do photos and then hide clutter elsewhere.



Pick spaces with at least SOME natural light. The more, the better! I usually look for areas near windows that aren't blocked by trees, greenery, or nearby buildings.



If you are low on natural light, we can also play around with string lights, twinkle lights, a fireplace or even candles! Let's get creative!






Are you convinced? Want to book an in-home photo session to document your house, your love, or maybe your pets? Then email me! I'd love to plan a playful and personalized photo shoot with you!
Or feel free to check out more information about my engagement photos and couples shoots below!
MORE ENGAGEMENT PHOTOS ON MY BLOG
WHAT TO WEAR FOR ENGAGEMENT PHOTOS
ENGAGEMENT PHOTO PRICING AND INFORMATION